Some of the best Franciacorta wine is made in Catholic monasteries in northern Italy. Next New Year's Eve you might want to give it a try.
As some of us may know, we owe the birth of the world's favorite sparkling wine, champagne, to a Catholic monk, Dom Perignon, a 17th-century Benedictine monk. He was one of the winemaking pioneers who perfected the art of making clear white wines in the Champagne region of France. 
But not many of us may know that the Italian version of champagne, the Franciacorta wine produced in the picturesque hills around Brescia, northern Italy, also has Catholic roots. 
Sparkling wine in the region of Franciacorta, northwest of Milan, has been popular since at least the Middle Ages. The name Franciacorta itself refers to a series of monasteries that came to this region from Cluny, in France, around the 11th century. These monasteries and the lands they owned were spared from taxes owed to the king so locals started to refer to them as "franca-corta," literally "a court free of charges." The name was later morphed into today's Franciacorta.
Evidence from a census collected by Napoleon in 1809 counted nearly 2,000 hectares of vines in the area, many of them belonging to monasteries.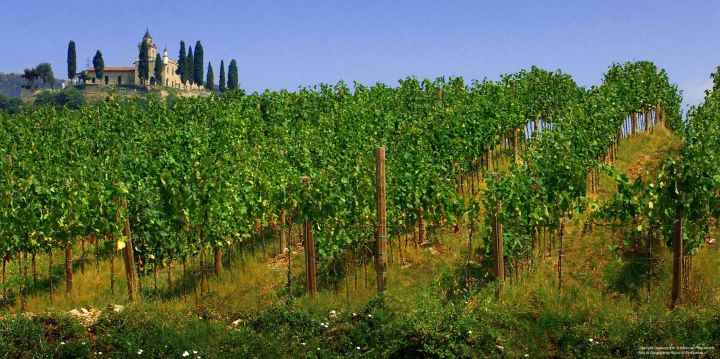 However the very first bottle of "Franciacorta" was not made until the 1960s. That's when  Franco Ziliani, who passed away last Christmas, and Count Guido Berlucchi steered the production away from centuries-old "amateur" techniques into more serious winemaking processes inspired by those of the Champagne region. Chardonnay, pinot nero and pinot bianco grapes are transformed thanks to a double fermentation process into a sparkling, slightly acidic yet not too bitter white wine. The ingenious method would later become a recognized winemaking process protected by EU laws (DOP, Protected Designation of Origin) setting the scene for the market expansion of Franciacorta in Italy and around the world. 
Today, many wines around the region are still owned by monasteries, such as the Madonna della Neve monastery, literally Madonna of the Snow, in Andro where discalced monks grow their own grapes and craft a very popular kind of Franciacorta. The nearby Annunciata monastery, in Rovato, is also home to a winemaking monastic community, the Servite Friars, officially known as the Order of Servants of Mary, one of the five original Catholic mendicant orders. In both monasteries, visitors will be able to buy Franciacorta wine, attend Mass and contemplate some of northern Italy's finest artworks including a 15th-century wooden crucifix sculpted by a student of Donatello and a painting of Saint Sebastian that is attributed to renaissance master Andrea Mantegna, both held at Annunciata monastery.
The Convent of Annunciata in Rovato is also the place that was chosen to present the book "Terrafutura" edited by Slow Food founder Carlo Petrini. the book is based on three conversations he had with Pope Francis about our current ecological crisis. 
To visit Madonna della Neve, Arno: Take the Brescia-Iseo-Edolo train and get off in Borgonato-Adro. 
To visit Annunciata Monastery, Rovato: take the Brescia-Milano train direction Milan and get off in Rovato.