Check out these delightful gifts for Catholic babies from small, family-owned shops.
There's nothing better than a baptism. It's such a joyful celebration to witness a new soul claimed for Christ. You can almost hear the angels and saints in Heaven cheering! The baptisms of my babies and godchildren have been some of the happiest days of my life.
With four children and four godchildren, I've given and received all kinds of baby gifts for these special occasions. My go-to gift is an image of the baby's patron saint and a spiritual book for children. But that's just a tiny sample of all the amazing Catholic baby gifts out there!
My favorite gifts have been ones from small, family-owned businesses, so that's what I've focused on here. If you're looking for the perfect gift for a baby's upcoming baptism, you've come to the right place!
The cutest Catholic baby gear
When you pray the Rosary with a wiggly baby, they'll often try to grab and chew the beads … but that's totally fine if you're using one of these gorgeous and baby-safe silicone rosaries. (This rosary is my baby's favorite thing in the world!)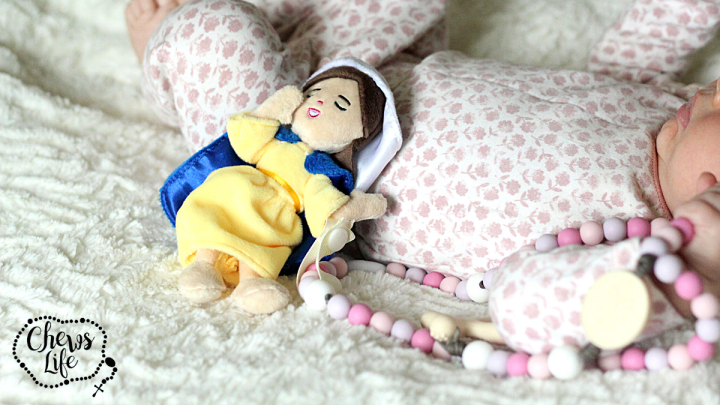 Give baby his or her own little first rosary with this wooden teether and rattle shaped like a one-decade rosary ring.
Keep the pacifier handy with these darling saint-themed pacifier clips.
Give a nod to their family's faith with a sweet, gently tongue-in-cheek Cradle Catholic onesie.
When it's time to start solids, keep things tidy with an easy-to-clean silicone bib featuring the Meal Blessing prayer.
Keep baby entertained with this wooden baby gym (and don't miss these other sweet baby goods!).
What could be cuter than a tiny baby in a saintly headband?
These hand-painted My First Christmas ornaments from a Catholic artisan are a thoughtful gift at any time of year.
Try not to swoon over these stunning baby blankets, quilts, and muslin swaddles with a Catholic theme from Fawnly.
Keep baby's little feet warm with these comfy baby shoes (that actually stay on!), featuring smiling images of saints and nuns.
Wrap up baby in Heavenly love with the coziest muslin quilts and swaddle blankets in saintly themes.
These soft, elegant blankets will remind the parents of the saints every time they swaddle their baby.
Savor each milestone with a personalized rosary blanket.
Inspiring nursery wall art
My go-to gift for a Baptism is an icon of the child's patron saint. It can take some hunting to find the specific saint, but I've had good luck at Holy Transfiguration Monastery and Orthodox Byzantine Icons.
If you're looking for other kinds of beautiful, inspiring Catholic artwork, there are lots of options!
The Alphabet Saints and Noah's Ark posters from Studio Senn are whimsical and eye-catching on any nursery wall.
During those never-ending newborn nights, help parents call to mind their baby's eternal destiny with this Born to be a Saint print.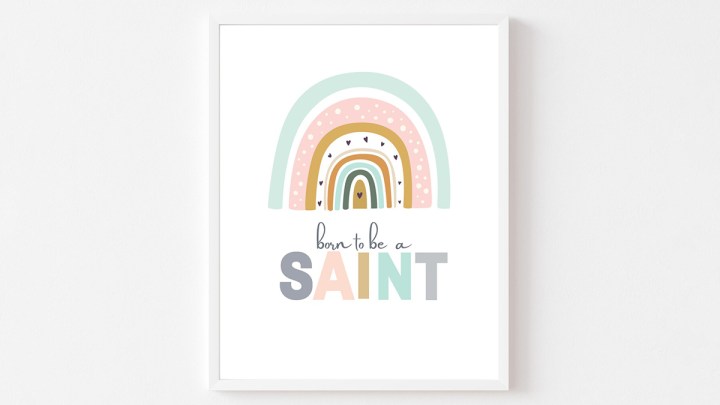 Rustic Christian Decor | Etsy
This delicate print reminds gently blesses baby with a nightly prayer to "Sleep with the angels and rise with the saints."
Share your faith with the little one from the start thanks to this Catholic ABC print.
Introduce the baby to a beloved patron saint with these durable religious statues (that double as a doll once baby gets older!).
Saintly friends for baby to love
Honor a little one's patron saint with a plastic or soft plush doll from Shining Light Dolls, or these natural wooden saints from Saintly Heart.
Dozens of beloved saints come in cuddly "pillow doll" form at Blessed Friends Forever. (And check out these specifically Marian saint dolls!)
Blocks are a classic toy, and these stunning patron saint blocks help the child learn about the saints while they build and play.
Beautiful books they'll treasure
Every Catholic baby needs some of Katie Warner's books, which gently introduce kids to Scripture, the Mass, and the family of God.
Bring joy to their bedtime routine with Sleepytime Saints: A to Z.
Mom and Dad can store their favorite memories in a special Catholic keepsake book.
Share the Rosary from the start with these sturdy board books featuring all 20 mysteries.
Little ones can learn the vocabulary of faith and see the beauty of the Mass in the Light of Sunday Catholic Treasury book.
Share faith formation from the start with the very cute Teeny Tiny Theology board book series.