The Holy Father has always said that he misses being able to go where he pleases, walking from parish to parish.
Pope Francis has made no secret of the fact that one of the difficult parts of being the Successor of Peter, for him, is the inability to "wander the streets."
He's said this a number of times and said it again in writing Spanish journalist Javier Martínez Brocal, the director of the Rome-based news site Rome Reports.
Martínez just happened to be around the Pantheon on January 11 when the Pope showed up there to visit old friends, the owners of StereoSound. The black and white photo of the Pope leaving the store (and the video from Martinez included below) quickly went viral.
Martinez apologized to the Pope for having put a spotlight on a private trip, but added that news like this is necessary "to make us smile, in these times when we only talk about tragedies." This is, in fact, something the Pope has often himself said is necessary.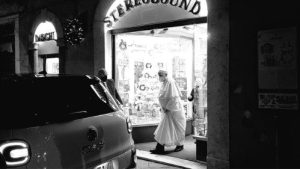 The Pope responded in a handwritten note to Martinez, as reported by Vatican News. "What I miss most in this Diocese is not being able to 'wander the streets,' as I did in Buenos Aires, walking from one parish to another," he said.
The Pope saw the report and thanked Martinez for his work.
He quipped that it was "bad luck" that "after taking all precautions, there was a journalist waiting for someone at the cab stop." The Pope added that this remark was a light-hearted joke: "We must not lose our sense of humor."
He urged journalists to "fulfill their vocation," even "if it means giving hassles to (mettere in difficoltà) the Pope."
Since his election to the Throne of Peter in 2013, Pope Francis has never returned to Argentina. In January 2021, he assured an ambassador that he had not closed the door to a trip to his native country. In a book on the health of the popes published a few weeks later, he confided that he sees himself dying in Rome, as pope or pope emeritus, and not in Argentina.