The church of Saint-Germain in Vitry-sur-Seine was desecrated during the night of January 6. Besides the physical damage and robbery, it is above all the theft of the consecrated hosts that worries and saddens Father Joseph Lokendandjala, the parish priest.
A week after the desecration, the emotions still run high. Located in Vitry-sur-Seine, in the Val-de-Marne, outside of Paris, the church of Saint-Germain was desecrated during the night of January 6. A parishioner alerted the parish priest, Father Joseph Lokendandjala, that a small door that was usually locked was open. Father Lokendandjala immediately went to the church and found that the church door was broken. When he entered the church, he discovered that three of the four boxes in which parishioners make donations were broken and that the reception door was broken (this is where the offerings of the masses are usually kept). But the most serious incident took place at the front of the church…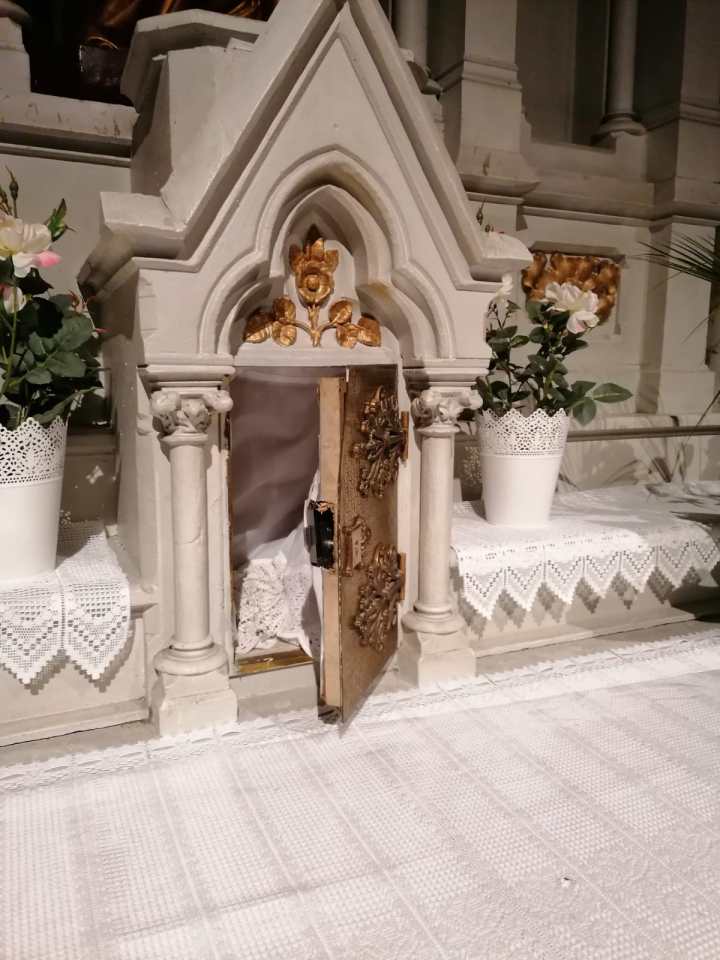 Fr. Joseph Lokendandjala
"At the front of the church, the three tabernacles were opened, including the one where the Blessed Sacrament is kept," Father Lokendandjala, who was appointed to the parish just four months ago, on September 1, lamented to Aleteia. "They took away the golden ciborium that contained the body of Christ, the consecrated hosts!"
"That's the most serious thing, it's the real presence of Christ, the Eucharist that gives us life, that has been stolen," he says, still in shock. "It is a great suffering for us. The degradation of material goods, the theft of gifts, of course it's serious. But this desecration of the body of Christ… What are they going to do with it?"
Father Lokendandjala immediately closed the church and called the vicar general, Father Stéphane Aulard, to warn him and to organize a Mass of Reparation. The police were also notified and the priest filed a complaint.
A Mass of Reparation, celebrated by the vicar general on behalf of the bishop of Créteil, took place late Saturday, January 8. "This Mass of Reparation is essential for the forgiveness of sins, to erase the defilement of the body of Christ," Father Aulard said. "It serves to repair the offenses caused, brought to the church and the sacred, especially to the body of Christ."