The guestmaster of the Abbey of Christ in the Desert, New Mexico, shares Benedictine perspectives on hospitality, temptation, and contemporary life.
St. Benedict of Nursia is customarily considered the father of Western monasticism, but he was not the first Christian monk. That title often goes to Anthony the Great. Christian monastic, eremitic life was born in the Egyptian desert at least two centuries before Benedict, around the year 270. Whereas Paul of Thebes was the first to venture into the desert, it was Anthony who turned it into a movement. Those who followed him soon formed a kind of alternate Christian society — the famous Desert Fathers. It was one of these Fathers, St. Pachomius, who organized the first Christian monastic communities under the authority of a figure known as an "abbot" —a word derived from the Aramaic "abba," father.  
This means Benedict's famous Regula is not the first monastic rule. However, when compared to those of St. Basil or Pachomius, his is certainly exhaustive. Organized in 73 chapters, it has been used uninterruptedly by Benedictine monks since the 6th century.
One of the most famous passages of Benedict's rule is Chapter 53. The text is relatively brief, but it is by far the most famous and influential part of the whole Rule. In just a few lines, it summarizes the main principle of the legendary Benedictine hospitality. It reads as follows:
Let all guests who arrive be received like Christ, for He is going to say, "I came as a guest, and you received Me" (Matt 25, 35).
Monastic communities take hospitality to be at the very core of their mission and identity, especially if in the desert or other relatively isolated areas, where monasteries are often found — travelers wandering around these particularly remote regions would need all the help they could get. Christian charity would compel monks to lend a helping hand. This tradition is still preserved and honored today. We interviewed the Guest Master of the Benedictine Abbey of Christ in the Desert (founded in 1964 by Fr. Aelred Wall and a group of monks coming from the monastery of Mount Savior, in New York), to briefly discuss hospitality, contemplation, and contemporary life.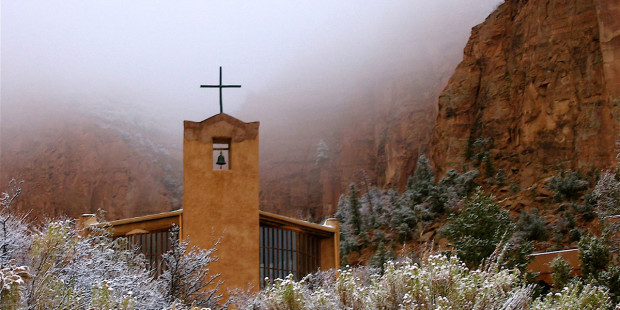 One arrives at the monastery after traveling 13 miles along a dirt and gravel road outside Route 84, in northwestern New Mexico. The monastery, designed by the famous George Nakashima, is surrounded by miles of a government-protected desert landscape, thus assuring the solitude and tranquility of monastic life. We began our interview by asking Br. Chrysostom about this exceptional location.
It is known that Thomas Merton said the Monastery of Christ in the Desert is the best monastic building in the US. He was pointing at how it almost seamlessly fits with the Chama River Canyon. Can you say more about why this is important for the monastic community?
Similar to zoning laws in Santa Fe, I notice how the residents of the city try to remain close to the land through building materials, architectural themes, and colors. We also wish to follow in this tradition of blending in with our environment. We feel that in doing so we are not only contributing to its preservation, but we are promulgating the respect for nature which Pope Francis speaks about in Laudato Si', his second encyclical. I was struck a couple of years ago when a thoughtful visitor made the connection between our monastery church and Heptet Temple in Egypt. Not that there is commonality of worship, but rather both structures seem to be hewn from the canyon walls which overshadow them. 
Hospitality is a paradigmatic biblical value. Some spiritual writers explain creation is God's primary hospitable gesture. Were it not for his hospitality, Abraham would have never had Isaac. Countless scriptural references to hospitality (including Jesus' birth) make it clear this is a core Abrahamic concern. Being the Guest Master of a monastery (in the desert, no less), how do you think hospitality could be brought into everyone's everyday lives?
I believe the same thing that other more learned spiritual writers have expressed about God: He is the great provider of hospitality. Creation was made for his Church. Not to over-theologize how God is hospitable to His creation, He knows what He does. We, his creation, on the other hand, can benefit from reminders on how we participate in His creativity and His hospitality. Yes, provide shelter to the poor, clothing to the naked, food to the hungry are important aspects of hospitality. Jesus tells us that when we do this for the least of our brothers we do it for Him. However, hospitality can be extended to our open and loving attitudes toward people, our lack of prejudgments and our willingness to listen to others. These, too, are hospitable acts that we should not overlook.
Most people might have a relatively romantic idea of the desert, as if it were all silence and peace. But the name of your monastery ("the Monastery of Christ in the Desert") clearly refers to the fact that the desert is indeed the place where one gets tempted. Could you share your thoughts on that?
The desert is indeed romanticized. And, yes, Christ was compelled to go to the desert shortly after he was baptized. There he was tempted through His hunger (he had fasted for 40 days) and His meekness (he was challenged to prove Himself as God and was offered dominion over centers of power). Personally, I have found the desert to be a beautiful place, and an unforgiving one too. Beautiful skies (day and night), the canyon, the river, the flora and fauna all contribute to this unforgettable landscape. It can also be inhospitable for life at times. It can be dangerous. It can be very cold and very hot, sometimes in the same day! The desert, for me, is a place that can strip you, even sear you, from the arrogance of self-sufficiency. It also is a place where distractions are shed and the simplicity of life emerges: where is the water? where is the food? what do I truly need to survive?
Contemporary life is filled with seemingly unending chatter – cell phones and laptops keep everyone ceaselessly exposed to virtually everything. In a world in which information reigns, contemplation and silence seem countercultural, even useless. What can you say about that?
I believe that distractions from that which we wish to pursue or focus on have always been with us. In our modern world, depending on the choices of the individual, those distractions increase by multiples, perhaps even exponentially! I recently reflected on Our Mother Mary during her feast on January 1. Throughout the scriptures, the writers of the Gospels describe her as keeping things and pondering the mysteries of those things in her heart: the Annunciation, water being turned to wine at the wedding of Cana, the visit of the Magi. Mary must have stored up many memories of her remarkable son, Jesus. We, like Mary, store up memories of how God has worked in our lives over the years which may come to mind to us in the desert. We can compose a florilegium (a collection of writings, of scriptures) that comes alive when we have the time to be still and sit in solitude and silence. It may appear useless to some, but I say, give it a try! You never know what unexpected fruits may come from a courageous stepping out on faith.
Make sure to check this link to plan your coming visit to the monastery.