I hope my experience can help someone else who's going through this painful situation.
"Something dies in your soul when a friend leaves," says a famous Spanish song (a few words of which St. John Paul II sang on a visit to Sevilla in 1993). The death of a friend hurts, but if it's death by suicide it hurts in a particular way. It's utterly heartbreaking.
I know this because I went through it myself. I hesitated to write this article because of the sensitive subject matter, but I thought it might help someone else who's going through this difficult situation.
The World Health Organization warns that every 40 seconds there's a death by suicide somewhere in the world, so it's not a trivial issue. It's not helpful when people say, out of ignorance, that someone who attempts take their life "just wants to get attention" or that "it's a selfish thing to do."
Despite progress in the field of mental health, mental illness is still stigmatized today and not sufficiently addressed. Yet it's precisely the sick—whatever ailment they have—who need care and companionship.
My friend died by suicide in 2007
One cold winter day, I was at work. It was lunchtime and a colleague who knew my friend Lidia beckoned me over. She dropped a bombshell: "Lidia took her own life this morning".
I was pregnant with my first child, and the shock made me have to sit down. On some occasions the pain that people feel when a loved one dies by suicide is so intense that it's been compared to other major traumas.
Unfortunately, at the moment I found out, another colleague commented to me, "This seems to me the most selfish act there is." This didn't help me handle my shock and grief at all. Fortunately, another wiser person told me that only God could judge, that Lidia was had suffered a lot, and that Our Lord would take that into account.
It also helped me to know the story of when Padre Pio of Pietrelcina spoke of suicide. The holy friar told the wife of a man who had just died by suicide that her husband had repented between the bridge and the water.
We don't know what goes through the mind of people who take their own lives, nor their last thoughts before death. We must entrust them to God's love and mercy.
God's mercy is infinite and will judge all of our actions in the context of our circumstances as well as our intentions. It is probably fair to say that most people who take their own lives don't want to stop living, but to stop suffering.
How can we help? By tuning our antenna
I couldn't see what my friend needed. Not even weeks before she died, when she confessed to me over coffee that she had tried to take her own life before. That time she was lucky because her roommates were able to call the ambulance and save her life.
Then came her birthday, which she organized by inviting a lot of people by email. But apparently it didn't come together because after a few days she sent another email cancelling the party. That email was her farewell letter. It was a call for help that nobody recognized, including me.
At the time, I would liked to have known some of the warning signs that are often there: extreme and persistent sadness, social avoidance, staying in bed, thoughts of death, low self-esteem, and self-injuries.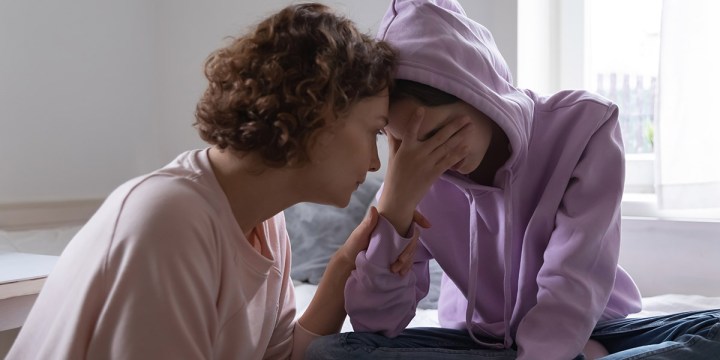 fizkes | Shutterstock
Also, anyone on medication for depression or anxiety is at risk, because these illnesses are not static; they fluctuate, and therefore people who suffer from them are susceptible to ups and downs in mood, with all that that entails.
Of course, anyone who communicates the desire to die, to get out of the way, to stop suffering, or any other expression that implies disappearing, should be taken seriously.
Learning the language of mental health
We have to learn the language of mental health. We need to know when to demand and when to comfort, when to use our head and when to use our heart. It's very difficult, but not impossible. I'm convinced that if we all learned more about this, many lives could be saved.
Perhaps the key is to become an anchor of hope for our family and friends. For that we have to be attentive, interested, and up-to-date with what's going on in their lives, as well as with their feelings.
My friend used to go to laughter therapy sessions. Once I accompanied her to the door. Today I would make sure I went in with her, to discover ways I might have better helped her.
The questions I never asked
If you live with someone or know someone who is having suicidal thoughts, get in the habit of asking these questions: "How are you doing?" "What are you feeling?" "Do you need help?" Reach out and let them know, "If these thoughts come back to you, please call me."
You can also go to a hospital emergency room, where they already have a protocol in place to deal with this. It's a good idea to have the phone number to suicide prevention hotline in case you need it.
What can we do with our feelings of guilt?
News of a suicide hits us like a ton of bricks and afterwards we are often flooded with immense guilt. We question every word and every gesture, everything we did or didn't do in our relationship with the person who has died.
But we need to know: it's not our fault. Whatever we do, if someone has become obsessed with the idea of taking their life, there's only so much we can do. It's a decision they make.
There's always hope
About a month ago, I came across an ad in a magazine that said, "Have a Mass offered for someone who has passed away." I immediately thought of Lidia and the value of each Holy Mass. Since her departure I've had an uncomfortable feeling inside me, but since I had a Mass offered for her soul I have felt at peace. Death does not have the last word.
© Wideonet / Shutterstock
Please make note of these international suicide prevention resources.