The 10th-century saint is remembered for the care he provided to travelers trying to cross the snow-covered mountains on foot.
Born in what is now Menton, France, at the end of the 10th century, St. Bernard dedicated his life to Alpine communities, creating mountain shelters that helped countless of travelers to safely cross the treacherous Alps.
Winter, for many of us, is a time to enjoy the wonders of the mountains. And Catholic skiers, hikers or snow showers may be happy to know that St. Bernard, patron saint of the Alps, is watching over us.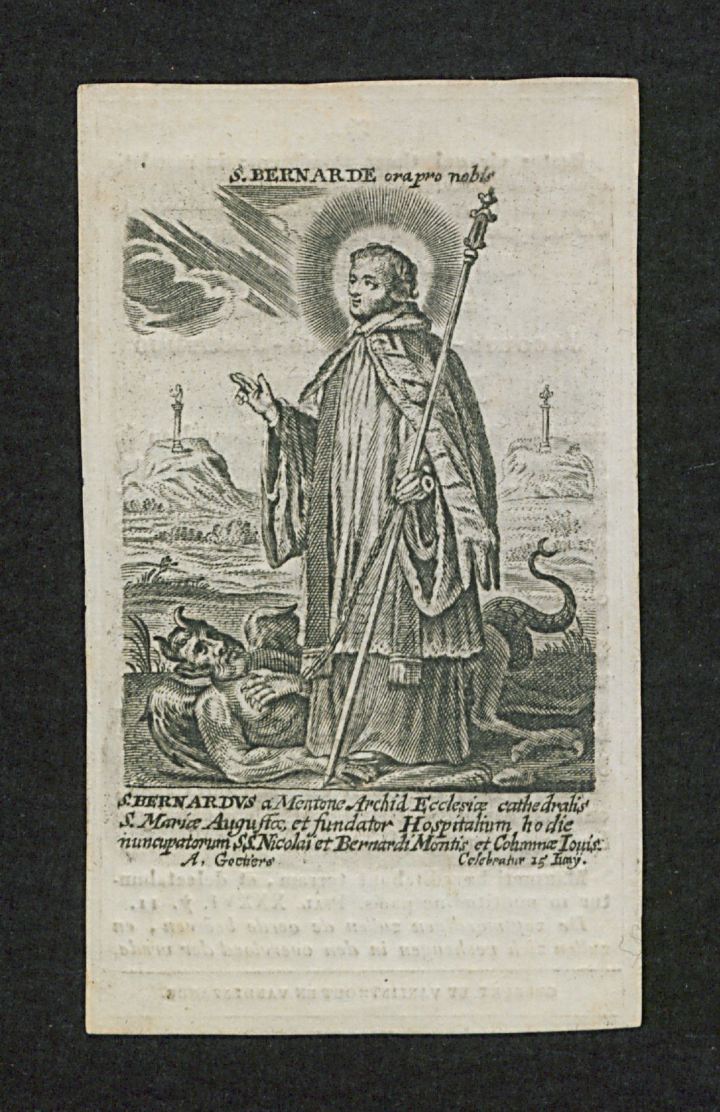 Alexander Goetiers – University Library of Antwerp: Special Collections|Wikipedia|CC0
St. Bernard, the patron saint of the Alps
St. Bernard of Menthon was born around 996 in what is now the County of Savoy. He was destined to a life of nobility, and was considered an eligible match within the highest circles of society. Instead, he decided to enter the Church under the guidance of Peter, the Archdeacon of Aosta, in the Italian Alps.
Bernard spent years spreading the Gospel in mountain communities and was soon named archdeacon of the cathedral of Aosta, working directly under the bishop. In his long life — St. Bernard died in 1081 in Novara, Italy — he performed miracles and conversions and was known for his role in resolving a conflict between noblemen in northern Italy.
Hostels to help travelers
But most of all, St. Bernard is remembered for the care he provided to travelers trying to cross Alpine passages back when the only way to do so was on foot, following small paths cut through 6-foot high piles of snow. In 1050 Saint Bernard founded a canonry and a hostel on the highest point of an Alpine passage that is today known as St. Bernard's passage, cutting the Pennine Alps from Aosta, Italy, to the Canton of Valais, Switzerland.
Another hostel was founded some years later on a passage in the Graian Alps, known as Little St. Bernard Pass. Both hostels were managed by canons regular, under the patronage of St. Nicholas of Myra (patron saint of travelers), and approved by the pope.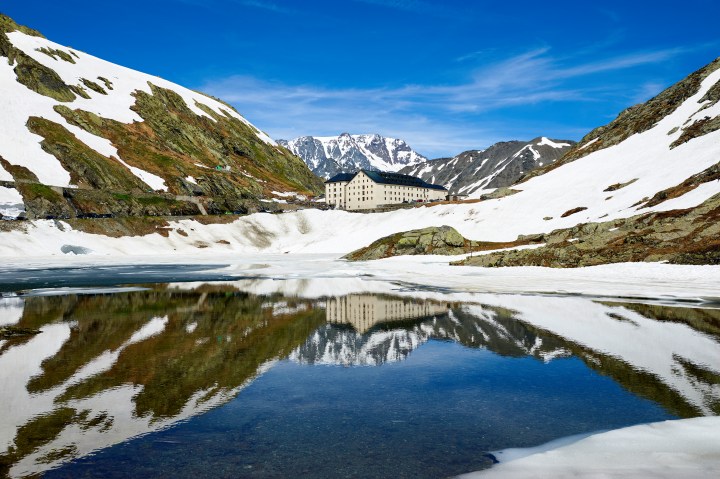 Shutterstock
The hostels helped countless travelers, providing shelter, food and medical help for those wounded in their journey across the Alps. Canons, who were dependent on donations for their subsistence, worked alongside their loyal helpers, St. Bernard dogs. Especially bred to face the cold weather conditions of the Alps, these large and even-tempered dogs were a great resource for the canons trying to rescue travelers, with some dogs saving as many as 40 people from avalanches in the course of a lifetime. The first record of a St. Bernard dog dates back to around 1690 in a painting from Italian painter Salvator Rosa. Today's St. Bernard dogs look different from the ones that helped save lives back in the past, as the breed has been "refined" by intermixing with Molosser-type breeds in order to meet canine show criteria. But as records show, those early ancestors of today's St. Bernard still sported the iconic brown-and-white mantle and docile attitude of their contemporaries.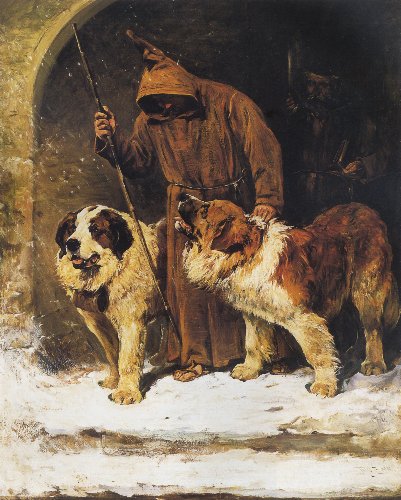 Today, St. Bernard hostels no longer play the huge role they had in past centuries. People willing to cross from Italy to Switzerland can now safely drive through the 6,341-yard-long St. Bernard Tunnel, a marvel of modern engineering equipped with avalanche protection on both sides of its entrance and exit. But St. Bernard remains a strong presence in the Alps. After being canonized in 1681, he was recognized by Pius XI as Patron of the Alps in 1923, and today his patronage extends to Alpine skiers, snowboarders, hikers and mountaineers. Little shrines in his name can be found across the Alpine region, from France to Italy. And the Hospice of Saint Bernard, located in Swiss territory at 45.86918°N / 7.17109°E, still remains, managed by around 35 canons, standing as one of Europe's most ancient mountain refuges. 
You can visit the Hospice of Saint Bernard today
To visit the Hospice of Saint Bernard you can get in touch with the canon at hospice@gsbernard.net or +41 27 787 12 36. It can be reached by car during the summer, but during winter it can only be reached by snowshoeing or backcountry skiing from the municipalities of Gignod, Etroubles, St. Oyen and St. Rhémy-en-Bosses. 
For more information: https://www.viefrancigene.org/en/resource/poi/ospizio-gran-san-bernardo/