While Maria Todolí lay intubated in the ICU, separated from her husband, both of them experienced a profound life change.
On Christmas Eve 2021, in the home of Maria Todolí and Josep Ardit, a married couple from Spain, no one could have predicted what was about to happen.
The Valencian public television channel À Punt was talking about the married couple during prime time. "Now we're connecting live with a family to ask how they're living Christmas Eve," presenter Màxim Huerta exclaimed enthusiastically. The transmission switched to a journalist who was with the family in person, introducing Josep, Maria and their nine children—the eldest of whom is 13 years old.
The camera wandered through the kitchen and the dining room, filming the table settings and the lights in the house, as well as the hot dinner on the table, while one of the girls seasoned the oranges for dessert with cinnamon. Josep, a pianist, had composed a song for the occasion so the little ones sang in chorus around their parents and the piano. It was an ideal Christmas scene.
Photo courtesy of the family
"We wanted to show the beauty of God's love in this way, making known what God had done in our lives, the happiness of marriage and all the children God has given us. We've had 13. Nine were born, Caterina is on the way, and three didn't make it to birth but had—and still have—a great mission: Abiel, Esperanza and Jesus. Each child is a beautiful word from God. I was telling the presenter that after dinner we would head off running to midnight Mass," recalls Josep.
Maria begins to feel sick
But the next day the unexpected happened: Maria, who was pregnant, began to feel sick. Very sick. "I think God wanted to show the beauty of the love of Jesus Christ for every person, but through suffering, which so often makes us doubt Him," says Josep.
It was all very fast and frightening. By Christmas night, Maria was having difficulty breathing and within days was admitted with COVID-19 to the hospital in Alzira (Valencia). Eight of the children—Betlem, Maria, Immaculada, Mercè, Maria Magdalena, Teresa, Manuela, Candela and Josep, the youngest son—stayed at home. Josep remembers perfectly the terrible night of January 2.
A night of darkness
"I left her at the hospital, because with the COVID-19 pandemic I wasn't allowed to enter. I watched her from outside through a window that overlooked the room she was in. I thought I was never going to see her again. I videotaped her with my cell phone so she could say something to the girls from that half-open window. When I returned home that night, it was very foggy and I could hardly see anything. Psalm 97 came to my mind: 'Clouds and thick darkness are all around him …' I sensed that I was going to experience something very serious."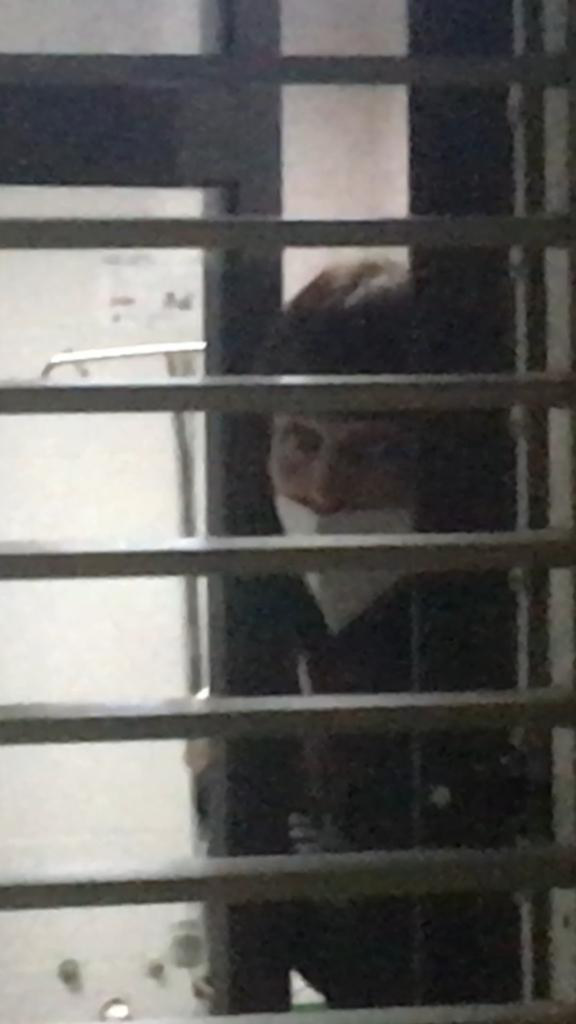 Photo courtesy of the family
Transferred to the ICU
Maria's health was getting worse by the minute, and she was 5 months pregnant with a baby girl, whom they had decided to name Caterina. Both lives were in danger. Maria was suffocating due to the disease. The doctors then decided to transfer her to La Fe Hospital in Valencia, where she was immediately moved to the ICU.
Overnight, Josep's world collapsed. He thought that Maria would die and that everything he was would also die with her. He was afraid. What would become of his children? Then he felt in his heart the certainty that God is his Father, and also the Father of his eight daughters and little son Josep, and if Maria and Caterina died, "we would see them again in heaven."
"Is God there, or not?"
In the end, Josep's daily struggle was to live the concrete reality that God had permitted, which was that Maria and Caterina were sick in the hospital, but they weren't dead. God was present in that concrete reality and not in the fantasies that Josep felt were real, which were unbearable because God wasn't in them. "The constant temptation was: is God or isn't God in this situation? Is the Lord a good spouse or is he coming to destroy me?" he recalls.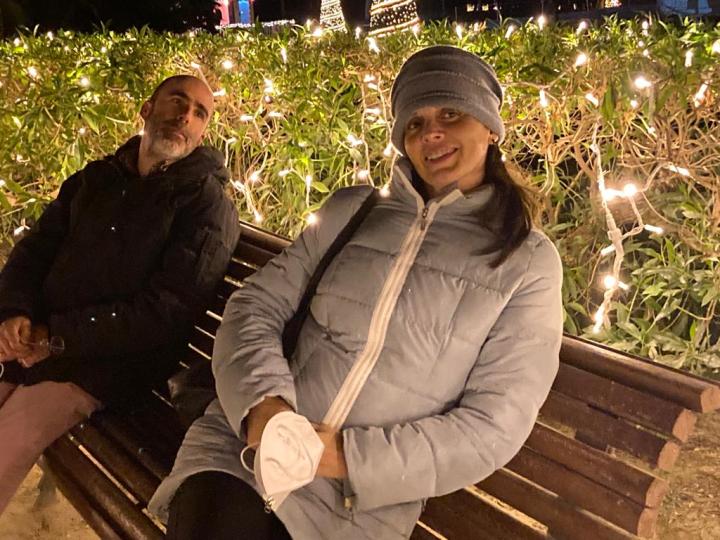 Photo courtesy of the family
But that situation caused something in him that he never imagined: a true conversion, a turning point, going from living for himself to living for Jesus Christ out of gratitude. Josep says that he was sad because he was selfish, he was afraid to suffer, he had so many sins … He says, "I didn't want to sin; I wanted to love Jesus Christ and others because I know that's the truth, but I couldn't get rid of my bitterness."
Then something happened.
Josep asks for prayers
Josep began to make recordings and send them out via WhatsApp to keep people informed on Maria and Caterina.
"I got a call one afternoon from a person from London, whom I didn't know at all. He'd heard about the situation from the recordings I'd sent. They were Catholic Charismatics living in a contemplative community there. He was like an angel announcing to me that God had healed Maria and that I had to start giving thanks for it. We prayed over the phone and he gave me the Gospel of St. Mark 11:20-26 (the one about the withered fig tree). My father had also told me [something similar] that morning while I was washing some dishes, and I believed them both, but seeing that Maria's situation wasn't improving, it was impossible for me to give thanks."
"That man from London kept telling me to look with the eyes of faith, that Maria was cured even if the medical data didn't confirm it yet. That evening I went to Mass with our three eldest children. I was full of bitterness and sadness, and then I went to confession in tears. When I got home I began to give thanks for each daughter, for my little son Josep, for my wife and Caterina, for so many things I'd received. We played videos of Maria and the family, which days before it had been impossible for me to watch because of the pain they caused me. And if my son Josep asked about his mother, I showed him the Virgin and told them, 'Mom isn't here right now but the Virgin is and she will embrace you.'"
"Joy entered the house even though my wife was still intubated."
"It was a miracle," he continues. "Jesus Christ had truly taken away my sins in that confession and I began to pray from a corner on the floor next to my bed, not only for Maria and Caterina but for everyone, for all those who were suffering but didn't know the comfort of God's love. I was a different person. I fell in love with Jesus Christ and the joy of the Virgin entered the house even though my wife was still intubated."
Photo courtesy of the family
When the worst was over, I interviewed Maria Todolí, although she was still in the hospital. At the time of the interview, it was January 22. Maria had spent many days on the verge of death. She had been intubated twice. When I spoke to her she was out of the ICU but still at La Fe Hospital. She had a little way to go yet because she was being treated for a bacterial infection, Clostridium difficile, which had slipped into Maria's body taking advantage of the weakness of her immune system.
We spoke over the phone, with Maria and Josep using the speaker of their cell phone. They didn't want to wait any longer to talk about what had happened to them, because they weren't talking only about physical healing. They wanted to talk about their conversions — which happened to both of them.
Thousands of people praying for Maria and Caterina all over the world
Josep explained to his wife what had happened during those 20 days: thousands of people all over the world had been, and still are, praying for them. They'd been receiving updates through the voice messages recorded by her husband. He'd tell his listeners how Maria was and what the doctors were saying.
"I never thought these recordings would be listened to by so many people, nor that they could help. Everything has surprised us."
Very soon Josep also opened his heart to let it be known that God had touched him deeply.
Photo courtesy of the family
"We felt very loved," said Maria, "both by people of prayer and by those who never prayed and were suffering for us."
Josep was moved to recall the faith of the people in the town where they live. "They used to say to me in the street, 'Josep, Maria is going to be cured, you'll see.' In our daughter's class, a little girl told her, 'At home we've prayed and we'd never prayed before.' A married couple explained to me, 'We'd never prayed before and we're discovering how fantastic it is to pray.' A lot of people have prayed and that's been a treasure, both for us and for them."
The support of the faith community
Maria and Josep live out their faith in Gandia (a coastal city in eastern Spain) at the parish of San Francisco de Borja, in a small Neocatechumenal community. "This has been fundamental," they say. "The faith we received through baptism has grown there through the sacraments, listening to the Word and experiencing community life, to the point where it has sustained us in these days of illness." Josep says, "The brothers of our community and our parents have not only prayed and suffered with us, but have taken great care of us. They brought us food every day and put themselves at our service. How wonderful to have a community! We're very grateful and we love them very much."
Skeletons riding horses … A dream or reality?
I asked Maria to clarify what I heard from her in a thank-you recording she sent days after leaving the ICU: "Is it true that you dreamt of horsemen who were skeletons that were leading you to death, and that angels saved you, or is it a metaphorical way of expressing what happened to you?"
Maria confirmed it for me: "It is true, but I didn't dream it. I lived it in my flesh, just as I tell it. Already in the hospital, before being in the ICU, I felt that everything was going very fast. I was on a horse at full speed surrounded by skeletons riding around me, leading me to death. They wanted to lead me to despair. Then came other riders who were angels and rescued me, saving me from death. As Josep told me what happened, I understood that these angels were all those who were praying. I know it sounds like a Western movie, but I lived it with my eyes open."
Then, Maria continued with the story: "I was still conscious and no longer intubated, when I felt an immense joy. It was a love so great that it was unbearable. Jesus Christ loved me and filled my heart with love. I just wanted to throw myself at the feet of everyone, known or not, and kiss them because Jesus Christ loved them. I'd never been fond of priests, but at that time I had a great love for all of them, especially our parish priest Fr. Jesús. This love came from God—because I know who I am, and none of this comes from me. If you don't believe me, ask those who know me."
For her, it all happened very quickly. She remember a particularly powerful moment:
"I was like a used rag, but at that moment an orderly started to bathe me, and when I was at my worst, full of pee and poop, I heard him call me 'beautiful!' and say that he'll take care of me, that he doesn't mind cleaning me, and he even massaged my feet. That, which may seem silly, is something I will never forget in my life because I felt cared for and loved by someone who didn't know me."
Photo courtesy of the family
WhatsApp recordings spread
Maria was able to talk to Josep before she was intubated. She conveyed to him the love of God that she was feeling and that sustained her. Her life was hanging by a thread. Josep shared this in his recording on WhatsApp, which by then was being received by many people who were praying for Maria and baby Caterina to survive.
"I thought Maria had died."
Josep explains, "There's one detail from those days that now comes to mind. Until the intubation, I communicated with her with messages that were necessarily few and far between. I looked at my cell phone like someone who looks at his beloved. I didn't sleep, always hanging on every message, getting messages where I perceived Maria's weakness more and more."
"One night," he continues, "one of them woke me up. It said: 'I'm cold, my body is shivering,' and it didn't say anything else for several hours. I thought she'd already died and I prayed for her and Caterina for about 4 hours. I lived it in peace. I looked at the prayer card of St. Therese and told her to give her kisses, that my wife and daughter were dying, but looking into her eyes I had the feeling that St. Therese was smiling."
"In the end," he says, "I called my parents to tell them the news and my mother said, 'Call the hospital.' I called and they got angry because it was 5 a.m. and they told me that no one had died, that Maria was sleeping … Then I understood St. Therese's face smiling, because her little kisses to Maria had put her to sleep."
"In our house we didn't understand each other."
Josep had a deep realization. "I'd made something like a Tower of Babel, loving money, success, well-being, etc. and in our house we didn't understand each other, as the Scripture says. All that tower collapsed with Maria's illness, leaving only faith. Faith in Jesus Christ changed our life and also healed Maria and Caterina using the hands of some fantastic doctors."
On January 4, Maria received the sacrament of the Anointing of the Sick and Holy Communion. It was administered to her by a chaplain of the La Fe Hospital named Santos. "'How wonderful,' Maria said to me in a message. 'The chaplain has come!' I thought she was going to die because of the supernatural things she told me in those messages."
The prayer card of St. Therese
In Spain, Christmas gifts are traditionally brought by the Magi on the feast of Epiphany, not by Santa Claus on Christmas. Josep and his children had a special petition this year.
"At home, that afternoon we had written a letter to the Three Wise Men. I placed an icon of the Virgin on the table with the 'smiling face' of St. Therese's prayer card stuck on it with plasticine, and asked the Three Wise Men to bring us a rose petal of hope from this saint."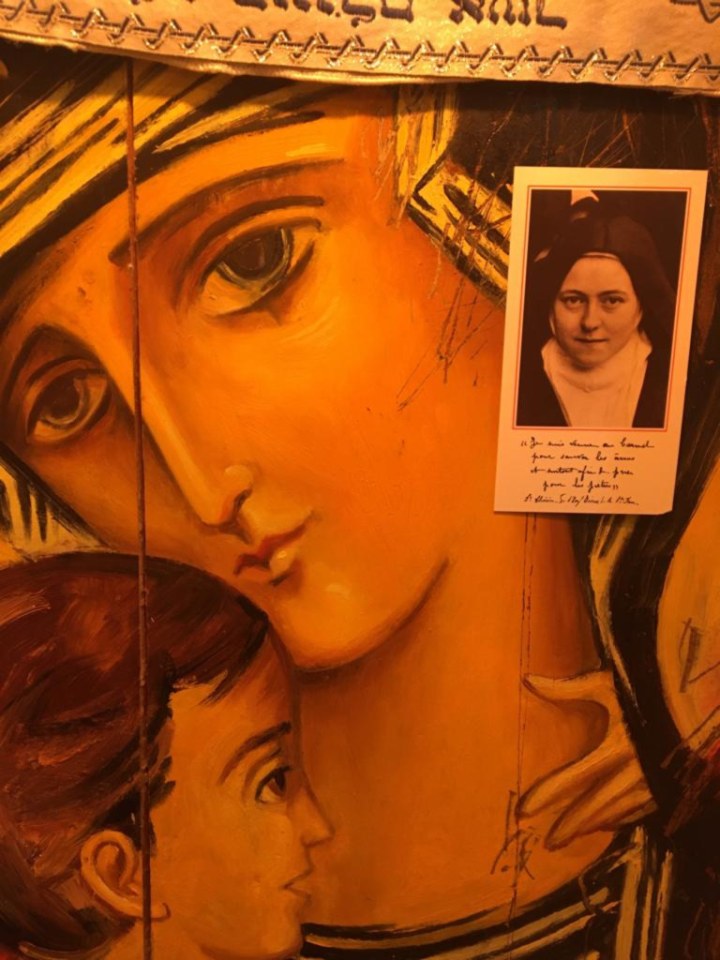 Photo courtesy of the family
"St. Therese had united Maria and me as sweethearts when her relics came to Valencia years ago. I knew that she'd unite us again in heaven forever, but I asked her with faith to unite us before we got there, a second time. And so it was: on the morning of the 5th, the blood test showed that her leukocytes had begun to rise and, therefore, the disease was remitting. My mother at home opened the Bible at random and found the Gospel of the daughter of Jairus where Jesus Christ said, 'She's not dead, she is asleep.' The sacraments are effective!" says Josep emphatically.
A sign: Red rose petals
Josep explains that he had a moment of temptation that very day before learning the results of the tests on the morning of the 6th. "We went to see the Three Kings that afternoon in the parade. I went with all of the kids, carrying two in my arms, running down the street because we didn't get to see them. I was crying and my older daughters were crying too because their mother wasn't there. It didn't make sense. It was then that I clung to Our Lady. We returned home and there inside we found a bouquet of roses and a letter written for us that the 'King's royal pages' had left. That bouquet of red roses, those petals, were a sign that reminded me of what I had requested from St. Therese of the Child Jesus the day before."
Photo courtesy of the family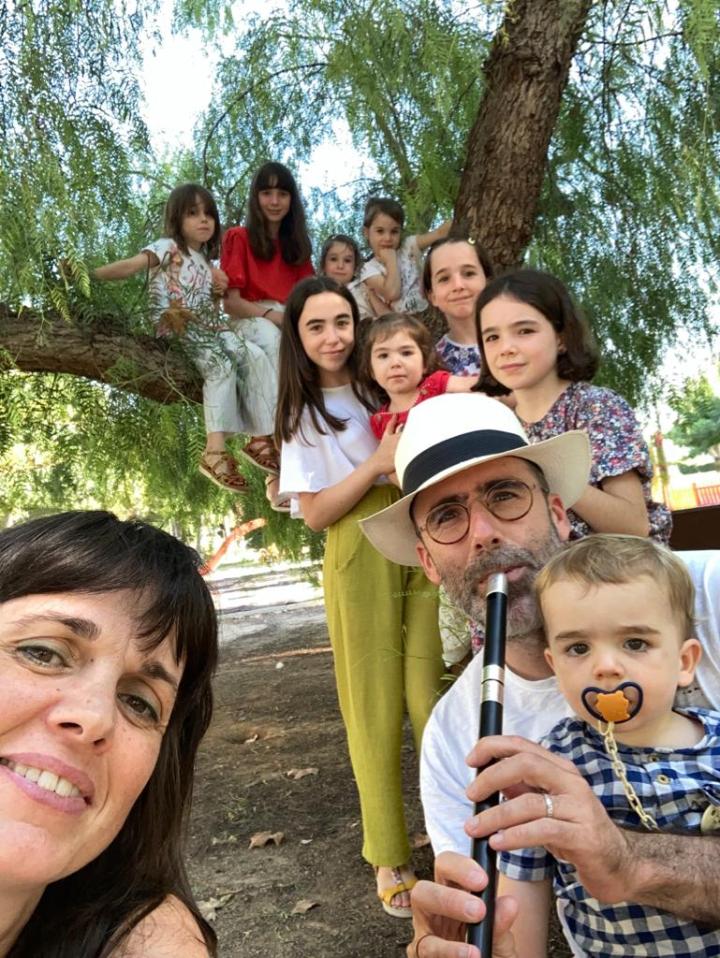 Photo courtesy of the family
That night of Epiphany, Josep wanted to record a video with the girls and little Josep so that Maria could see how they opened their gifts. Josep discovers on the table a bouquet of roses, calls the children and says:
"We're going to keep these roses, remembering this day."
Then he addresses the camera: "This life is new, Maria. We're living a new life, Maria, really. It's something … The love I have for these girls and for Josep is new. The way we are together is different. So everything is fine. You're what's missing for us, then. If you want to come, great. And if you can't, we're going to love you just the same. But you're going to come!"
When little Josep shouts "Daddy!" it brings Josep back to the reality around him. There, the video ends.
"Every day I will love her like this."
"I'm selfish," Josep says to me. "I loved my wife because loving her made me feel good. The suffering of the disease came, and just thinking about her was heartbreaking, but I realized that I was loving her in a different way, a new way. I understood what it means to love in suffering. I've offered the suffering for her and for the love of Christ."
He then thought, "Every day I'll love her like this, even if she dies. I can love her in this new dimension, suffering for her, accepting the events that God allows in my life." Now, Maria is by his side, listening to what Josep is saying.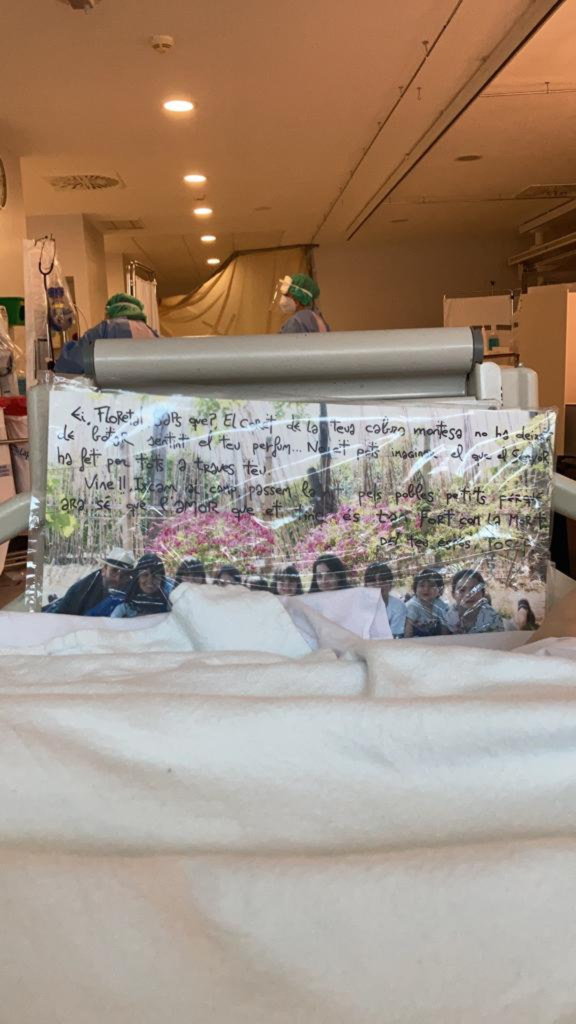 Photo courtesy of the family
"In the hospital they treated me with much affection."
Maria didn't want those who had cared for her to be left out of the story of their conversion. "I'm distrustful so I thought I'd feel very lonely in the hospital but that was not the case. All the doctors, nurses, and even the cleaning lady … They've all been angels. They've treated me with great affection, being attentive and full of little gestures of true love."
What made Maria suffer a lot
Maria explains that her illness has been a time of purification. "I am very proud and I take my own opinions too much into account. I constantly turn things over in my head, judging everything and criticizing, and this made me suffer a lot. But the Lord, with this event and His grace, has clothed me with something new: living simply."
"I remember the day the tube was removed," she says. The doctors, seeing that I was sad and that I was having a very bad time, called my husband to come and see me. He entered the ICU like an angel, jumping up and down and shouting at me: 'Rejoice, Maria, the Lord is with you, and start giving thanks because he has healed you!' I listened to him and three days later I was in the ordinary ward."
Maria was moved by details such as knowing that a little boy fell asleep with the Bible under his arm praying for her every night, that so many cloistered monasteries were praying for her, and that she'd had St. Therese and St. Catherine of Siena on both sides of the ICU bed along with her father-in-law, Paco, sitting at her feet. "But what's Paco doing here?" wondered Maria quizzically, and days later Maria learned from Josep that Paco had been sleeping every night on their dining room floor with three cushions to keep his son company.
Josep: No more controlling everything
I didn't ask him, but Josep told me: "What's my takeaway from these days? I'll tell you. My tendency is to insure everything. Everything in my life. I'm 43 years old. I'm a civil servant. I'm a piano teacher. I go out of my way to ensure things. To give you an idea, I don't even like to fly because I have no control over what can happen to an airplane. I want to make sure my daughters don't suffer, that they don't lack anything … It was a kind of slavery and I made others suffer."
Josep continues: "These days I've experienced the precariousness of life, which for me is hell. And in that precariousness of not knowing if my wife and daughter would live, I've been with Jesus Christ. He told me, 'Do you want to live here with me, to walk where you do not know, to live in God's hands and not in your own?' And what for me was hell became a place of love with the Lord. I fell in love with Him who takes away the sin of the world, and the Lord rejoiced with me just as I rejoiced to see my wife Maria cured of her illness again."
Maria's faith
Josep insists, "Everyone now tells me I have a lot of faith, because of the recordings they listened to, but I tell them that the one who has faith is my wife Maria. She had death before her and blessed the Lord."
As she continues to recover, Maria says some people tell her to now forget everything. "Forget everything?" says Maria, "I don't want to! I want to keep this word of the Lord forever as a seal on my heart."
Home at last!
On January 28, 2022, Maria Todoli was medically discharged from the hospital. On arriving home, she and Josep were kind enough to send this photograph showing the whole family, back together again and giving thanks:
Photo courtesy of the family