The athlete became a new man with a new mission after surviving a traumatic ordeal.
Álvaro Trigo is a 27-year-old man from Madrid, the eldest of 5 siblings. His childhood dream was to be a fireman. However, his parents convinced him to combine his classes at the firefighter academy with a university degree.
At the university he made friends with people in the world of sports, and began to participate in marathons throughout Spain and Europe.
At one point, he decided to sign up for an Ironman, an athletic competition in which the participants swim 2.4 miles, bike 112 miles, and finish with a full 26.22-mile marathon. It requires being in excellent physical condition, and Álvaro finished 2nd in his category.
Gentileza
He was on top of things: passing his college exams, succeeding as a firefighter, winning awards in sports. However, he recognizes today that although he was living a life that was meaningful for him, he was very egocentric.
He was so busy that sleeping even seemed like a waste of time.
The fire that burned 63% of his body
Life showed him its bitter side in 2017 when his sister lost her life in a car accident. Thanks to this painful event, his family became more united.
On February 2, 2018, life dealt another blow to Alvaro. The day will remain marked on his calendar as a new birthday, an opportunity given to him by God to live his life with true meaning.
At his grandmother's country house in a mountainous region in Andalusia (Spain), Álvaro lit the fireplace, and the sofa caught on fire. As he scrambled to get away, he tripped and fell, and caught on fire. He tried to escape, but both doors were locked and he couldn't get out immediately.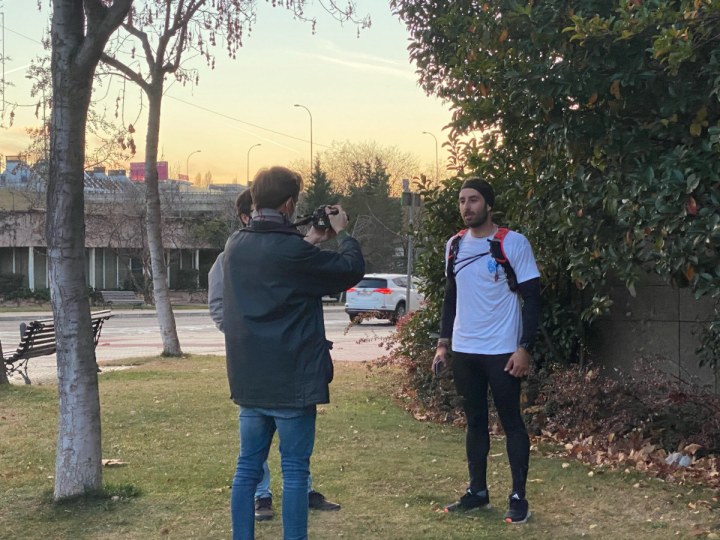 Gentileza
Álvaro took off his clothes, which were literally melting, and at that precise moment he thought, "I'm going to die here." Finally, with a wet rag over his mouth to protect his lungs from the smoke, he was able to escape and reach the house of some relatives who lived nearby, who called an ambulance.
Once in the ICU, the doctors told his parents that his chances of survival were between 10% and 20%. His diagnosis was severe dehydration, a non-functioning lung, and multiple burns over 63% of his body. To prevent him from suffering, they decided to induce a coma.
After 10 days they took him off sedatives, and he woke up very confused. His parents decided not to tell him the truth about his condition and preferred to encourage him by telling him that they'd spoken to the doctor and that next year he'd be able to run the marathon.
The hardest part of his stay in the burn unit were the hallucinations caused by the medication, during which he couldn't tell what was real and what was not. At one point, he thought he saw the doctors taking measurements of his body for his coffin. And all this without being able to speak! It was a horrifying experience.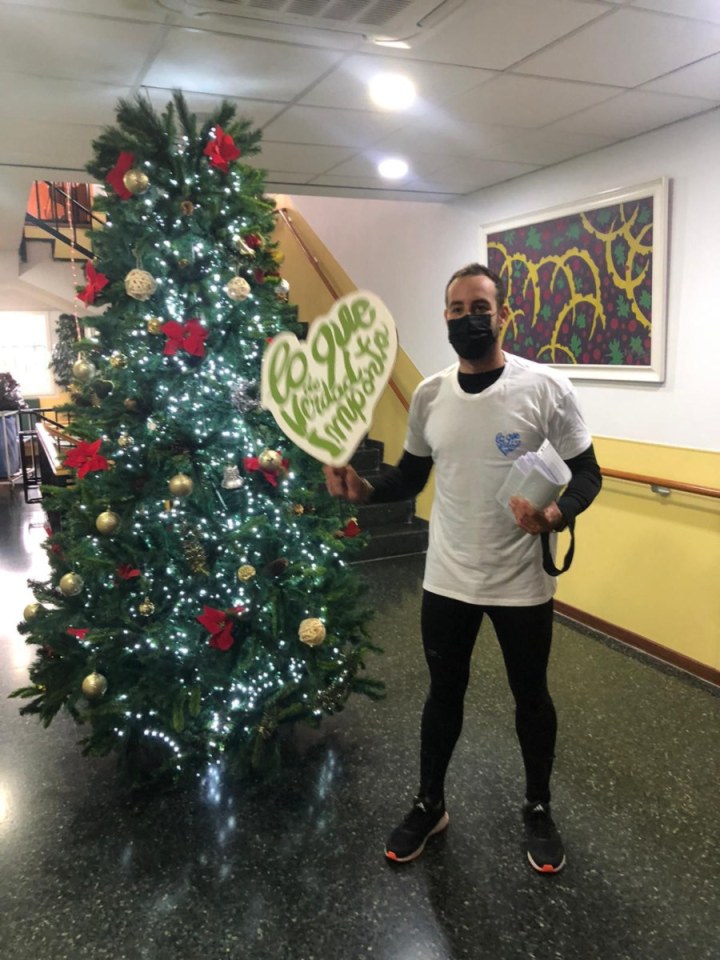 Gentileza
When he was taken to a regular hospital ward, his suffering didn't diminish. He experienced loneliness, fear at the sight of his badly wounded body, infections, weekly operations, and very painful treatments… He was so weak he couldn't receive too much medication, so the pain was indescribable.
In spite of everything, the Álvaro had the advantage that he was very fit from his life before the accident. He began to perk up at the news of the upcoming Seville marathon, which he took as a challenge. During that time, he dedicated himself to recording mini-videos from the hospital itself to encourage others in a similar situation. Every day he took a step forward in his recovery.
Another point in his favor was the support of the doctors, nurses, family, and friends who went to visit him day after day. From the protective glass, they cheered him up and encouraged him, although sometimes they broke down after leaving him.
He was hospitalized for four months in total isolation, due to the risk of infection, and underwent some 13 operations.
Suffering led him to God
Álvaro hit rock bottom and found himself face to face with God and with his past life. He decided that if he got out of there, he would turn his life around to fill it with true meaning, which was to make others happy.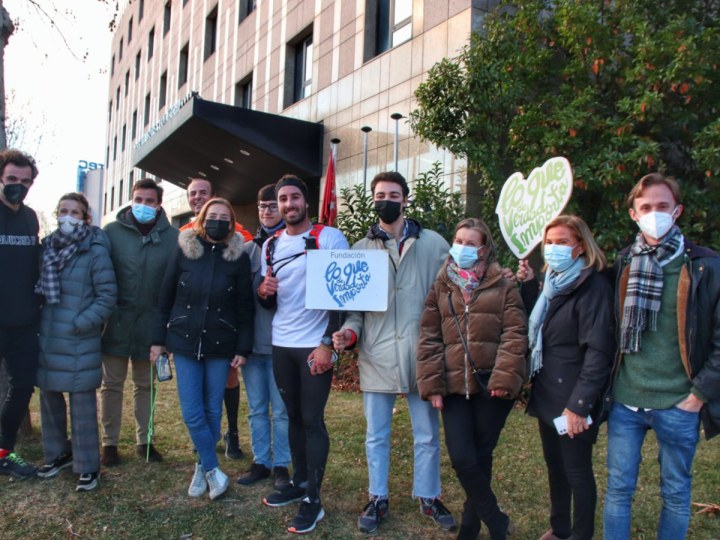 Gentileza
Since then his life has taken a 360º turn and today Álvaro is dedicated to trying to help others, collaborating with nonprofits and foundations.
Thanks to the values learned through sports, such as self-improvement and perseverance, he recovered in record time, and a year after the accident he was able to run the long-awaited Seville marathon.
After climbing the podium to receive recognition for his achievement, Alvaro made the humble gesture of taking his medal to the hospital. In his own words, "The award isn't only mine but also that of all the people who helped me to get here."
From then on, he began to participate in various challenges in which each stride and each stroke became a gesture of solidarity, instead of a way to cultivate his ego.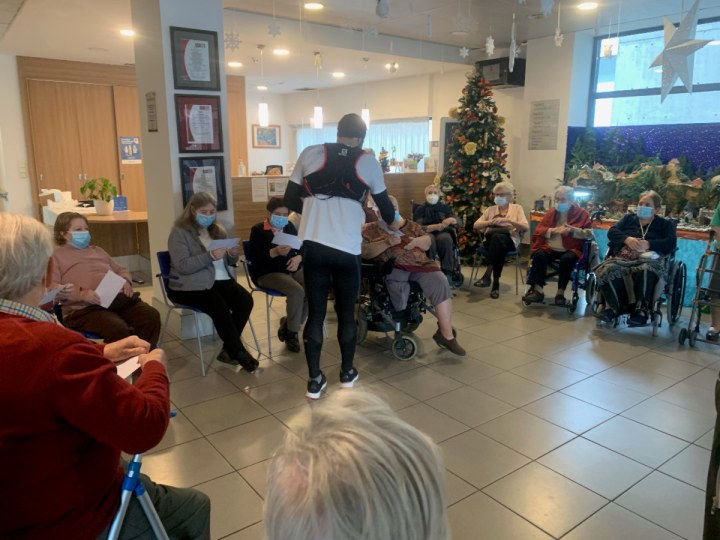 Gentileza
His recent Christmas challenge
One of his recent challenges, through the What Really Matters ("Lo que de verdad importa") Foundation, consisted of running 30 miles (seven and a half hours running) to visit nine nursing homes in Madrid (Spain), carrying more than a thousand letters and Christmas cards that students from different schools and institutes and written to the elderly.  
The emotion that the elderly feel when they receive the special treat of a handwritten letter is indescribable. It also does teens a lot of good to step outside of themselves to think of those in need. Álvaro helped both to happen. 
Here's to many more challenges, Álvaro, and may you continue to sow goodness with your good work!