This premier vocal ensemble is scheduled to put on two phenomenal concerts in two days.
One of the most esteemed choirs of Russian Orthodox chant, Chantres Orthodoxes Russes, is preparing to put on two concerts in two days. This premier vocal ensemble is expected to put on quite a show, which will hopefully draw from their exceptional 2020 self-titled album. 
Formed in 2013, the Russian Orthodox Cantors have devoted themselves to the Russian liturgical repertoire. In particular, they focus on the works of the great spiritual centers such as the Monastery of the Caves, in Kiev, and especially the Lavra of the Trinity Saint-Serge, which dates back to the 14th century. 
Russian chant History
On their blog, the choir notes that the first religious polyphonies of Russia were developed from Russian folk songs. In the 17th century, Russian composers were introduced to the Polish liturgical music tradition, which heavily influenced the region. With the Polish style as a blueprint, the Russian chant tradition developed over the next century, with grand choirs as large as 48 voices rising to prominence. 
In the 18th century, the Russian style began to adopt aspects of that of the Italians. At that point, the public fell in love with Russian Orthodox chant. Crowds would flock to church to hear the glorious, deep tones as though they were going to an opera. These low notes, performed by the much sought after basso profundo, would become a signature of the Russian Orthodox style.
Chantres Orthodoxes Russes
You would never know it by listening to what sounds like a massive choir, but the Russian Orthodox Cantors are only 10-12 voices strong. The group was formed from both professional and amateur singers, who have held positions in choirs all over Europe. In 2020, they released a 13-song album that is filled with such emotion it can bring listeners to tears.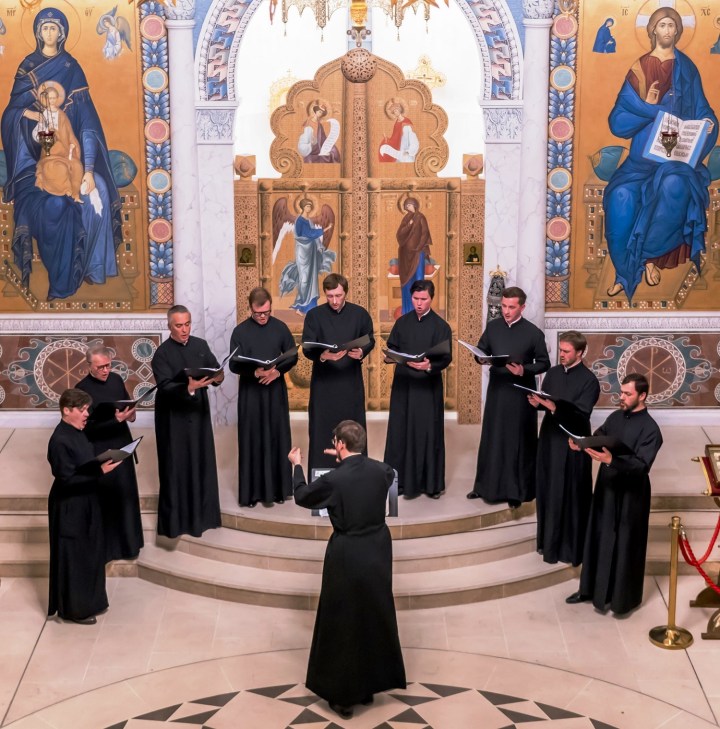 Christophe LAFLAQUIERE | Christophe LAFLAQUIERE
While we mentioned that the low notes are where Russian Orthodox chant shines, their tenors are just as on-point. Their use of dynamics is flawless and when the high notes soar over the low ones in crescendo, one might think there was a choir of 24 singing.
The concerts
The Russian Orthodox Cantors are scheduled to sing at the French Catholic Church Eglise Sainte-Marie-des-Fontenelles, on Saturday, March 26, and Sunday, March 27, 2022. Those who cannot make it to the show will be pleased to know that the ensemble tends to release their recordings on their Facebook page. 
Until then, we must content ourselves with their wonderful 2020 album. Listen to every masterful track in the link below.