The imprudent kitty was determined to outwit the firefighters trying to help him!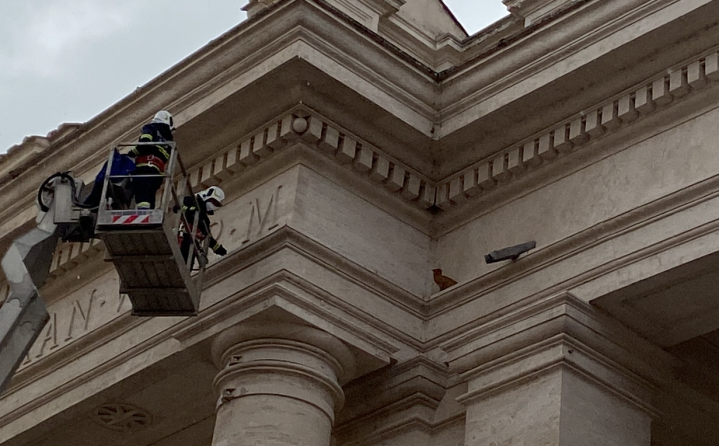 Vatican City firefighters intervened to save a cat stuck in the colonnade of St. Peter's Square on February 15, 2022. Despite their equipment, the firefighters were unable to grab the feline, who fell about 16 meters (about 50 feet). Though stunned, the animal came to its senses and was provided medical treatment.
For more than two hours in the late morning, the attention of tourists in Saint Peter's Square was caught up by the rescue of a ginger cat stuck on a cornice of Bernini's grandiose colonnade. Alerted by the police, the firefighters of the Vatican barracks arrived with two trucks equipped with removable ladders. They deployed them so that two firefighters could stand on either side of the cat and grab it.
But twice, the frightened feline tricked the firefighters by jumping over their outstretched hands. He continued his journey on the cornice of the colonnade, on the inside this time. Dozens of spectators, phones pointed at the cat, were able to follow this unusual rescue.
The firefighters, now equipped with a net, again tried to recover the feline. But the animal went to find refuge on one of the imposing loudspeakers in St. Peter's Square. Seeking to escape from the top of the colonnade, the cat attempted a spectacular leap: alas, his attempt failed. He then fell 16 meters, causing cries of dismay and fear among the crowd.
Firefighters and police quickly surrounded the poor animal and ensured that tourists stayed away. A woman, who I.MEDIA learned was a veterinarian, ran to the assembled rescuers and offered to help.
It was only after several minutes that we could see the cat jump again and escape, triggering a wave of applause. According to a witness interviewed by CNA , the injured cat was eventually captured and taken away by firefighters for treatment.