Contemporary online life is all about non-stop communication. But we were not meant to talk that much.
In 1991, R.E.M released their seventh studio album, Out of Time, featuring the instant classic "Losing My Religion." In the song, Michael Stipe alternatively sings "I've said too much" and "I haven't said enough." This tense relationship between undersharing (not saying "enough") and oversharing (saying "too much") is typical of one of the dominant forms of contemporary social life: online social networks. Social media users who might crave some offline time and a quantum of digital silence are nevertheless constantly, even relentlessly, encouraged to "speak" online as much as possible. We are talking too much, to too many people, all the time.
As Ian Bogost explains, constant online chatter is "in the tech giants' best interest." Internet companies have a distinctive name for this persistent urge to interact — they call it "engagement." Metrics used by these platforms to encourage interaction among users ("likes," "shares") are the index of a new social "virtue:" online popularity.
Online media, Bogost continues, "gives the everyperson access to channels of communication previously reserved for Big Business. Starting with the world wide web in the 1990s and continuing into user-generated content of the aughts and social media of the 2010s, control over public discourse has moved from media organizations, governments, and corporations to average citizens." True, being able to freely share and publish (almost) all kinds of audiovisual material seemed like a blessing. And it is, to a great extent. However, Bogost recalls, "we also received a toxic dump of garbage" aimed at stirring people's worst fears and sentiments.
Moreover, the ease with which connections can be made (a simple "friend request" would often do) means any post can virtually reach anywhere and anyone, with a little help from the algorithm. The way social media makes close friends look the same as acquaintances or even strangers (and vice versa, as they are all indistinctly grouped together as either "friends" or "followers") makes this sharing process way easier than actually taking the time to meet someone IRL — "in real life."
More "friends" than one can handle
The capacity to "friend" people online has turned into one of the main problems posed by social media. Online life ultimately became a matter of hoarding connections, and of keeping them "engaged" by constantly talking to one another. Before these online tools were so widely available, conversation took place less frequently, with considerably fewer people, in specific scenarios, most of them intimately related to one's daily life. The average person, Bogost reminds the reader, had a handful of conversations a day, and the biggest group one would ever have the chance to speak in front of was maybe a wedding reception, "a few hundred people at most."
A fairly famous Christian meme says "the man who split history in two only had twelve followers." Another one, in the same spirit, says "nobody talks about Jesus' miracle of having twelve close friends in his 30s." Both jokes are on point. According to Robin Dunbar, the now emeritus professor of evolutionary biology at Oxford University, whereas we can realistically develop up to 150 fruitful, even meaningful bonds, we have our most intimate relationships with only about five to 15 closest friends, Jesus' 12 being right there within the reasonable average. Of course, we can maintain much larger networks (think of your 400 Facebook "friends"), but those connections are certainly less meaningful. The kind of "conversations" we have with them are rarely relevant —and oftentimes openly hostile. Just think of that Facebook "friend" who is always "wrong" about something you think (no, that you know) you are "right" about.  
As Jenny Gross recalls, Dunbar theorized that humans could have no more than about 150 meaningful relationships. The measure became known as Dunbar's Number. In his original research, Dunbar studied primates (the most social of animals) and determined that the size of the neocortex, the part of the brain responsible for conscious thought, correlated with the size of the groups they lived among. The neocortex in humans is even larger, so he extrapolated that their ideal group size was, on average, 150. But the number is not just some speculative estimate. In his book How Many Friends Does One Person Need, Dunbar notes how the size of a typical Neolithic village from the Middle East ranged from 120 to 150 people, judging by the number of dwellings found in archaeological diggings. In the 11th century, the average size of most English villages recorded in the Domesday Book was more or less the same: around 160 people. In modern armies, fighting units contain an average of 130 to 150 people.
So, should we just talk to 150 people?
It is true that contemporary life demands seemingly non-stop networking to meet some of its (even vital) needs. But we can also maintain meaningful, significant relationships, both online and offline, beyond the mere thirst for "engagement."Bogost explains how "the gospel of engagement duped people into mistaking using software with carrying out meaningful or even merely successful conversations. A bitter tweet that produces chaotic acrimony somehow became construed as successful online speech rather than a sign of its obvious failure."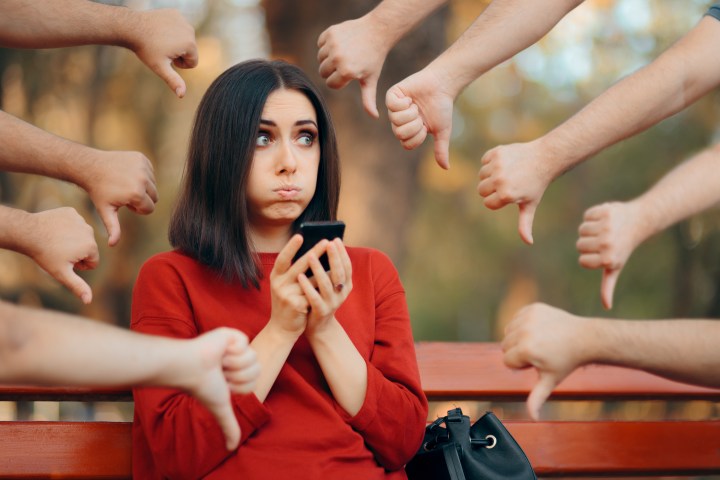 Nicoleta Ionescu | Shutterstock
This is a sign of what media scholar Siva Vaidhaynathan, the director of the Center for Media and Citizenship at the University of Virginia, has called "the Googlization of everything" and the "Facebook Disconnection." In short, Vaidhaynathan explains technology platforms like Facebook assume that they deserve a user base measured in the billions of people. To be precise, 2.2 billion people have Facebook accounts. "But none of us can really communicate with 2.2 billion people," even if we think we deserve such a following. Not even Facebook itself, which has continually excused its misdeeds by noting that effectively controlling such an unthinkably large population is impossible. So, what are we to do to avoid this (mis)communication trap? The answer, scholars from Dunbar to Vaidhaynathan agree, is relatively straightforward. One has to separate online wheat from digital chaff: what seems to be "good" for the platform is not necessarily what is good for human relationships. Less posting and sharing can indeed lead to a more meaningful life, both online and offline,as one re-learns to discern what is indeed important and what is not.
This implies stepping away from Facebook's "like" button. "For the longest time," Vaidhaynathan recalls, "Facebook would not allow any interactions beyond the thumbs up. They thought that including a 'dislike' button would encourage bad vibes. Then they must have tested it and found that their assumption didn't hold up, because they decided to introduce a very controlled set of emoji 'reactions.' But these reactions were finely tuned to be able to measure our mood." However, human feelings and relationships are way richer, and cannot be reduced to the seven codified Facebook emotions ("like," "love," "care," "haha," "wow," "sad," "angry.") What about fear, disgust, shame, shyness, guilt, interest, or contempt? The oversimplification of online expressions simply does not correspond to the complexity of human life, and its pervasiveness has flattened the quality of our human interactions overall. Fasting from "likes" can indeed help us give to the software what belongs to the software, and to people what belongs to people.