Il Picchio, in Loreto, Italy, is known for a sweet treat with an intimate connection to three recent popes: St. John Paul II, Benedict XVI, and Francis. 
The city of Loreto, on Italy's Adriatic Coast, is known throughout the world for the sanctuary housing the three walls of the Holy House of Mary. In the 13th century, according to legend, angels carried the walls from Nazareth to Italy.
Locals in Loreto, however, know that there is a "second sanctuary" in their town: a pastry shop known as Il Picchio.
Photo courtesy of Bret Thoman
While all pastries made by Il Picchio are delicious, they are especially renowned for one, in particular: Il Dolce del Papa (the Pope's Torte). This sweet cake has an interesting story, as it is connected to three recent popes: St. John Paul II, Benedict XVI, and Francis. 
Photo courtesy of Bret Thoman
The creator of the dessert is an exquisite woman named Elisabetta Picchio. Originally from the mountain region of Abruzzo to the south of Loreto, she grew up in simplicity in the "umbrage of San Gabriele" – the sanctuary housing the remains of St. Gabriel of Our Lady of Sorrows. She moved to Loreto after marrying her husband, a firefighter.
Once established in her adopted town, she set out to work. She and her sister knew how to sew and bake. Since there were already too many seamstresses, they opened a bakery. 
In the early years, Elisabetta attended a cooking academy where pastry chefs came together with recipes. There she discovered a dessert called il Peccato di Gola (The Sin of Gluttony) – a cool butter cream sandwiched between two almond meringues. After perfecting it by rendering it lighter and flakier, the innovation was well-received and her business took off.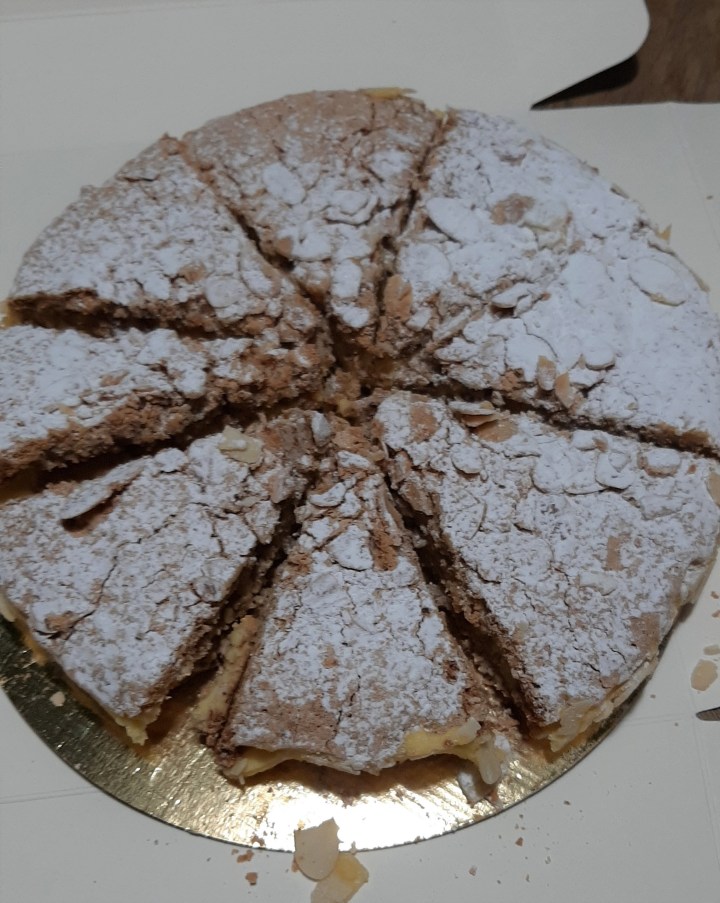 Photo courtesy of Bret Thoman
A faithful woman, she had a good relationship with the archbishop of Loreto, Mons. Angelo Comastri, during his tenure in Loreto from 1996-2005. He, in turn, had a good rapport with Pope John Paul II. The pope came to Loreto, in fact, five times during his pontificate.
Every so often, Mons. Comastri would send the pope gifts from Loreto, including locally produced olive oil and breads. One Christmas, he asked Elisabetta Picchio for a panettone, a traditional holiday sweet bread, to include in his package. She did so and also included her torte, the Peccato di Gola.
To her surprise, she soon received a handwritten letter from Pope John Paul II thanking her personally for the scrumptious dessert. The Peccato di Gola soon became a fixture in the packages sent from Loreto to the Vatican. 
When the pope came to Loreto on the next occasion for his 83rd birthday, the Picchio pastry shop had the honor of baking his cake.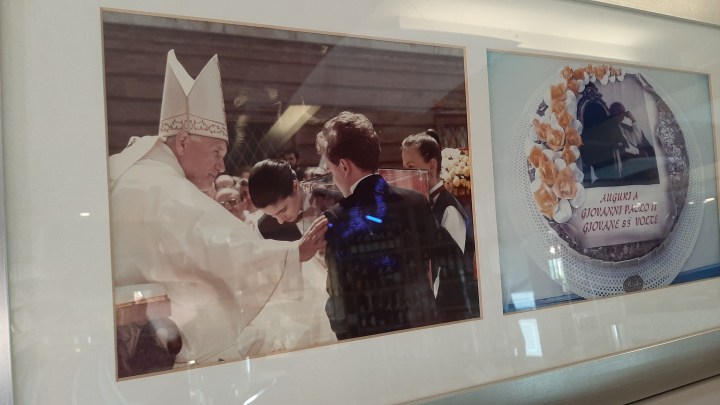 Photo courtesy of Photo Courtesy of Il Picchio pastry shop
During Pope Benedict's papacy, the Picchio family continued sending their desserts down to Rome. When he, too, came to Loreto to celebrate his birthday, once again, Il Picchio had the honor of baking his cake. 
They collaborated with an expert in historical recipes to create something truly remarkable. He turned to the writings of St. Hildegard of Bingen, a 12th-century, erudite nun from Bavaria (the pope's native region). Among the many topics she wrote about, she described a Bavarian torte. With that description, Il Picchio recreated the historical dessert. When it was presented to Pope Benedict, he was visibly impressed by their creativity. 
Photo courtesy of Il Picchio pastry shop
Elisabetta also gave the pope one of their freshly baked tortes, Il Peccato di Gola. In a homily the following Sunday after the papal visit, the archbishop of Loreto said that Pope Benedict, while tasting the awkwardly named dessert, "the sin of gluttony," commented that something so tasty could not be a sin. Perhaps that quip planted a seed in Elisabetta's mind. She would rename it. 
During Pope Francis's pontificate, Elisabetta finally decided to change the name. She wanted to call it, Il Dolce del Papa (the Pope's Torte). However, she felt it presumptuous to do so on her own accord. So she wrote a letter to Pope Francis asking his permission. To her delight, he responded with a letter granting her his consent.
Elisabetta Picchio is a remarkable woman. As she looks back on her life, she does so with deep gratitude. She realizes she has been graced in countless ways.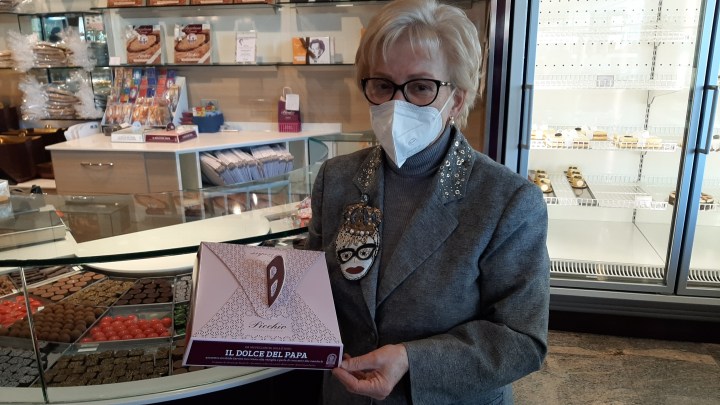 Photo courtesy of Bret Thoman