"I want women to know that it is deeply worthwhile to invest in your heart when it comes to engagement."
I was totally blindsided, after my husband proposed, by what a stressful time our engagement turned out to be. 
I had imagined being engaged to be romantic and starry-eyed, and it was … some of the time. But a lot of the time, wedding planning felt like a time-consuming part-time job, especially trying to plan from a different city than where we married. 
The spiritual and emotional side was also overwhelming at times. We attended the required pre-Cana classes through our diocese, but I wasn't sure that was enough. 
Were we doing the right things to prepare? Where should I focus my limited time and energy? How could I know for sure what really mattered?
I wish I'd had Emily Wilson Hussem's new series, which just launched on February 14. It's called "Navigating engagement with peace, joy and gratitude." It looks like an amazing resource to help engaged women prioritize what matters most.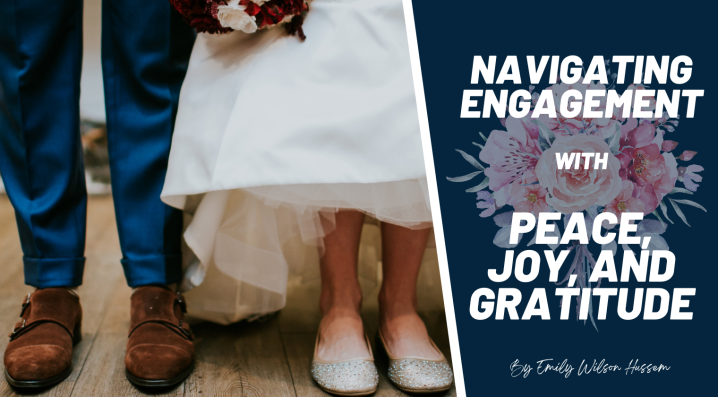 Emily Wilson Hussem
Emily is a Catholic speaker, author, YouTuber, wife, and mom who creates videos and writes books for women on femininity, dating, marriage, and faith. Aleteia recently had the chance to catch up with her about her new series for engaged women.
"My greatest desire in my ministry is helping women make decisions that lead to peace—the peace only Christ can give," she said.
Remembering her own unexpectedly stressful engagement motivated her to create the series. 
I want women to know that it is deeply worthwhile to invest in your heart when it comes to engagement! Taking time to focus on one's heart, emotions, fears, and feelings is something that no woman will regret in the flurry of planning, and something every woman needs to do to have an engagement filled with peace.
On her Instagram account, Emily explained, "This 10-part series will include videos, worksheets, prompts, reflection questions, and original prayers to offer practical guidance, prayerful encouragement, and many insights into what to expect during engagement and how to manage and prioritize your heart in the process."
Emily Wilson Hussem
Here's what Emily shared with us about the engagement series in our recent interview. You can use code ALETEIA10 for 10% off the series (the code will expire on 3/31/22).
What inspired you to create the series for engaged women? 
My own engagement was very stressful. I was very overwhelmed by the actual wedding planning, the marriage preparations, all of the details, and we had an immigration process that we had to complete on top of all of that! There are tons of resources and tips about dating, and tons of resources and tips about marriage, but engagement? There is close to nothing! Countless women get engaged and find themselves asking, "How do I do this?!" I talked to far too many women who felt so lost in the engagement process about how to navigate their feelings, keep their focus on what really matters, and have a deep sense of peace as they walked their journey! That's why I made this.
Who is the target audience for the series? 
The target audience is any woman who is engaged! The videos are specifically for the woman, not for the couple to watch together, although the topics covered can offer some great discussion points for the couple. Even if a woman is nearing the last few months of her engagement, the series includes a video about how to cultivate as much peace as possible on her wedding day, as well as a video to help prepare for the wedding night. No matter a bride's age, this series is meant to help every woman's heart find peace, joy, and gratitude throughout the entire process. 
What is your goal for the series, and what can women expect from doing it? 
My goal for the series is to give women encouragement as well as practical tips to navigate the season of engagement; I want to be a sister and friend on the journey. I want women to know they are not alone in feeling overwhelmed, that it is normal to think, "Wow, this is a lot to take in," and help them to be able to celebrate the true joy and gift of the season rather than focus on the stresses that inevitably come with it! Women can expect 10 in-depth videos about vital topics regarding engagement, many of which are rarely addressed. Included with the videos are worksheets with reflection questions, prompts, and original prayers; these are designed to help a bride focus on her heart, her spirit, and her clarity of thought during engagement.