After a terrible accident, the young man has gained independence and confidence again thanks to an amazing new friend.
What can God do in your life with one Bible verse a day?
Subscribe to Aleteia's new service and bring Scripture into your morning:
Just one verse each day.
Click to bring God's word to your inbox
Alberto Villalba is a young man from Teruel (eastern Spain) who was left blind and handless after a terrible accident. Nine years ago at just 21, he suffered these injuries when a grenade from the Spanish Civil War (1936-1939) exploded while he and his father were cleaning a neighbor's garage full of boxes and old junk. The accident changed his life, but didn't leave him hopeless or defeated.
The young man, a lover of sports and the countryside, is now exercising different muscles to be able to adapt his prosthesis to carry his guide dog's leash. He had to learn to be able to exert enough pressure to control Xabat, a black Labrador trained to give him autonomy. The Diario de Teruel reports that he received the dog right on time for his birthday on December 14 of last year, and Alberto calls the dog "the best gift." 
The dog and the right harness
Elisenda Stewart is a guide dog instructor at the ONCE Foundation school in Madrid. She's been there for 30 years and describes the connection formed between Alberto and Xabat from the first moment they met as a "magical symbiosis."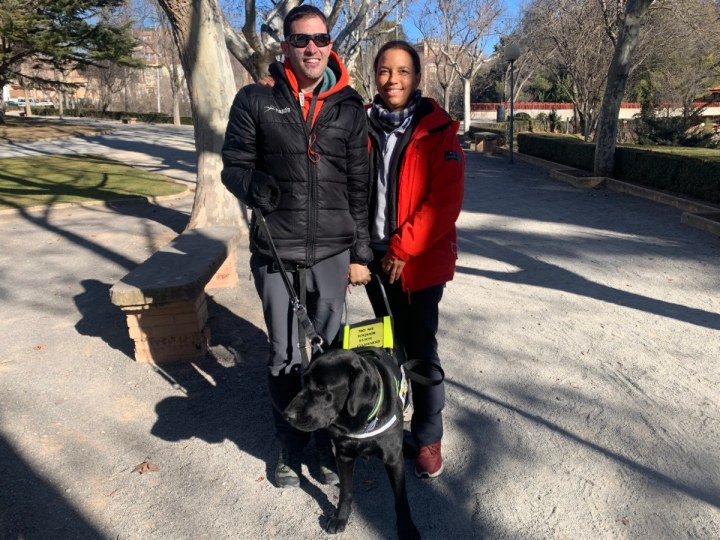 @ONCE_oficial
Elisenda says that Xabat is "noble, solid and compact, patient, and easy to handle with voice commands." This is essential for Alberto, who has to put on the harnesses with the prosthesis on his left hand and the stump on his right—while unable to see. This can take him about 20 minutes.
To achieve the wonderful partnership between man and dog, it took months of work via videoconferencing, trips to Teruel, and trying a thousand things with a conventional harness so that a person with no hands and a prosthesis could operate it without the sensitivity we have in our fingers.
"I practiced with my elbows, as if they were his stumps, to see the effectiveness of each modification," says Elisenda. It took a lot of creativity to adapt each fastener and each leash that Alberto has to use to go out on the street alone with his dog.
A tailor-made "suit"
The difficulty came with the traditional materials and hooks. They needed to be adapted and reinforced. For help with this, Elisenda turned to Emilio Asiaín Canalejas. He's a tailor and embroiderer, from a family of tailors. He didn't hesitate for a moment to join the team and wisely guide the thread of the sewing machine.
Together with Elisenda and Alberto, Emilio designed and reformulated every material and every grip that was needed so that Alberto could handle Xabat without any problem. He says that "leaving the conventional model to make something unique" has been fulfilling for him.
"Adapting the velcro, the hooks, spending 4 or 5 hours talking about the benefits of a strap, or ordering the material from a German factory, has been a very motivating experience."
@ONCE_oficial
Emilio describes the experience of working with Alberto as "emotional." "My motivation is to see a person who struggles to stop being dependent and to have his freedom. He's the one who pulls us along."
His freedom compensates for our efforts
"Alberto's tenacity and his spirit of self-improvement and freedom compensate for all my efforts," says Elisenda. She recognizes that this has been one of the most difficult challenges she has faced. She says that his "getting out of his comfort zone and seeing him walking alone with Xabat in the street makes it all worthwhile."
Emilio, the tailor, says that this experience has changed him and that day by day he continues to work with pleasure to continue improving the leash and harness that Alberto uses with his dog, to adapt it every day to their needs.