Wedding procession, hairstyle, bouquet ... there are many meaningful wedding trends right now, and we are here for it!
Many couples have waited until 2022 to finally organize their wedding, due to the consequences of the health crisis related to the COVID-19 pandemic. It is all the more interesting to see what the wedding trends for this year will reveal. Get inspired!
1
VIRTUAL INVITATIONS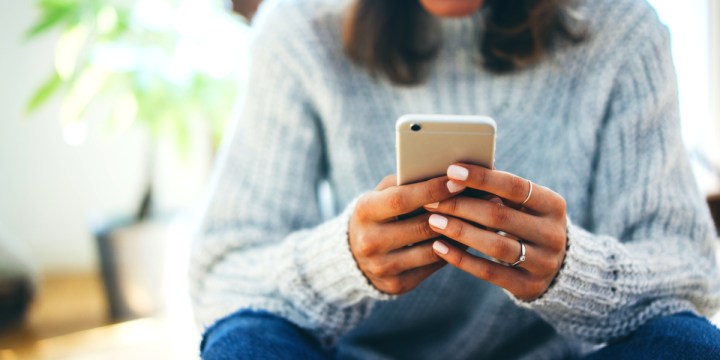 Di ImYanis – Shutterstock
With the health restrictions that brides and grooms have had to adapt to since the beginning of the COVID-19 pandemic, virtual invitations are the perfect solution. They allow you to communicate in real time with your guests, to change the date of the ceremony or to update the details until the last minute.
2
THE TOP AND SKIRT DUO
For those who insist on having their own wedding dress to keep and pass on to the next generation, purchases of two-piece wedding dresses increased significantly in 2021. This trend is even more pronounced for 2022 wedding attire.  Elegant and contemporary, these two-piece dresses are easily transformed throughout the big day, with the addition of an overskirt for the ceremony, or pants for the dance floor… They allow the bride to look great without being overdressed. As for the details, high collars are the order of the day for wedding dresses. A Lavallière, chimney, or claudine collar … Inspired by the ruffle collars of the aristocracy, this is the refined detail that will figuratively and literally elevate the necks of brides in 2022.
3
HAIRSTYLE: NATURAL LOOK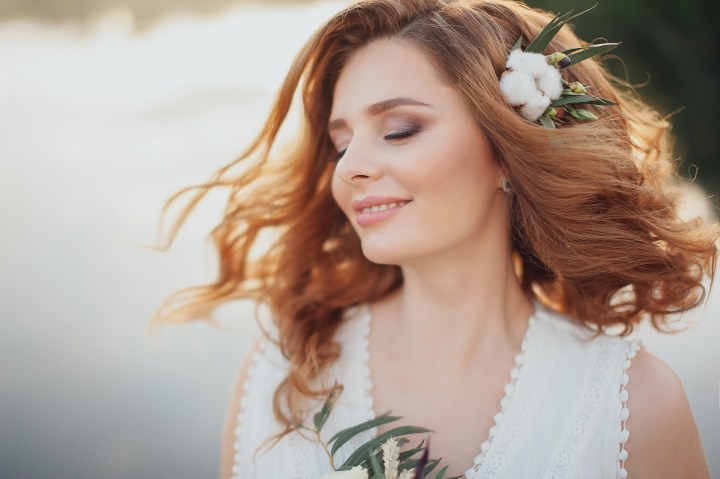 Shipilov77777 | Shutterstock
One rule to remember this year: stay true to yourself. Working on your wedding hairstyle for hours on end isn't necessary. Instead, natural elegance is back in 2022. Beautifully loose or slightly wavy hair will easily adapt to different head accessories like pretty flower crowns, combs, or hairpicks. Another trendy idea this year is the low bun. Enhanced with a refined accessory, it will give the bride a natural and sober look. A pretty wax flower crown or hair pick, for example, will style the hair in a very natural way.
4
JEWELRY: DISCREET AND MEANINGFUL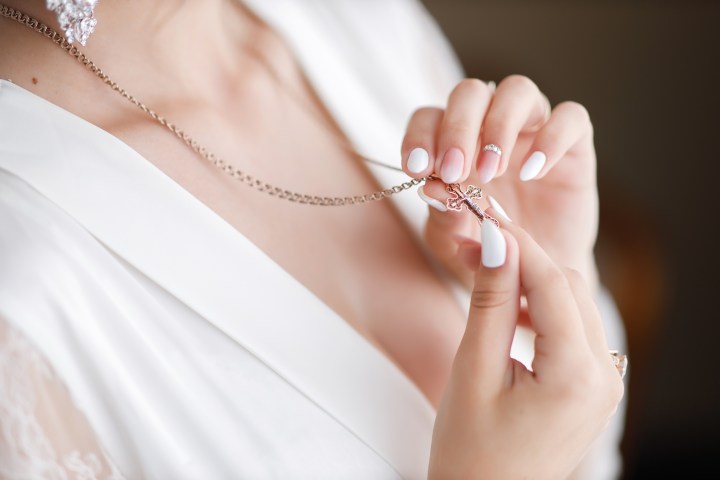 Wedding decor | Shutterstock
Crowns, rings, bracelets, headbands, medals, combs … Bridal jewelry is no ordinary jewelry. It's the final touch to the wedding dress. These details will grace the bride's face with elegance, and will illuminate her look. In 2022, jewelry is discrete, delicate, and full of meaning. Some items such as pearls, medals, or rings will give meaning to the ceremony and the sacrament of marriage.
5
BRIDAL VEIL: THE BIG COMEBACK
Take A Pix Media | Shutterstock
The bridal veil, a symbol of purity, is back this year. Long, short, embroidered, or iridescent, the veil embodies something sacred: purity and commitment at the same time. In 2022, many designers are offering a multitude of shapes, materials and lines to harmonize it with the wedding dress.
6
WEDDING PROCESSION: SMOCKS AND MIDI SHORTS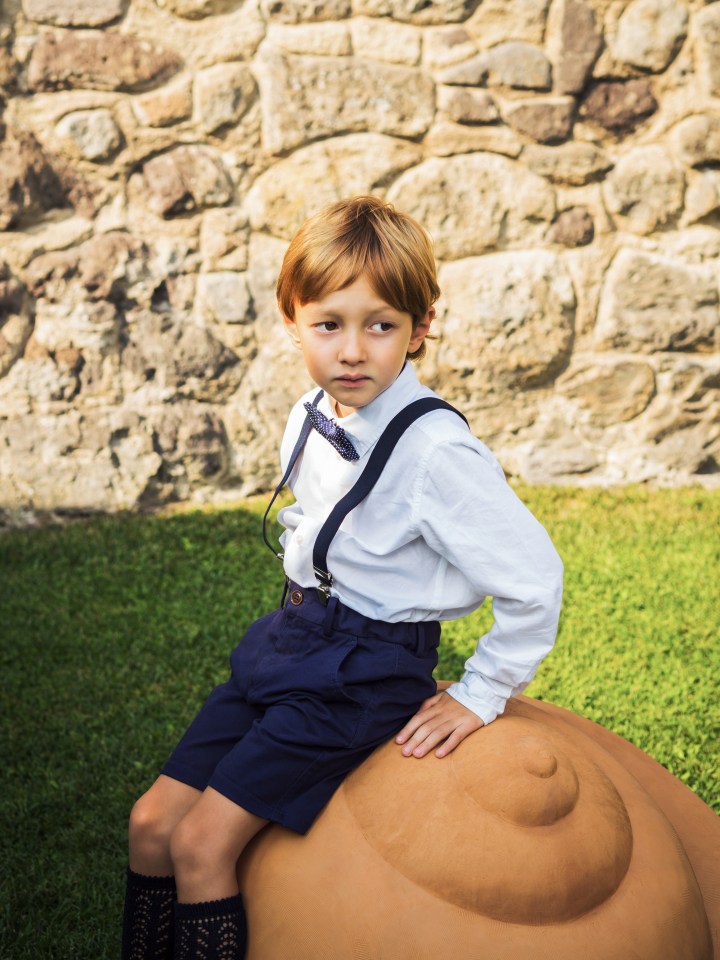 Life morning | Shutterstock
While the simplicity of white and creamy shades is synonymous with elegance, in 2022 pastels, embroidered smocks, and floral motifs in all shades of color are in the spotlight for the dresses of the little bridesmaids. As for the boys, the return of midi shorts and navy blue marks the year 2022!
7
BRIDAL BOUQUET: IRREGULAR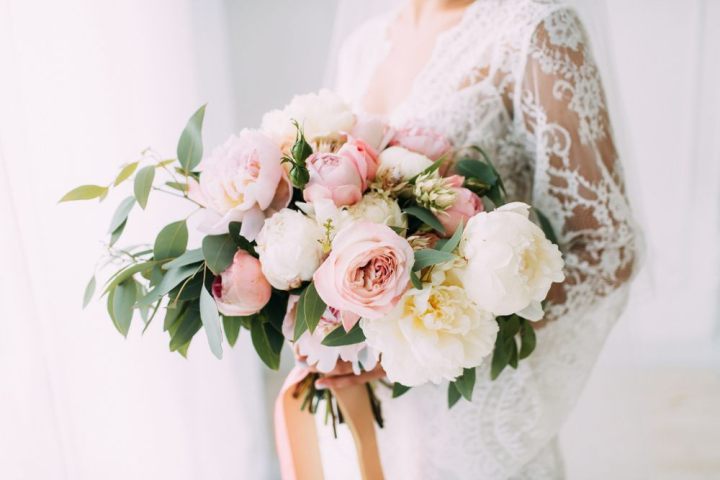 Shutterstock | Artem Oneshchak
In 2022, the bridal bouquet should not only be large, but also natural and irregular, as if it were composed of freshly cut flowers from a garden. Perfectly stylized wedding bouquets are a thing of the past and are being replaced by bouquets made of freesias, roses, peonies and other flowers and leaves, even including dried flowers.
8
DECORATION: AN EXPLOSION OF COLOR
Among wedding decorating trends, forecasters are unanimous: the year 2022 is indisputably synonymous with colors, and pastels in particular. Sky blue, old pink, and mint green reign to decorate the pews, tables and chairs, especially with flowers in these cheerful tones. However, it should always be in an elegant and harmonious style.
9
SECOND-HAND WEDDING DRESSES
Fans of the British royal family remember it perfectly. For her wedding, Princess Beatrice chose to borrow a dress … from her grandmother, Queen Elizabeth. As for Carrie Symonds, wife of Boris Johnson, she made headlines in 2021, mainly because of her rented wedding dress. She wore an ivory tulle and silk gown designed by Christos Costarellos that sells for £2,870 (about $3880 US dollars), but was rented for just £45 ($60). Whether motivated by an ecologically responsible approach or by budgetary reasons, more and more brides-to-be are walking down the aisle in a "designer" dress but … second hand. Having a dream wedding dress without emptying your account is a strong trend this year.
10
ZERO WASTE DIY
Freddy Napoleoni | Shutterstock
Good news for green-living enthusiasts: zero-waste wedding decorations are a strong 2022 trend. In fact, many 2022 brides and grooms are planning their weddings in an eco-friendly spirit. Some are even making it their wedding theme. Why not make your own gifts or decorations, using jars and bottles as vases for flowers or lanterns for candles. Or choose the gifts for the guests among eco-friendly and sustainable, reusable and zero waste products?