During the 19th century pilgrims visiting Rome bright home these crosses of easily transportable size. 
The season of Lenten pilgrimages is almost upon us, and Rome has always been a favorite destination. Awaiting pilgrims, and tourists, there used to be an array of distinctive souvenirs. The speciality of the Eternal City was micromosaics. 
Inspired by ancient Rome 
The ancient Romans perfected mosaic work of all sizes. Tiny versions made with minuscule filaments of stone-like enamel were much sought after in the first century AD, but the technique was then forgotten. Popes of the 16th century revived an interest in large mosaics when St. Peter's Basilica was being rebuilt; this was a much more durable art form than frescoes. 
The Vatican's own workshops became a major producer of both large and small mosaics. Later, the field was swamped with independent operators. Surprisingly, the themes were rarely religious. Until the late 19th century it was Roman ruins, pastoral scenes and birds that ruled the roost. There were occasional depictions of Christ and the Virgin Mary, but these were outnumbered by miniature portraits of various popes, presented as diplomatic gifts. 
The crux of the matter
During the 19th century there were many more travelers to Rome. It was no longer just a place for ambassadors, English milords and others doing the Grand Tour. Pilgrims were eager to take something home, preferably not one of the huge stone tables inlaid with micromosaics that were the choice of the nobility. Crosses of easily transportable size were created to meet the need. 
Photo by L. de Guise, courtesy of Museum of the Cross
It's difficult to put a date on most of them. Occasionally there are useful indicators, such as the large quantity created in 1900 to celebrate Rome's jubilee. These state the year that they were made. Most have delicate images of St. Peter's Basilica and perhaps the instruments of the Passion or the pope of the time.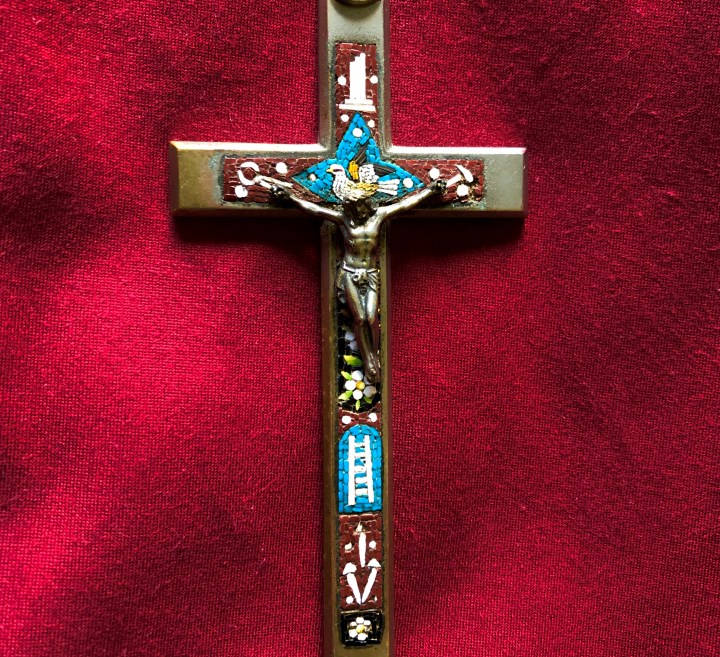 Photo by L. de Guise, courtesy of Museum of the Cross
What I haven't seen is the crucified Christ in micromosaic. There are many with a metal Corpus Christi added to the cross, but perhaps the nimble-fingered mosaicists of Rome felt the crucifixion was too big a challenge to face in miniature.
The Vatican Museum Studio still exists, committed to keeping the Catholic Church's full-size mosaics in top condition. Most visitors to St. Peter's are unaware that the magnificent walls and altars are seldom painted. Almost all the art is in mosaic – more than 30,000 square feet of it.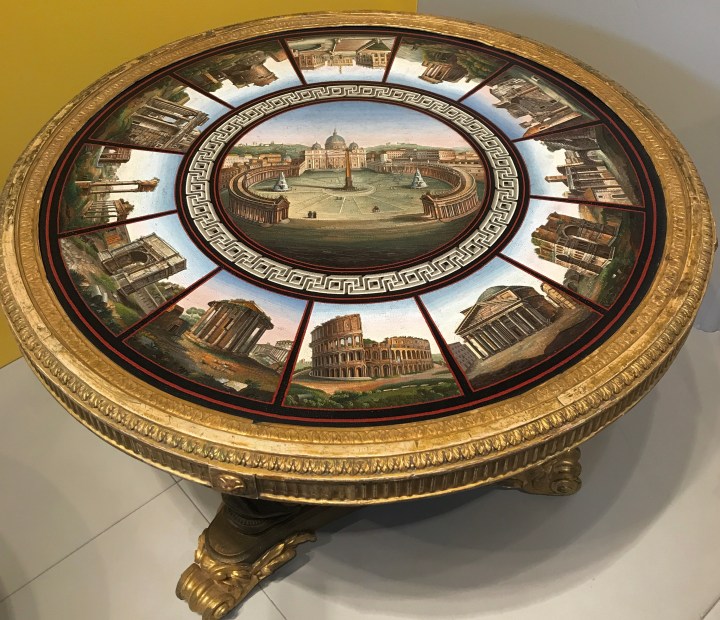 Photo by L. de Guise, courtesy of Victoria and Albert Museum
The virtual Museum of the Cross
This late 19th century crucifix is from the collection of the Museum of the Cross, the first institution dedicated to the diversity of the most powerful and far-reaching symbol in history. After ten years of preparation, the museum was almost ready to open; then came COVID-19. In the meantime, the virtual museum is starting an Instagram account to engage with Aleteia readers and the stories of their own crucifixes: @crossXmuseum