Put a new spin on a favorite tradition or be a little creative to mark the day before Lent begins!
Fat Tuesday — also commonly called Shrove Tuesday — is the day before the penitential season begins, and that means it's time to celebrate! 
Lent is a beautiful time when the absence of excess and the presence of penance allows us the space to gently rend our hearts open a crack. That little crack is all our Savior needs to inch us closer to himself.
But before we join our fellow Christians in giving up chocolate, coffee, or Netflix, why not join the church and honor this day in a unique way—either choosing a commemoration straight from the annals of history, or finding a slightly more current way cultivated from my liturgical imagination.  
Break out your most exciting mask
Mike Flippo | Shutterstock
Traditionally, elaborate masks were worn as part of the celebration of Carnival in the days before Lent. You would wear these masks while shopping, while going about your daily business, and even to fancy dinner engagements. Sound familiar? If you have a fun mask today, wear it! You may not stand out as much as you would have a few years ago, but you could always add some face paint to increase the pizzazz and spirit of the day. 
Listen to the audio recording "Vivaldi's Ring of Mystery"
The mystery takes place in Venice during Carnival, as a young orphan girl finds a new home and a renewed love of music in the city on water. This recording is meant for children, so listen to it with your kids if you'd like. But the story is beautiful and engaging enough to listen to on your own as an adult as well. You'll get a taste of Venice, Carnival, and Vivald's music all in one setting (did you know Vivaldi was a Catholic priest?). 
Host a pancake party
Want to host the easiest party ever? Invite over a group of friends, toss a box of pancake mix, some sausage links, and orange juice into your cart, and get your frying pan greased and sizzling. Invite people to bring their favorite pancake topping and/or breakfast drink of choice. Play a selection of festive music, talk about the highlights of your year so far, and what you're looking forward to in the future. Exchange ideas about what to give up for Lent
Check out a local Cajun restaurant
Adventure out with family and friends to enjoy an evening without dishes. Channel the festivities of Mardi Gras by eating Cajun even if you don't live in the south, while keeping the evening wholesome and family-friendly by just sharing a meal and some good conversation!
Wear your most colorful outfit and most exciting accessories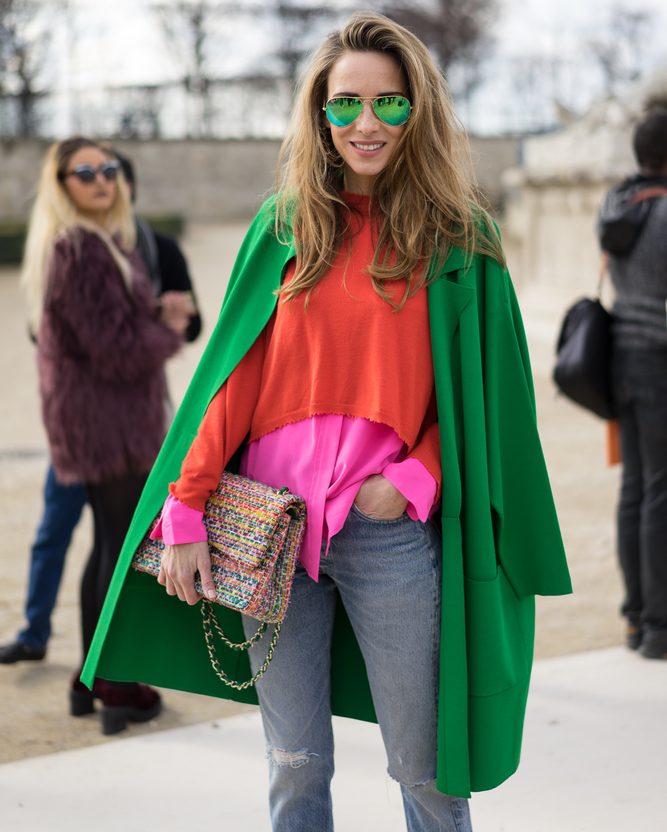 Huang Zheng | Shutterstock
On Ash Wednesday, the liturgical mood will be somber. But on Tuesday, it's time to be extra joyful and celebrate. Break out the duds that make your soul sing. And while you're at it, sing Alleluia whenever possible. 
Avoid salad
Tuesday is not the day to have a boring salad or listless PB&J for lunch. As you won't be eating much tomorrow, now is the time to indulge in that hamburger or those fajitas. Have the soda or the hot chocolate while you're at it! You can drink extra water tomorrow. 
Bury the Alleluia
A strange and fun tradition I only learned about recently helps us joyfully remember some of the seriousness of the upcoming season. Write the word "Alleluia" in your most beautiful script on a piece of paper. Then take a few moments to sing or speak some heartfelt Alleluias into the world. Any kids in your life will usually very happily embrace this challenge with you–and quite loudly at that–so get ready to bury your self-consciousness as well. Next, bury that piece of paper in your yard or kitchen planter. No more Alleluias until Easter!