The wisdom and example of these 3 famous saints can guide our lives this month and always.
Who's a more important influencer: the latest professional selfie-taker, or a canonized saint? 
If you guessed "saint," give yourself a thumbs-up! We should cultivate amazement for the great cloud of witnesses that surround us and whose intercession we seek, so we can follow their examples. The more we read about what they sacrificed, how they loved, and the authentic joy they found, the more we come to realize that no one is cooler than the saints.
Here are 3 saints celebrated in March whom we can admire, along with their wisdom for our lives. These saints — a housewife, a formerly enslaved person, and a thief — all learned to pray in the most challenging of circumstances.
March 9 — St. Frances of Rome
St. Frances of Rome always wanted to be a nun, living in poverty and offering charity. However, after a period of discernment, she was obedient to her parents, accepting the marriage offer of a kind, wealthy man.
Thankfully, the marriage turned out to be a good one, filled with joy, but Frances longed for more pious opportunities than her wealthy life provided. In her role as wife to an important and rich man, she was required to attend many parties and social events. This made her feel discontented and sorrowful. Her mother-in-law was not impressed with Frances. She preferred her other daughter-in-law, Vannozza, a cheerful socialite. 
Frances assumed Vannozza was superficial, and disliked her. But one day she discovered that Vannozza was actually quite pious — she was just working hard to be joyful as she dutifully fulfilled her expected role with obedience.
Frances and Vannozza became best friends. A discontented housewife no longer, Frances began to find joy in the duties her life required. Along with fulfilling their obligations to their families, the two began to pray together and do charitable works together. We can follow their example by donating to a good cause.
St. Frances learned how our first judgments of people can be wrong; that great friendships can come in unexpected places; and that anything offered with love to God can be a prayer, even tasks that seem like mere drudgery.
So in the spirit of St. Frances of Rome, let's cultivate a holy friendship that also enhances our dedication to our domestic church. Find someone in your family, someone within your circle of friends, or reach out to someone in your parish, and form your own prayer group — perhaps praying the Rosary together, having a scheduled weekly phone call to discuss matters of faith and share prayer requests, or reading and discussing Scripture.
Another option for finding a prayer partner is to join a group like your parish Rosary Society or the Knights of Columbus. And mothers will enjoy the prayerful connections made in groups like this.
Let's listen to the advice of St. Frances of Rome, in her own words: 
"It is most laudable in a married woman to be devout, but she must never forget that she is a wife. A married woman must, when called upon, quit her devotions to God at the altar to find him in her household affairs."
March 17 — St. Patrick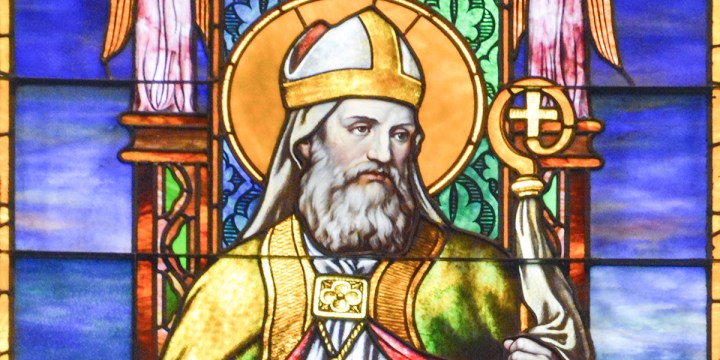 meunierd | Shutterstock
St. Patrick first came to Ireland as a slave, and after escaping, returned to that country of his enslavement to set this land of his former captors free from sin, idolatry, and despair.
During his ministry in Ireland, this former slave-turned-bishop reportedly taught the mystery of the Most Holy Trinity by using a shamrock to illustrate how the Trinity is Three Persons in One God. It is said St. Patrick developed the Celtic cross by placing the shape of a sun behind a cross (also resembling a Host).
However, St. Patrick's work was dangerous. There were many who wished him harm so each day he prayed the Lorica, known as the Breastplate of St. Patrick. In his honor this month, why not bake an extra soda bread this year and drop one off on someone's doorstep? When you wrap it up, you could include a note with a copy of the Lorica prayer.
St. Patrick braved the elements to bring the Gospel in all types of weather. He would often go to a mountain to pray, like Christ did. Through his example, we learn that while out in nature, we can pray.
Let us listen to the advice of St. Patrick, in his own words:
"I prayed in the woods and on the mountain, even before dawn. I felt no hurt from the snow or ice or rain." 
March 25 — St. Dismas
The feast of St. Dismas is celebrated on March 25. St. Dismas is the name given to the criminal executed on the cross beside Jesus. He became known as "The Good Thief." The traditional history of St. Dismas was written by St. Anselm. 
According to St. Anselm's account, Dismas lived a long life of crime and when the Holy Family fled into Egypt, Dismas lay in wait and was about to attack them when he saw the face of Jesus and stopped, moved by the beauty of the Holy Infant. Instead of harming them, he offered them protection in his cave. The Blessed Mother promised Dismas that before he died, he would be rewarded for his goodness to them.
St. Anselm's account teaches that 33 years later, Dismas carried his cross to be crucified next to Jesus, alongside Gestas, the other crucified man at Calvary. Dismas didn't recognize Mary, but she recognized him, and she prayed for him as she stood at the foot of the cross.
The other criminal, Gestas, taunted Jesus, "If you are the Christ, save yourself and us." But the shadow of Christ's wounds penetrated the heart of Dismas and he said, "Do you not even fear God, seeing that you are under the same condemnation? For we justly and deservedly have received those things which we endure, but He has done no evil."
Then Dismas famously added, "Lord, remember me when you come into your Kingdom." Jesus famously replied, "Amen, I say to you, this day you will be with me in Paradise."
Imagine how Dismas must have felt! The Good Thief received the first fruits of the Redemption, and the promise made by Mary was fulfilled through the mercy of Jesus.  
Let us follow the advice given in the example of St. Dismas' words as we join his faithful, hopeful and loving prayer even unto suffering and death: 
"Lord, remember me when You come into Your kingdom."
Let the saints of March enlighten and encourage you on your life's journey this month!