Christ is truly placed at the heart of a Ukrainian marriage.
We've recently reported on some unusual marriages that have taken place in Ukraine while it is under attack. Although the couples looked full of joy as they said "I do," it made us wonder what a Ukrainian wedding ceremony would be like in more peaceful circumstances.
While there are some fun elements to a Ukrainian wedding, such as demanding that the groom pay a ransom before seeing his bride, there are some beautiful rituals that normally take place during a Catholic marriage in the Eastern European country.
Betrothal at the Church's vestibule
This is very different from weddings we see in Anglo-Saxon countries where the ceremony begins with the bride walking down the aisle. In Ukraine, the couple actually exchanges vows to love each other before proceeding into the church as a united couple.
Entering the Church of Christ
By exchanging their vows before proceeding into Christ's church, the couple is not just marrying each other, they're entering a life with Christ at the heart of their marriage. "It is like the present world entering into the world to come; the human becoming the 'sacred,'" as CatholicUkes explains.
The crowning ceremony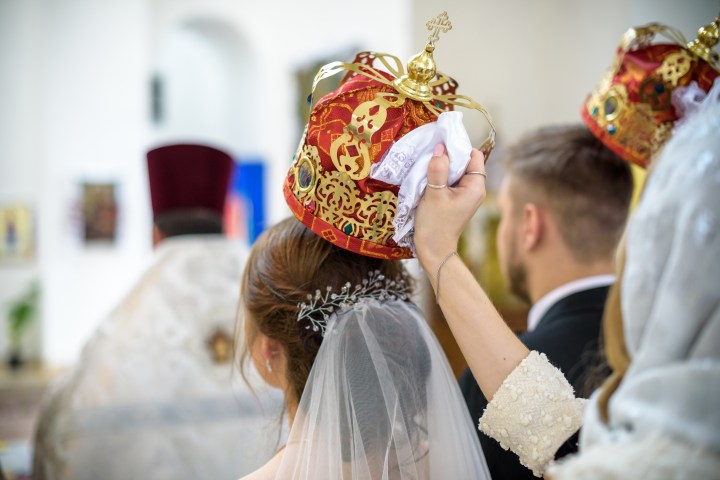 Pavel Kobysh | Shutterstock
The ritual of the crowning symbolizes what the couple has now become. As husband and wife they're not only a family but their own little kingdom, one that will hopefully bear a resemblance to the kingdom of God. Therefore a crown is placed above the couple's heads and the priest says: "O Lord and God, crown them with glory and honor."
From CatholicUkes:
"The real mystery of marriage is not until death parts them but until it unites the three of them, the groom, the bride, and Jesus Christ completely in eternity. The procession into church is exactly that – proceeding into God's Kingdom, where they will be crowned with glory."
As king and queen of their own little kingdom, the husband and wife can lean on each other through the difficulties they may encounter in their marriage, and give each other strength.
Receiving the chalice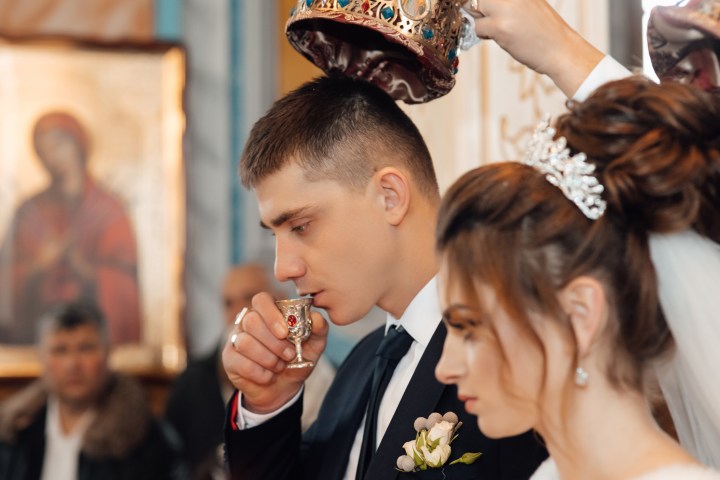 Moish Studio | Shutterstock
After the crowning, the couple will be given a chalice to drink the wine the priest has already blessed. (If the wedding takes place during the Divine Liturgy then the couple will receive the Eucharist.) Once again this ritual unites the couple with Jesus Christ as they enter into communion with Him.
Three times around the altar
After this, the bride and groom walk around the altar three times. It is the beginning of their joyous journey in holy matrimony with Christ walking in the middle with them always.