Some arrived at start of war with various illnesses; others are recent arrivals with wounds from the shelling.
Need an idea for Lenten almsgiving?
Help us spread faith on the internet. Would you consider donating just $10, so we can continue creating free, uplifting content?
Make a Lenten donation here
Pope Francis went to the Bambino Gesù Children's Hospital to visit the Ukrainian refugee children receiving treatment there, the Vatican press office announced.
The Pope made his visit shortly after 4 pm on the afternoon of March 19, the feast of St. Joseph.
The children have arrived in the last few days from Ukraine. There are about 19 Ukrainian children in the hospital and satellite site.
Some 50 have arrived since the start of the war. They have various illnesses (oncological, neurological and other). Some fled in the first days of the war and, more recently, children have arrived with serious blast wounds.
The Pope stopped by the rooms and visited all the little ones present, and then returned to the Vatican.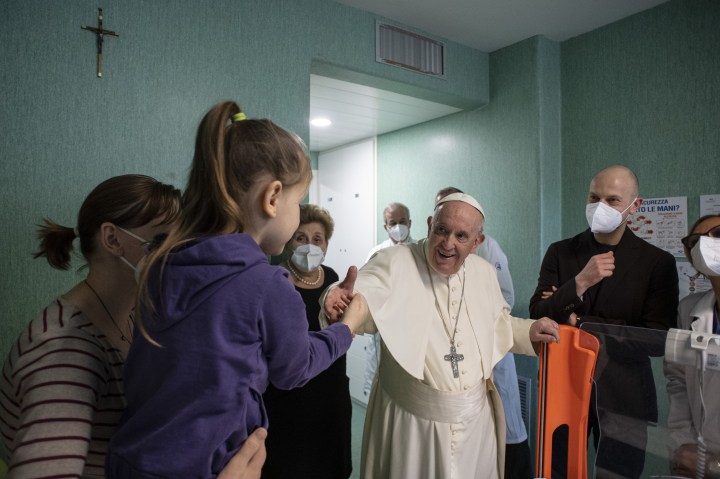 © Vatican Media
On March 18, the Pope mentioned the children at Bambino Gesù when he was addressing a group of educators.
The Gospel only asks us not to look the other way, which is precisely the most pagan attitude of Christians: the Christian, when he gets used to looking the other way, slowly becomes a pagan disguised as a Christian. … The war is not far away: it is at our doorstep. What am I doing [about it]? Here in Rome, at the Bambino Gesù Hospital, there are children wounded by the bombings. At homes, they take them home. Do I pray? Do I fast? Do I do penance? Or do I live carefree, as we normally live through distant wars? A war is always – always! – the defeat of humanity, always.