In Malta, Pope Francis once again invited the faithful to pray for peace in Ukraine on April 3, 2022.
"Let us now pray to her [the Virgin Mary] for peace, as we think of the humanitarian tragedy unfolding in war-torn Ukraine, which continues to be bombarded in the sacrilegious war," Pope Francis confided, as the conflict in Ukraine has claimed thousands of lives since the Russian invasion began on February 24.
Interrupted by the applause of some 20,000 Maltese who came to attend the open-air mass, the Pope called the war in Ukraine "sacrilegious." Ukrainian flags were visible in the crowd.
Ukraine echoes in Pope's Malta trip
The day before, in a speech to the Maltese authorities, the pontiff had made an obvious reference to the Russian offensive by worrying about seeing "the darkness of war" return from the East.
Without explicitly naming those responsible for the conflict – the Pope has never since the beginning of the war mentioned the name of Vladimir Putin – he nevertheless deplored that potentate "sadly caught up in anachronistic claims of nationalist interests, is provoking and fomenting conflicts, whereas ordinary people sense the need to build a future that, will either shared, or not be at all."
On the plane from Rome to Malta on Saturday, April 2, the Pope told reporters that the proposal to go to Kiev, the capital under siege by the Russians, was "on the table."
Early in the morning, just before boarding his plane to begin his trip, the Pope had greeted refugee families from Ukraine in the Vatican who had been welcomed in Italy.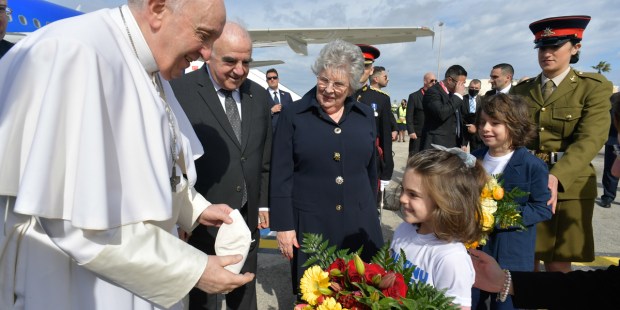 Launch the slideshow