Nurture faith and have lots of fun with these sweet and spiritual gifts for the Easter basket!
Many families like to fill their Easter baskets with books and toys that help children learn about Jesus and the saints. These sweet gifts will nurture your child's faith, and be lots of fun, too!
Outdoor play and experiences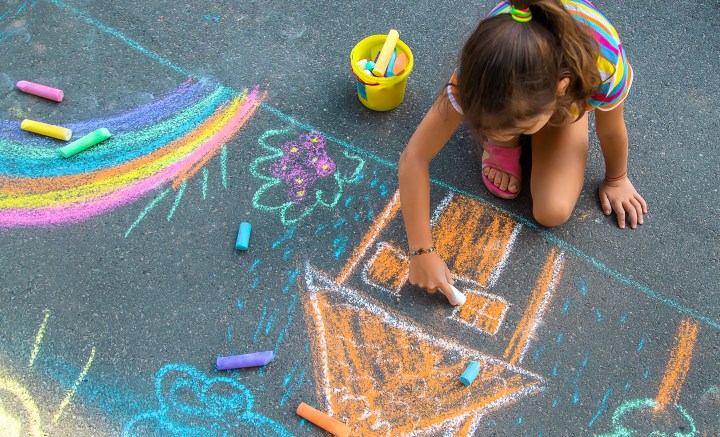 Tatevosian Yana | Shutterstock
As the weather warms up, Easter is the perfect time for outdoor toys. You can't go wrong with classic sidewalk chalk, bubbles, and candy.
It's also a great occasion for any big-ticket gifts for the summer. A new bike, a backyard game, a sandbox, or a ticket to a fun summer event would be perfect presents. You might even spring for a swing set, climbing dome, or summer camp sign-up. The best gift might be an experience instead of a physical item!
For baby
This perfectly curated Easter Basket Bundle includes a Sage Green Meal Blessing Bib, a Keys to the Kingdom Silicone Teether, and a Noah's Ark Bath Toy Set.
Give baby a beautiful first rosary with this wooden rattle teether rosary or these beautiful silicone rosaries (a beloved favorite in my house!).
Keep baby entertained with this wooden baby gym (and don't miss these other sweet baby goods!).
This sweet crinkle book shares the life of Saint Francis with little ones.
Dozens of beloved saints come in cuddly "pillow doll" form at Blessed Friends Forever. (And check out these specifically Marian saint dolls!)
We can't get enough of these bibs, rattles, and knit toys with saintly themes.
A religious quiet book is perfect for bringing to Mass.
Art and building
Ever wished your kids could learn about their faith while playing and building? Check out this Mass-themed LEGO set!
What kid doesn't love stickers? Perfect for the Easter basket! We love the Saints of the Month stickers from Shining Light!
Kids who love to color can make seriously beautiful art with coloring books for Feasts of Our Lord and Lady, many different saints, Mysteries of the Rosary, and even "stained glass" to hang in your windows with Dover's Nativity stained glass coloring book.
Blocks are a classic toy, and these stunning patron saint blocks help your baby learn about the saints while they build and play.
Keep little hands busy with a Future Saint Water Reveal book.
These Catholic Church water reveal cards are the perfect way to keep toddlers busy at Mass while still participating in their own way. We're clicking Add to Cart!
Who doesn't love puzzles? You'll especially love these sweet saint-themed puzzles!
Pretend Play
The Saintly Heart Easter Basket bundle includes lacing cards, play sets, temporary tattoos, and so much more!
Honor your child's patron saint with a plastic or soft plush doll from Shining Light Dolls, or these natural wooden saints from Saintly Heart.
These darling saint soft dolls were pictured in the New York Times!
Perfect for Easter morning, check out this Easter Morning Wooden Playset with 8 figures and a nesting hill and tomb.
Dozens of beloved saints come as peg dolls, so kids can play with them again and again, getting to know these heavenly friends. (You can find even more options by searching "saint peg dolls" on Etsy.) Don't forget the perfect play set for saint peg dolls, a little church in a box just their size.
Fans of the endearing Brother Francis show will love this Brother Francis™ Church Playset.
Raise your hand if you played Mass as a kid! We sure did, and now your kids can too, even using the proper names and materials with this pop-out paper Mass kit or wooden Mass set (a larger version here).
Nurture your child's relationship with Jesus as the Good Shepherd with this play set, either paper or wooden.
Saint dolls are quick and easy to make at home with these lovely saint paper dolls that come as a printable instant download. Bookmark this page for an easy craft on future feast days!
These plush dolls of Our Lord and Our Lady are almost too cute to be real, and will be a heartwarming snuggle buddy for your little one.
If you've got any sewing ability, you can create your own soft and squishy saint dolls using these DIY sets.
Kids will love their own Holy Family dolls, like these soft Mary, Jesus, and Joseph dolls. Next Christmas you can use them to practice the Mary on the Mantel custom!
Cute and Practical Home Goods
Kids can play teatime, or enjoy a cup of hot chocolate with you, in this beautiful hand-thrown "future saints" tumbler.
Little explorers and kids doing nature study will enjoy this adventure bag and logbook for toting treasures and recording their favorite memories.
Little ones will feel safe and sound at bedtime with a saint-themed pillowcase or St. Michael the Archangel pillowcase.
A Catholic pennant is an inspiring addition to a little athlete's wall. We especially like this saint goals banner to encourage kids to pursue greatness.
Media
The Saints and Heroes video series by CCC of America are Catholic kid classics, teaching the next generation all about the lives of the saints.
The Holy Heroes Glory Stories CDs are a great way for kids to get to know the saints and perfect for car rides (got a summer road trip coming up?). Older kids can't miss listening to the Story of the Bible CDs.
Brother Francis movies are a great way to introduce younger kids to Catholic beliefs.
A subscription to Formed might just be the best media gift you can give. Kids can access movies, TV shows, audiobooks, CDs, and e-books about the faith.
Books
Round out the Easter basket with a sweet classic picture book by Tomie DePaola. Petook is perfect for Easter morning!
My kids love the Sarah and Simon Seek and Find books, and this one featuring The Life of Jesus is perfect for Easter.
Not sure if a religious book will appeal to older kids? You have to check out The Shadow of His Wings: A Graphic Biography of Fr. Gereon Goldmann. It's got adventure, excitement, heroism, sacrifice … and it's all true! My son couldn't put it down.
Another tried-and-true winner for kids is The Interior Castle: A Boy's Journey into the Riches of Prayer. My kids adore this book, and it's the best way I've seen to explain to them what an inner life with God can be like.
We love Saints Around the World, which features lesser known saints with amazing stories.
Reluctant readers will be drawn in by these Catholic comic books about a brave, friendly little boy who was friends with St. Francis of Assisi. There are 6 volumes in the  Loupio series, and they are totally endearing (and genuinely inspiring)!
God's Superheroes are fascinating and inspiring reads about great saints.
The Holy Mass: On Earth as it is in Heaven is a must-have for any kid who loves LEGO!
One Holy Marriage: The Story of Louis and Zélie Martin is a gentle and beautiful read about some great modern saints.
Family Gifts
A subscription to Catholic Family Crate is such a fun gift! It'll give you lots of opportunities to grow in faith and create special family memories.
A subscription to Wanderlust Catholic is sure to awaken wonder and inspire adventure, all while nurturing appreciation for our Catholic faith.
Add a fun Catholic twist to family game night with the Alleluia card game, the hilarious Catholic card game, Road to Bethlehem game, or FeastDay game that helps kids learn about the liturgical year.
The whole family will be singing along with the delightful music from Making Music, Praying Twice and Roundabout Folk (made by Catholic sisters!).