From Brie to Parmesan, many last innovations in dairy products were created by Catholic monks
You can get Aleteia inspiration and news in your inbox. Our specially curated newsletter is sent each morning. The best part? It's free.
Sign up here
Picture this. It's a sleepy October afternoon sometime in the 10th century in a monastery not too far from Paris, France. Two monks are testing out different ways to ferment the cow's milk from the monastery's cattle. After trial and error, they discover that adding salt to fermented cow's milk would draw away enough moisture to make it a gooey yet firm substance. That salted mound of cheese would later be sprayed with a fungi (Penicillium) to create a thick crust, and put in a cellar for six weeks. The result? The iconic white-crusted Brie cheese that is now loved all around the world. 
But Brie is not the only beloved dairy product that we owe to the inventiveness of monks. From Parmesan to Laguiole, many of the world's most famous cheeses were invented in European monasteries from the Middle Ages onward.
Here is a brief guide to the monasteries where iconic cheeses were developed. 
Brie de Meaux, France 
Invented by monks at the Priory of Rueil en Brie, located 30 miles from Paris, the "King of Cheeses" has impressed royals ever since it was discovered by Roman Holy Emperor Charlemagne during a visit to the monastery in 774. According to local tales, Charlemagne loved it so much he asked for it to be delivered to his castle in Aachen. Some three hundred years later, French King Philippe Auguste reportedly sent rounds of Brie to each member of his court. And when European nations met in Vienna in 1814-1815 to discuss how to assign territories of the former French Empire, it was this monk-invented Brie that won the cheese competition between different countries. Today, the original monastery where Brie was invented is no longer in operation. But you can find Brie made by religious sisters at the Benedictine Abbey of Notre Dame de la Jouarre.
Getting there: From Paris you can reach La Ferté-sous-Jouarre by train from Gare de l'Est. Once in La Ferté-sous-Jouarre you can reach the Abbey by bus or taxi. 
Abbaye de Cîteaux, Dijon, France
This cheese takes the name from the same Abbey that first invented it back in the 12th century using raw milk from the red and white Montbéliarde cows that graze in the monastery's meadows. Today, this earthy semi-soft cheese, light orange on the outside and ivory on the inside, is still made by friars at the Abbey's dairy farm. Frère Frédéric and Frère Joel, heads of the creamery, make around 300 cheeses per week, which are then sold through the Abbey's shop accounting for nearly half of the Abbey's income. The shop is open Tuesday to Saturday: 10 a.m. – 12:30 p.m. and 2:30 p.m. to 6 p.m, Sunday 2 p.m. to 6 p.m., closed on Monday. Before COVID, the Abbey only sold their cheese in their brick-and-mortar shop, but the pandemic prompted the monks to venture into e-commerce after they were left with 4,000 extra wheels of cheese. As the French government only allowed people to travel for work or special reasons, no one could visit the shop and buy the extra cheese, so the inventive monks created a website to sell their products online. Just 24 hours after the website went live, customers pre-ordered more than 4,420 pounds of cheese. 
Getting there: To reach Saint-Nicolas-lès-Cîteaux from Paris take a fast train to Dijon (1 hour and 40 minutes) and then a bus or taxi (30 minutes).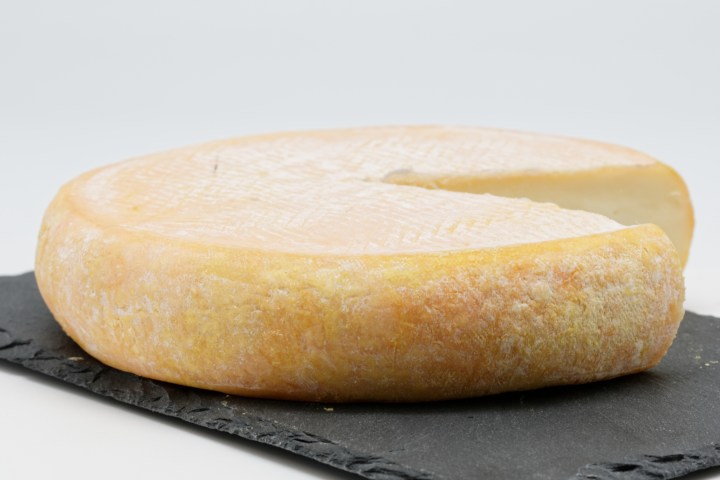 Laguiole, Aubrac, France 
According to tradition, this compact, hard cheese made of unpasteurized cow's milk originated in the Abbey of Aubrac during the 12th century to supply the pilgrims who stopped here on the road to Santiago de Compostela, located 863 miles away. More recent accounts credit monks for passing down the recipe to farmers operating in the Aveyron region of southern France. Today, the local cheese cooperative Jeune Montagne is the only official producer of this mountain cheese. While the original monastery where this cheese was invented was destroyed, you can visit both the church in the town of Laguiole and the very bridge that was crossed by pilgrims on their way to Santiago. The so-called "Pilgrims' bridge" is located over the river Boralde in the village of Saint Chély. Catholic travelers will appreciate the medieval cross built on the bridge, representing Christ on the Cross with the Virgin Mary and St. John. (At the bottom of the cross you can spot the figure of a pilgrim with its iconic hooded cloak, rosary and a staff.)
Getting there: To visit Laguiole from Paris take a flight to Aurillac. Once in Aurillac, rent a car and drive up to Laguiole (1hour and 10 minutes). 
Tête de Moine (Monk's Head), Jura, Switzerland 
This semi-hard Alpine cheese made of unpasteurized cow's milk was invented by monks at Bellelay Abbey during the 12th century. Different stories seek to explain the origins of its name. According to some, the cheese was called monk's head in reference to the way it was cut. Rather than sliced, the cheese mold would be cut with a special tool called a "girolle" that allowed one to shave away layers of crust from the top, leaving a "bald spot" that looked like a monk's haircut. According to others, the name refers to a tax-paying practice devised in the 12th century whereby the Prior of Bellelay Abbey would use the cheese to pay rent to the feudal land owners: one piece of cheese was required for each monk's head. During the French Revolution in 1797, the monks were evicted from the monasteries but cheese production kept going in the dairy farm of the former abbey. Today, the centuries-old Bellelay Abbey has been reconverted to a mental health clinic, but luckily the monastic cheese production has been preserved by local farmers who still follow the same method first devised by friars in the 12th century. 
Getting there: You can visit the Jura region by car from Bern. Rent a car in Bern and drive up to La Chaux-d'Abel (1 hour).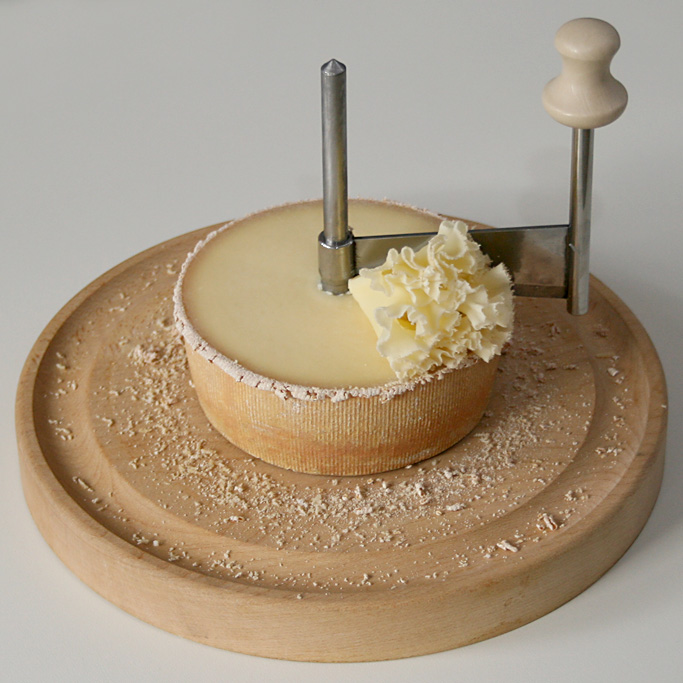 Parmesan, Parma, Italy 
One of the world's most famous cheeses was invented by Benedictine and Cistercian monks during the 12th century. According to historical evidence, monks in Benedictine abbeys near the towns of Parma and Reggio Emilia were looking for a recipe that would make a long-lasting cheese. By mixing milk from the monasteries' cows with salt from nearby salt mines in Salsomaggiore, these food pioneers crafted a dry dairy paste kept in large wheels that could be preserved for months or even years. The first evidence of the parmesan cheese trade goes back to 1200, when a notarized acquisition of Caseus Parmensis (cheese of Parma) was made in Genoa. By the 14th century the cheese, made according the same monk-devised recipe, was widely traded in northern Italy and ports of the Mediterranean sea. By the 17th century, competitors were trying to make versions of Parmesan in other cities, leading the Duke of Parma Ranuccio I Farnese to create a law that only allowed cheese made locally to be called "of Parma." That law was the first example of "denomination of origin," a label that certifies the geographical production of food products now widely adopted across Europe. Today, the local dairy farm called "Latteria Due Madonne" (literally "Two Madonnas Milk Shop") produces Parmesan according to the same method invented by Benedictine friars in the 12th century. 
Getting there: To reach the Latteria Due Madonna in Reggio Emilia from Rome take a fast train (3 hours) to Reggio Emilia and then a local bus or taxi.