The Hispanic community in the U.S. has suffered acutely due to the COVID-19 pandemic. Elisabeth Román asks: Where was our Church; where were our pastors, our institutions?
COVID has marked a "before and after" in the Hispanic community in the USA. It's one of the communities that has suffered the most from the effects of the pandemic, as Hispanics constitute the majority of essential workers. Many of them are unable to access health insurance, but couldn't leave their jobs, either.
In the midst of this suffering, where was our Church; where were our pastors, our institutions? These are questions which, according to Elisabeth Román, president of the National Catholic Council for Hispanic Ministry in the United States, resonate in these communities.  
Román will chair the upcoming Raíces y Alas (Roots and Wings) Congress of Hispanic Ministry, to be held in Washington, DC, April 26-30. This is a highly anticipated event after two years of restricted activities due to the pandemic. In fact, the registration process closed relatively early, having exceeded the capacity limit.  
In this interview, Elisabeth Román shares with Aleteia the key points of this Congress, which could signify a "before and after" for Hispanic ministry in America. Hispanics, Román says, are the present and the hope for the future of the American Church. It's time for their voice to be heard, a voice they feel has been, if not silenced, at least not taken seriously enough for far too long. 
Could you explain to us how these Raíces y Alas congresses have come about and what road they have traveled, up to the upcoming one?
This is our sixth congress. The first one was 30 years ago. In 1991, a group of leaders formed after a Hispanic Council of the bishops had been closed, and decided to found a council of their own, of lay people, with a bishop as moderator. Thus was born the National Catholic Council for Hispanic Ministry. 
A year later, the first congress was held, attended by 800 people. It was quite an ambitious plan, because it had been started just a year before, with no money, no resources. That first congress was tied in with the 500th anniversary of the arrival of evangelization in America, and also with the impetus of the new evangelization. And from it came documents that pointed out the priorities of Hispanic ministry. 
By the third congress, which took place after the 3rd Encounter of Hispanic Ministry, the first pastoral plan was already put into action. It's essential to remember that we're the first ethnic group for which the bishops have made specific pastoral plans, although unfortunately without many resources. 
In that third congress we discussed how we were going to implement that plan in parishes, groups, and institutions. From there arose our pastoral offices, which were later closed, because here our things are the first ones they close. From the fifth Congress, which we held in 2014 in San Antonio (TX), and during which we had more than 500 leaders, came the preparation for the 5th Encounter. 
The sixth congress was set in motion when Bishop Cepeda convoked the presidents and vice presidents of pastoral and diocesan organizations with the document that came out of the 5th Encounter, to ask for support. This document includes 28 priorities that we were able to group into four areas: family, youth ministry, pastoral formation, and social justice. 
We created four teams of diocesan leaders to work on these priorities, and we included the respective heads of the bishops' conference. These teams have spent two years studying not only the final document of the 5th Encounter, but all the documents that the pope has published over the years. And it turns out that, in the midst of this preparation, the pope has convoked a Synod on synodality. 
Not all dioceses are engaged in the synodal process. And if they are, our voice is not always part of that process. So this congress has a first mission, which is to respond to Bishop Cepeda's call with the contribution of leadership to the Encounter, and to build the second pastoral plan. But we're also going to bring those voices to the synod: the voice of Hispanic leadership in the United States.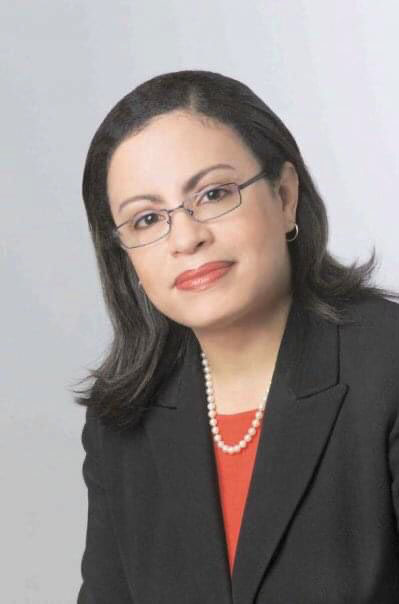 Gentileza
The Hispanic community has been, according to various statistics, the most affected by the pandemic in the U.S. How has this affected Hispanic pastoral ministry and how can Hispanic ministries find ways to get back to creating community in a new way?
I'm not speaking now as a diocesan employee, nor as president of the National Catholic Council, but as a faithful Catholic. It's understandable that our parishes have closed. Okay, there was a crisis. But many pastors disappeared. They didn't just close the doors: they disappeared from the community. 
The point is that people who suffered the most were people of color. This, for several reasons: because of the neighborhoods they live in, because they could not afford to stay at home and not work, or because they were essential workers. Who processed and transported the food? Who were the cooks in restaurants? Who were on the farms, in the supermarkets? Who sustained the country? And all this, without health insurance, or sufficient sanitary conditions. 
Both the pastors and the faithful disappeared. Again, it's understandable: everyone was afraid. We were facing something new. But now how do they expect people to come back to the parishes, if the first thing they tell them is "we need your money?" Now they expect donations because, it's true, income has dropped a lot, but where were those pastoral ministries when we really needed them? 
It's true that during the pandemic any number of online services were offered. But that only reaches a certain demographic. Many Latinos can't afford a data plan to spend an hour watching Mass online. Is it possible that the churches, parishes, or archdiocesan authorities don't realize that this is the financial reality for the majority of the people in their dioceses?
In short: yes, we have challenges as a Church. But the key is that we are people of hope. Latinos, Hispanics, whatever you call us: we are people of hope, and that's why our leadership, both locally and at the Vatican, is being appreciated.
Don't you think there's a noticeable dissonance between these two ways of understanding the Latino community? On the one hand it's evident, with the data in hand, that the future and even the present of the American church is Hispanic. On the other hand, there seems to be a certain resistance to understanding that these are the people to whom you have to minister right now, if you want to keep the Church going.
If you want to keep having a Church, I would say: 65% of the people who attend Sunday Mass in the U.S. are Latinos. The church will not survive without us. 
It happens, I think, that Hispanics are very humble. We keep going even if we're treated badly. No matter what happens, we're still there. Sometimes it's hard, but it's difficult for us to make demands on our Church. But our young people aren't like that anymore. They don't accept the same treatment. And just because the parents still go to church doesn't mean that young people will. Our churches are full of older people, not young people. This is why we decided to do ministry with Hispanic youth, who will soon make up the majority of our church.
And we've had some surprises in this area. To begin with, young Hispanics are American citizens who were born and raised in this country. And we've grown from 50 million to 64 million people. Four out of five Hispanics are U.S. citizens. That's a lot of voters.
So we have to continue to grow, to reach positions and levels of leadership. If we register as voters, we can influence not only decisions made at the diocesan level, but other instances of civil authority.
When I was involved in preparing the Encounter in Chicago we met with a cardinal. He came to four of our encounter sessions. He came from Rome once a month, and he came straight from the airport to one of those sessions. And he told us, on behalf of the pope, that Latinos are the salvation of the Church in the United States.
The pope understands that clearly, and that's why he sends people. The nuncio has echoed this message. The leaders of the Church have their eye on us. Possibly not all the leaders we want, and perhaps not the ones nearest to us, but leaders who are even above them, including the nuncio. The president of CELAM is coming to our congress. We're building bridges.
But the problem with bridges (as Mar Visoso, who will open the meeting, says) is that although they connect us, people step on them. So we have to be prepared to be stepped on as we continue to share our voice. Otherwise, there will be no hope. This Latin congress has to show us that we are the future of the Church, and that we have to assume that leadership with responsibility.
There's a central moment in the congress: the request to members of Congress to resolve the situation of DACA recipients. Is this a symbolic gesture, and what do you hope to achieve?
As a journalist, I've been to Capitol Hill before. And on those visits I noticed something important: there are people of color on the government staff, but the people who go to Capitol Hill to present demands are all white. I never saw a black person or a Hispanic person bring a request. We aren't demanding anything, but 90% of the decisions Congress makes are based on the direct requests of the people. 
We need to bring our young people here to make this petition. This is an election year, and we need to be heard. Raíces y Alas congress participants need to see that they have power, that they have influence. Knowing that they can go talk to their representatives, to the candidates, and make their petitions heart, will make them go back to their communities really feeling part of the fate of this country.
It sounds like what happened with the civil rights movement in the late 50s and 60s, but as a Latino community and from within the Catholic Church. 
It is. There are Catholics on both sides of the aisle. We aren't going to Congress with partisan politics. We're going to ask for social justice, which includes a clear path for DACA recipients, TPS, and essential workers, including farm workers, who produce food, so they can apply for citizenship if they so desire.
I repeat: no one here eats without our labor. The person who plants the seed in the field, the person who serves you food in a restaurant, or who delivers it to your house, is a person of color. So it's our moment. The problem is that no one is saying this to us. And, as a result, we don't feel empowered.
But the Pew Research Center has clear numbers: every 30 seconds, a Hispanic turns 18, and four out of five of them are U.S. citizens. One of the goals of this congress is to give us a voice. We are becoming giants: listen to us.  
Bishop Dorsonville will be one of the speakers at this event at the Capitol. It will be a public call for Latinos to act. In fact, what Latinos will be doing at that Congress is going to be something that no other community has done: we are calling the attention of the Vatican, of Latin America, of Europe.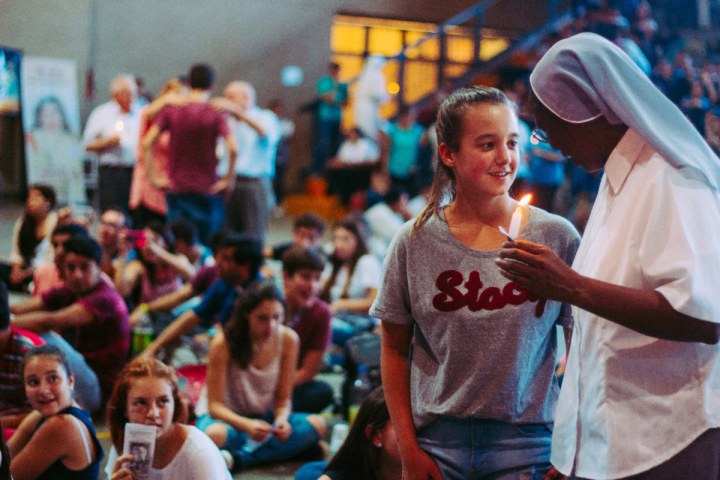 Cathopic | amorsanto
And what do you hope will change for young Hispanics in this country because of this Congress?
Young people are a central focus of this congress. When we turned 25, our first president said to me, "If we don't form young Latinos in the Church, we won't have a Church." I took that as the axis of my mission. We are with the young people, and there are two fundamental things we want to transmit to them. First, that we know their situation. Second, that we want to go hand in hand with them.
It's no longer a question of separating young people from older people and vice versa. It is a question of understanding that we are together. Our culture can teach others to respect the elderly—because if there is one thing we Latinos do, it is to listen to our elders. As the pope says: the grandparents and the youth. That's why our congress is called Raíces y Alas, Roots and Wings.
At the Congress we're going to give the first Raíces (Roots) recognition to Alejandro Aguilera-Titus, who has been to all the Encounters. And there's a young man of 18 years old who is our Alas (Wings). His name is Martin Soros. He's a young man from the Schoenstatt Movement, who is in charge of all our social networks. He's a young man who has a great message to give. These awards are a recognition, yes, but also a commitment. At the next congress, when they give the award to others, they'll have to say what they did during this time with the mission they received.
I've seen many miracles during the preparation of this Congress. For example, a relic of the heart of Blessed Carlo Acutis is going to a parish in Brooklyn, and from there it's going directly to the Raíces y Alas Congress. The nuncio told me that he's going to share a message from the pope in his homily: for the first time in history, we're going to have a Mass in Spanish at the basilica in Washington, DC, celebrated by the nuncio. This was not the congress we started planning: it's the congress that the Holy Spirit is preparing, with the coordination of 63 Hispanic leaders from all over the country. The dioceses are sending important delegations. For example, 10 people are coming from New York, with their two new bishops. 
Many people believe that the Hispanic Catholic community is growing only because of immigration. But in reality, Hispanics have been present in what is now the U.S. territory since long before the Mayflower arrived. Much of the geography of this country has Spanish names, but the non-Latino community isn't aware of it. Realizing that the Latino is not an interloper here is empowering. Is this present in Congress in some way, when we talk about Raíces?
Sacramento, San Bernardino, Los Angeles, El Paso, St. Augustine … All those cities were founded by Spanish-speaking Catholics. Part of the problem is that we are censored when we speak Spanish, which is the first European language spoken in this country, long before English! We're here to tell the country that we have education, we have talent, and we have power. But we have to wake it up.
The message we have received has always been welfarist ("Oh, let us help you …") but now it's not like that anymore. We're no longer just immigrants. In fact, the number of Latino immigrants in the U.S. has decreased: the community has grown mainly through births.
Is the Latino community united in a common Hispanicidad, or does the fact that divisions prevail cause the Latino identity to weaken?
Yes, preparing this Encounter has united Hispanics, regardless of their country of origin. We have all come together in the same Church. We sat down together to dialogue, and this helped us, especially at a time when things were difficult for us for various reasons: the previous administration, the COVID crisis, the human disaster at the border. The important thing is that we weren't united by politics: we were united by faith. 
And yet, where are the Hispanic offices? The first offices that closed with the crisis were ours. For us there is support, yes, but it's just words. If we don't do it ourselves, it doesn't get done. In one of my previous jobs, my boss made it very clear to me: "In the Hispanic ministry we keep going. If there's no money, we sell tamales, but we keep going." We never had the resources, the money or the support.
Ah, but now everyone is discovering that this is the demographic they need in order to grow, to ask for donations, etc. But what we want is to have our own voice. Moreover, the pope is asking for lay leaders. Our formation is important. Invest in us, yes; walk with us, accompany us, but respect us. 
The president of the Episcopal Conference is Hispanic, but has he gone to the border? Has he visited the children who have been caged, separated from their families? Has he celebrated Mass with the male and female religious who are there working with these people? Has he approached the border agents, who are also mostly Hispanic? Why don't we use our values as a Church to push for social justice?
We don't talk enough about social justice. We don't keep in mind that justice is a clear biblical value. Why is the church in general, the ministries, the leaders, so timid when it comes to social justice?
That's a very difficult question indeed. Justice is central to the Gospel. Jesus requires us to feed the hungry, clothe the naked, and visit the imprisoned, yet many times it's the last thing we do.
I believe that, in that sense, we have lost contact, lost our encounter with others. We have to remind our bishops that, as the Aparecida document says, their mission is to accompany those who are left behind. They have been somewhat absent in the area of social justice. 
Every year there's a march for life. It is fantastic. We support it. But why don't we have a march for life at the border? We have to defend life from the womb to the tomb. From conception to death: this is social justice.
Hispanics are pro-life, but pro-all-life. You have to defend the baby a girl is carrying in her womb, but you do little if you don't help the mother, too. It's not a question of Democrats or Republicans: it's a question of social justice.