A collection of interviews and videos has revealed more details about the priest who inspired Mark Wahlberg.
What can God do in your life with one Bible verse a day?
Subscribe to Aleteia's new service and bring Scripture into your morning:
Just one verse each day.
Click to bring God's word to your inbox
In a rare move for Hollywood, a film championing the extraordinary life of a boxer and actor-turned priest has hit the screens. Mark Wahlberg plays the lead role of Fr. Stuart Long, and the viewer accompanies the roguish young man from fighter to a man who inspired many with his deep unwavering faith as he faced a debilitating muscle disorder that would lead to an early death.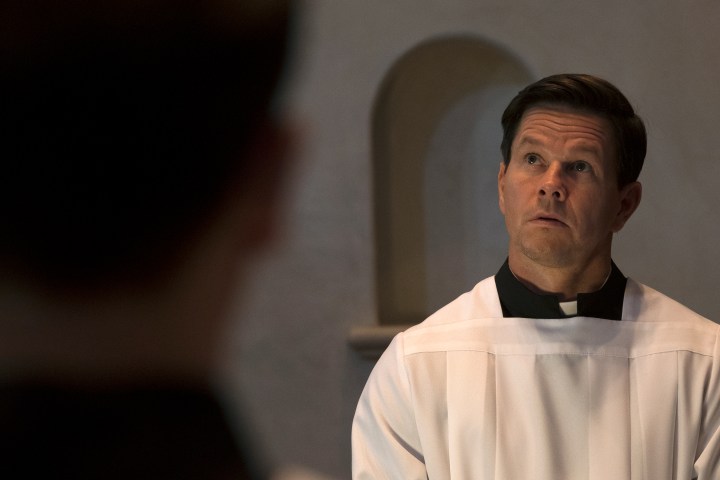 Karen Ballard | Sony Pictures
While the film is dramatized, especially when it comes to Stu's childhood and his relationship with his parents, a lot of the events reflect his incredible journey to redemption.
However, there are some things that have come to light from his very own lengthy interview done before his death that you can see at the end of the article, an interview with his father, Bill Long, and a detailed article from The Pillar that shines a light on the incredible character that was Fr. Stuart Long. Here are some of those fascinating facts about the real life Fr. Stu.
1
He had a sister who adored him
We don't get to see Father Stu's little sister, Amy, in the film. However, she adored her big brother and shared how she wanted to emulate him. She also shared with The Pillar about him: "He was kind and loving to everybody. It's funny how sometimes people say, 'Do the right thing even when nobody's looking.' He would do the right thing, a lot of times, because nobody was looking. Because he tried to play this big, tough badass. But underneath it all, he was just one of the most kind humans."
2
He was a little bit of a terror
In the movie, you can get a taste of Stu's earlier mischief, but in a charming interview featuring the real Fr. Stu, you can hear him talk with fondness about his early years. Whether it was climbing up on a roof to throw apples at a passing train, or cutting through buildings to get from A to B a little quicker, young Stuart Long was far from angelic. And he even describes himself as being a little "rambunctious back in the day," preferring individual sports such as boxing to football.
3
He went to Mass long before becoming a Catholic
Thanks to his education at a Catholic school — Carroll College in Montana — and a football coach who made Mass mandatory before a big game, Stu discovered the unusual rituals inside the school's chapel. While Stu felt like an outsider, he also was intrigued by some notable biblical figures, and thought the priest resembled Johnny Cash!
4
He couldn't resist an argument, even at a young age
Stu was straight-talking, as we see in the movie. However, by his own admission, as a college student he couldn't help but argue with his teachers, including his history teacher Fr. Jeremiah Sullivan. And it was this teacher, who had to put up with Long's incessant questions in class, who also understood his student and introduced him to boxing.
5
His mom sent him to Hollywood
The movie leaves us with the impression that Stu set off to Hollywood despite his mother's protestations. However, it was actually his mom who suggested he head off to pursue a career in acting.
6
He had several accidents in his life
While we witness the shocking accident that nearly ended Fr. Stu's life, he actually had a number of accidents in cars, on motorbikes, and even as a result of his fights. So it seems only right that it was an accident that lead to subsequent religious experiences — and his eventual turning to God.
7
His baptism was the real turning point in his vocation
In the movie we see a pretty roguish Stu Long taking off his shirt to get baptized, while giving a wink to his girlfriend. He later has an accident that leads to his decision to become a priest. However, in his own words, it was really at the moment of his baptism that he "just knew" that he was going to be a priest. When he told the priest who baptized him of this feeling, he told Stu not to worry, that it was often the case for adults joining the Church and the feeling would go away after a few days.
8
He took some time to discern his vocation
In the movie, Stu determines to be a priest and the next minute you see him run to a seminary to sign up. In reality, Fr. Stu explained that the feeling he had after his baptism came and went and it took him nearly 7 years to fully commit to becoming a priest.
9
A visit to Lourdes helped him heal — but not in the way he first hoped
In 2007, in true fighting spirit, he made a pilgrimage to Lourdes, in France. During his trip, he went into the grotto thinking he'd miraculously be able to walk again. He was devastated when it didn't happen, but he went to confession and then back to the grotto a second time.
"When he came out the second time, he had this sense of peace, just this real sense of peace, that wasn't there the first time. And he didn't experience the physical healing, but he had peace," shared Fr. Bart Tolleson, a fellow priest and close friend to Fr. Stu, with The Pillar.
10
He had the most unusual response to his deteriorating health
Fr. Stu spoke of how he began to feel his strength weakening. He put it down to his earlier "fast life," however, after discovering a tumor, tests revealed he was suffering from the incurable disease inclusion body myositis. But he had the most unusual response to his disease.
Fr. Stu's condition left him severely restricted and in pain. However, he bravely stated that it was "probably one of the best things that ever happened to me," for many reasons, including his dad's aid, the reality of suffering, and how it also taught him some humility, something he'd battled with in his life.
11
He had some favorite saints
On the back of his wheelchair, Fr. Stu had a collection of magnets of his favorite saints including Joan of Arc, Maximillian Kolbe, and Padre Pio. But in his fun-loving style, he also had one of Bigfoot, with whom he always had a fascination.
12
Movies inspired him
One of Fr. Stu's strengths was his relatability. He took inspiration from everyday life, and even the fictional life many of us see in films. He talked of how he recalled scenes in a couple of blockbusters, Armageddon and Gladiator, and how the subject of death was broached by certain characters. And perhaps his less than high brow approach to understanding life, and death, allowed him to have an impact on so many.
It seems particularly fitting, therefore, that a movie has been made about his life that will hopefully inspire millions.
13
He had the perfect perception of life and death
Fr. Stu was all about "making our peace with God" so that we can move on to our eternal life, and as he shared in his video: "Live in a place of life and happiness and peace." And it is this thought that also led him to believe that euthanasia was an abomination. As he explained, through suffering and depending on others, we're forced to get closer to God in order to move on to the next life. Quite simply: "We always have to fall on the side of life."
14
His dad is actually pretty epic
In the movie, Fr. Stu's dad, Bill Long, is portrayed as an absent father who neglected his family. While he did work away from home, he always received a warm welcome when he returned, and Stu's childhood was pretty happy.
While some people might feel annoyed about being portrayed in a negative light, Bill Long shared in an interview with Helen Air: "I don't think it matters how I was portrayed, the film is about Fr. Stu. He wants people to come away from the movie with the message to: "Have faith, hang in there, endure."
Tofind inspiration from the man himself, take some time to listen to his own story: