"Let Jesus look at and heal your heart. I too have to do this: let Jesus look at my heart and heal it."
Let us pause with the Gospel, perhaps even contemplating an icon of Christ, a "Holy Face." Let us contemplate with our eyes and yet more with our hearts; and let us allow ourselves to be instructed by the Holy Spirit, Who tells us inside: It is He! He is the Son of God made lamb, immolated out of love. He alone has borne, He alone has suffered, He alone has atoned for sin, the sin of each one of us, the sin of the world, and also my sins. All of them.

He brought them all upon Himself and took them away from us, so that we would finally be free, no longer slaves to evil. Yes, we are still poor sinners, but not slaves, no, not slaves: children, children of God!

Pope Francis, January 19, 2020.
A statue that presents in 3D the image of the Man of the Holy Shroud of Turin is the work of sculptor Juan Manuel Miñarro, of Andalucía, Spain.
The statue was put on display for the faithful of Valencia, Spain, by an international organization that is based there, and is dedicated to the study of the Shroud of Turin, the Centro Español de Sindonología.
"It is very realistic," cathedral Canon José Verdeguer explained, "though some of the wounds are a little 'sweetened,'" that is, they are not shown in the full brutality of how they would have been.
The image of the Man's face is particularly affecting as we can see its beauty prior to his Passion.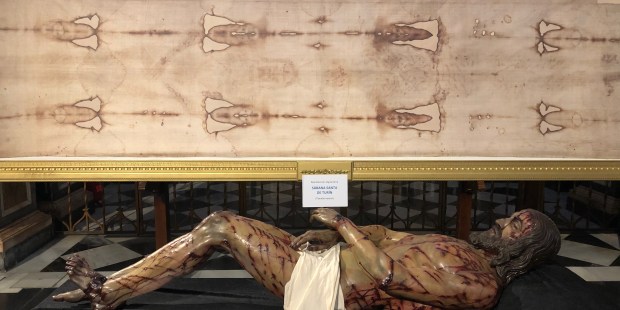 Launch the slideshow
Sister, brother, you are here, let Jesus look at and heal your heart. I too have to do this: let Jesus look at my heart and heal it. And if you have already felt his tender gaze upon you, imitate him, and do as he does. Look around: you will see that many people who live beside you feel wounded and alone; they need to feel loved: take the step.

Jesus asks you for a gaze that does not stop at the outward appearance, but that goes to the heart: a gaze that is not judgmental,  — let us stop judging others — Jesus asks us for a gaze that is non-judgmental, but rather welcoming. Let us open our hearts to welcome others. Because love alone heals life, love alone heals life. May Our Lady, Consoler of the suffering, help us bring a caress to those with wounded hearts whom we meet on our journey. 

Pope Francis, June 27, 2021