Against all odds, after much prayer, this mom became pregnant after receiving a special blessing.
During Venezuela's "Week for Life," organized by that country's episcopal conference from March 20 to 27, people shared real stories of how God has worked in their lives.
One of those beautiful stories is that of Omareny Carolina García Pernía, a 38-year-old teacher in the state of Táchira. Against all odds she became pregnant after receiving a special blessing. On March 27, 2022, at the San José church in the city of San Cristóbal, Omareny presented her baby boy, who is now 2 years and 3 months old.
Despite medical treatments, acupuncture, and an intense desire to be a mother, Omareny had been unable to get pregnant. The reasons were biological: her reproductive hormone levels were never at the right levels for her to conceive.
However, she clung to her faith in God and the Virgin Mary. With fervor she repeated the prayers she had learned as a child, asking for the gift of motherhood.
On Sunday, March 31, 2019, her friend Milagros del Valle Peña, from Project Hope of the Diocese of San Cristobal, invited her to a Mass at St. Joseph's Church in that city. There, they were going to bless the wombs of pregnant women and those who, like Omareny, had not yet been able to become mothers for one reason or another.
Omareny was the last to get up and stand in front of the altar. In her prayers she had already told God, "Your will be done." She had also turned with faith to Our Lady of the Milk and Our Lady Consolation of Tariba, she told Aleteia in an interview.
"When the priest was about to finish imparting the blessing to the women who got up before me, Milagros told me: 'I want you to participate,'" she said. It was the moment for her to manifest her faith—and God worked a miracle.
"A few days later I began to feel strange: I didn't want to comb my hair, my clothes were uncomfortable … However, I didn't take a pregnancy test until May 2, 2019. I had, in fact, conceived my son, Juan Josué Pulido García."
When the lab technician told her she was pregnant, she knelt down in the lab where she had taken the test and thanked God and Mary. "I truly longed to have my son," she adds.
She then called her husband, Jesús Eduardo Pulido Moreno, to take her to the Mary of Jerusalem House of Prayer. There, she told him: "I have news for you. I'm pregnant!" It was a special moment for both of them. They embraced and thanked God for making a dream they had longed for over many years come true. 
On December 19, 2019, baby boy Juan Josué arrived in the world, to fill his proud parents with joy.
A message from Omareny
Through Aleteia, Omareny Carolina García Pernía wanted to send a message of hope to women like her who want to become mothers:
First of all, we must pray with love and devotion to our God of the universe and to the Virgin Mary, because with faith everything is possible, and that beautiful dream of being mothers will come true the day we least expect it. Then, we must commit ourselves to taking care of and watching over the well-being of that new life that is being woven in our womb.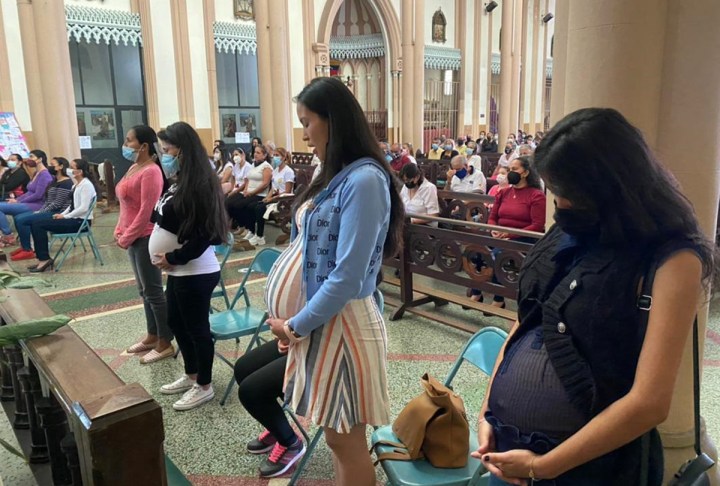 @DiocesisSC
The joy of Omareny and many women like her continues to be one of the reasons why the Church in Venezuela continues the annual celebration of the Week for Life around the date of the Solemnity of the Annunciation of the Lord.
Fr José Alirio Zambrano, advisor of the family pastoral of San Cristóbal, is the one who blessed Omareny's womb during the Week for Life in 2019, along with those of other women—both pregnant women and those who longed to become mothers. He continues the tradition each year.
The Week for Life also focuses on events denouncing abortion and promoting respect for life. "We must act as the merciful father of today's Gospel, and welcome children with love because they will always be a blessing from God," said Fr. Zambrano, according to information received by Aleteia from the Diocese of San Cristobal.
"From the moment of fertilization, it is our duty as Christians, moreover, not only to defend the life of the child, but also the life of the mother, including her physical, psychic, emotional and spiritual life," the Venezuelan priest explained.
Ángela Perdomo
Project Hope, a way to say yes to life
Aracelys Domínguez, from Project Hope, a program of the diocese's family ministry, explained that this organization is in charge of defending or rescuing children from abortion. They do this by motivating and supporting mothers to say "yes" to life.
She explained that abortion has two victims: the child whose life is taken, and the mother who will suffer the traumas of Post Abortion Syndrome (PAS). Dominguez added that Project Hope provides pastoral accompaniment to those suffering from PAS so that they can overcome their traumas, restore their health and find hope and meaning in life.