We're getting close to wedding season. Here's how to make those special events even more memorable.
I'll never forget the first bachelorette party where we all went to church together. My heart sang. It was a weekend celebrating a good friend and Sunday Mass was on the agenda.
Not only was it Mass, but it was on the great feast of Pentecost. Sitting in a church with a lovely group of women I had gotten to know, having shared laughter and stories the whole day before, I felt such a moment of grace. We were gathered together to culminate a beautiful weekend by praising God—the one Who made us and Who gave us every good thing in our life.
It helped me reflect on the fact that bachelorette parties and bridal showers are a wonderful way to celebrate friendship, make memories, and honor a woman who's about to enter a beautiful sacrament and a new vocation.
Not only that, these are perfect moments to prepare the bride spiritually for her wedding, surrounded as she is by women who want the best for her and for her marriage to thrive.
So the next time you host a shower or bachelorette party, here are some ways to help spiritually boost the gathering and make it an extra meaningful event.
Pray aloud with the bride-to-be
Take a moment at the beginning or end of your time together (be that an event for a few hours on one day, or a weekend) and thank God out loud for the life of the future bride. Ask for graces for the rest of her engagement and the beginning of her marriage. If you are not comfortable praying spontaneously out loud, you can pray already formulated prayers out loud, all together. 
Order or design and print prayer cards for everyone to take home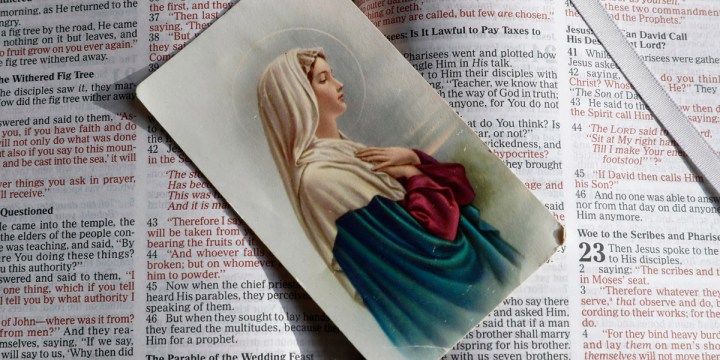 Fred de Noyelle | Godong
This will be as a reminder of the event. Here are some prayers you could put on them: a marriage blessing prayer, a dedication for a couple to His Most Precious Blood, various prayers for engaged couples. Or buy these holy cards with an image of the Wedding Feast of Cana on the front and a prayer for the couple on the back.
Present a spiritual bouquet to the future bride
Ahead of time, ask the other guests if they would be willing to commit to a certain prayer or time of prayer for the future bride. You can suggest that people offer a certain number of Our Fathers or Hail Marys, or that people offer a Sunday Mass for her, or some time in Adoration. Collect what prayers people have offered to pray, and give them to the Bride written in a card. You could present one of Rose Harrington's beautiful Marian floral prints with the bouquet written on the back. 
Pray for the bachelorette party before it takes place
Shutterstock I fizkes
Spend some time privately, before you attend, to pray for the success of the gathering (I usually find the time to do this while traveling to the party). I ask for conversations to be fruitful, and for the women there, especially the bride, to feel loved, supported and included. You can also pray for all the women unable to attend, as the host usually gathers RSVPs and knows who can't make it and why. 
Gift a picture of the Holy Family, or a picture of Mary, to the bride to be
Here is one of Mary and Joseph getting married by iconographer and artist Vivian Imbruglia, here is a print of the Holy Family by artist Jose Castrillo, or here is one of Mary in a vintage style by Santa Clara Design. You can explain that you wanted her to have a beautiful image to be able to pray with and meditate on, as well as to remind her who to look up to in her new vocation. 
Happy party planning! Holy Family, pray for us.