While the Catalan city is a popular destination for vacationers, there is plenty for pilgrims in the city and surrounding area.
Barcelona is the capital and largest city in the region of Catalonia in northwestern Spain. It is a unique part of the country in that it has its own language, known as Catalan, and special political autonomy. 
While the Catalan city is a popular destination for vacationers in search of sunshine, good food, and culture, there is plenty for pilgrims in the city and surrounding area.
Sagrada Familia
The most popular religious landmark in Barcelona – and perhaps in all of Spain – is first and foremost the fascinating Church of Sagrada Familia. It is unique in that its ongoing construction has been financed exclusively through private donations and entrance tickets paid by millions of visitors each year.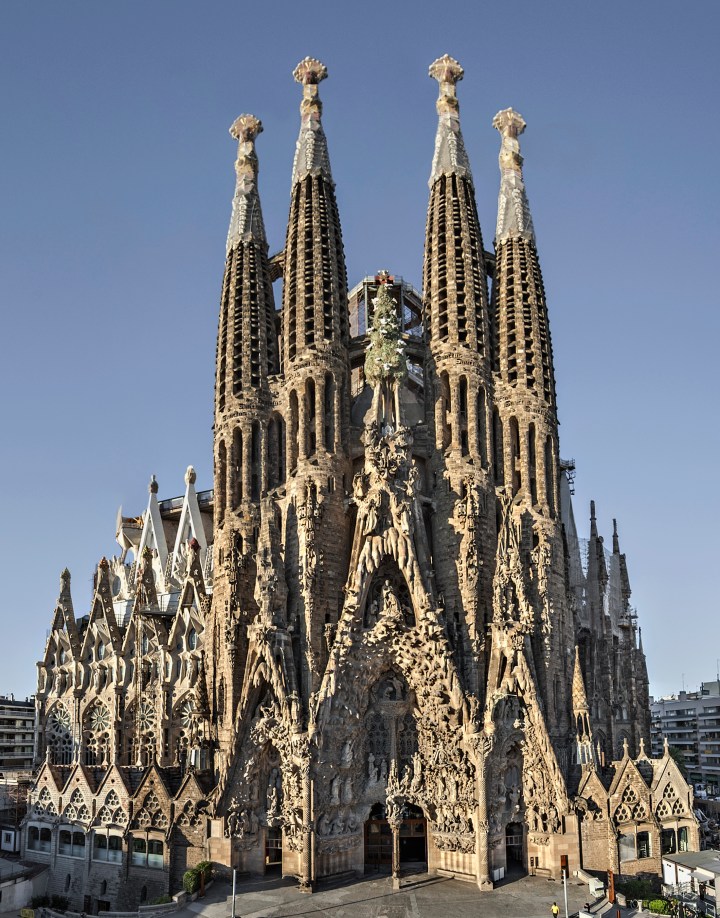 One year after construction began in 1882, a young, local architect, Antoni Gaudí, took over and dedicated the remainder of his life to it. He not only brought his unique modern architectural and engineering vision – characterized by Gothic and curvilinear Art Nouveau forms – but also integrated his other passions, nature and faith, into the project. 
Gaudí is buried in the crypt, and a cause for his beatification is underway.
Other churches of Barcelona
In the old center, known as the Gothic Quarter, sits the cathedral of Barcelona. Dedicated to St. Eulalia, a young virgin martyred in Barcelona during Roman times, the cathedral was built from the 13th to 15th centuries. 
A striking example of medieval Gothic architecture, it stands in stark contrast to the modern Sagrada Familia a short distance away.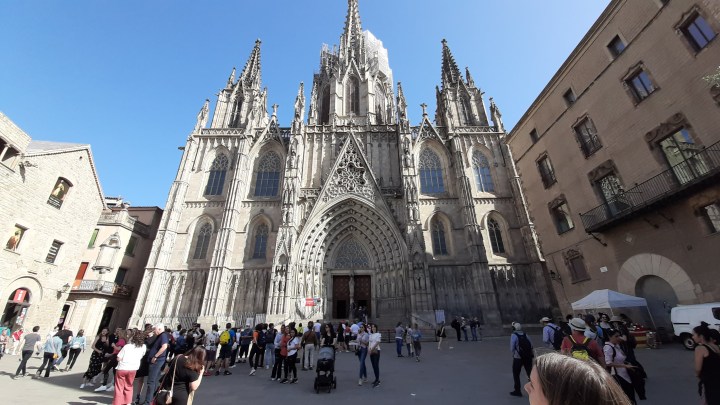 Photo courtesy of Bret Thoman
Another Gothic church, also remarkable for its unity of style, is located in the Ribera district. Santa Maria del Mar (St. Mary of the Sea) was built from 1329 to 1383, when Catalonia was a strong maritime and mercantile power.
Visible from anywhere in the city on top of the mountain overlooking Barcelona is another prominent church. While its official name is the Expiatory Temple of the Sacred Heart of Jesus, locals refer to it simply as Tibidabo, after the mountain on which it sits. 
Though Tibidabo appears as another Gothic church, it was actually constructed in the first half of the 20th century. It consists of two levels: a crypt and the main church, both wonderfully decorated. 
A jaunt up the mountain, accessible via the subway and cable car, affords remarkable views of the city and Mediterranean Sea beyond.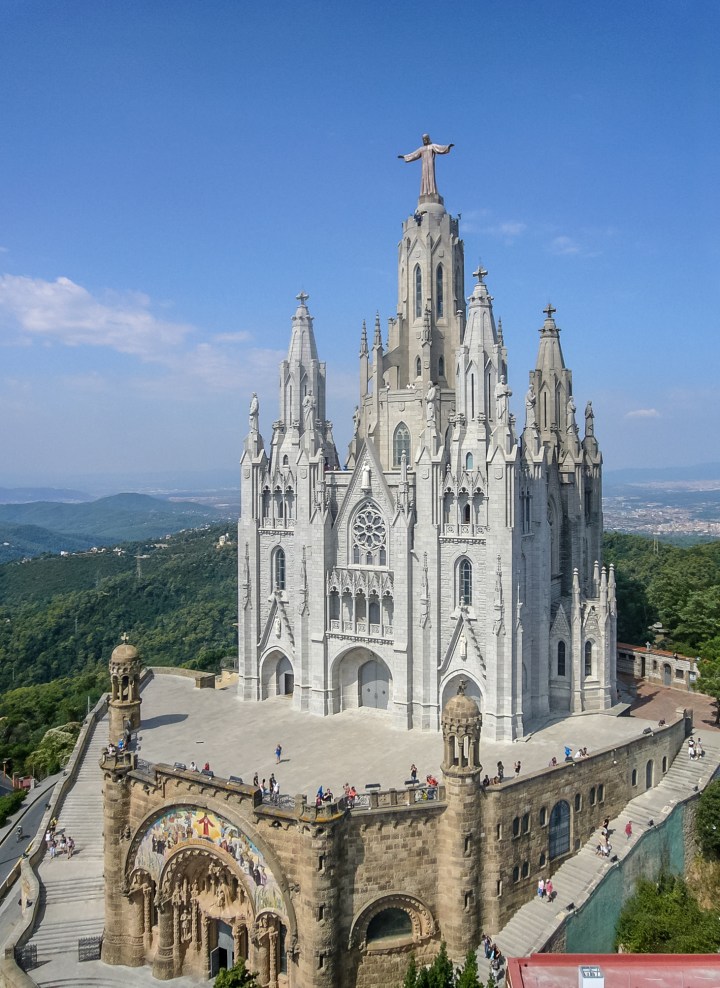 Other churches in Barcelona not to miss are Sant Pau del Camp (Saint Paul of the Countryside), Basílica de Santa María del Pi (Basilica of Saint Mary of the Pine Cone), and Reial Monestir de Santa Maria de Pedralbes (Royal Monastery of Saint Mary of Pedralbes). Note that some churches require a fee to enter.
Montserrat 
Located some 50 kilometers (30 mi) northwest of Barcelona is the famed Benedictine Abbey of Montserrat. For over 700 years, this has been the spiritual heart of the Catalonia region.
It is set dramatically in the particular mountain range of Montserrat (which means "serrated mountain" in the Catalan language). 
Photo courtesy of Bret Thoman
Those who have been to Barcelona will recognize the influence of the sedimentary rock formations on Gaudí in his work on the exterior of Sagrada Familia.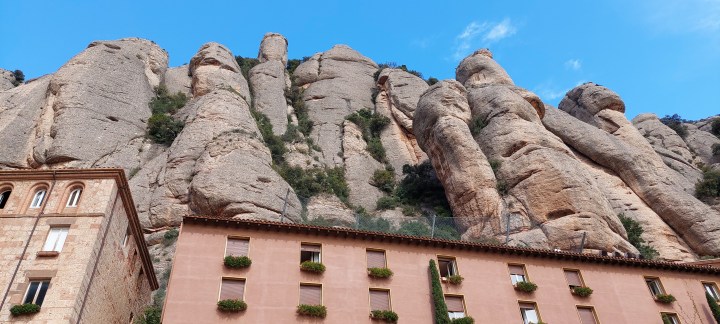 Photo courtesy of Bret Thoman
Tourists and pilgrims come from around the world to explore the mountain and its hermitages, but especially for devotion to the statue of the Black Madonna. While legends and lore abound about how the wooden statue arrived, countless miracles and graces have been reported here.
The Blessed Virgin is depicted as a queen with the Christ child on her lap. She is holding a spherical orb in her right hand, symbolizing the cosmos and creation. Christ, in his left hand, holds a pine cone, sign of fertility and eternal life, while he makes a blessing with his right hand.
One well-known visitor here was St. Ignatius of Loyola, founder of the Jesuit Order, also known as the Society of Jesus. Once a military officer, in 1521, his leg was shattered by a cannonball during battle. While convalescing, he read the Gospels and Lives of the Saints. After he recovered, he resolved to make a pilgrimage to the Holy Land.
In March 1522, he stopped at the Abbey of Montserrat. Here he gave his fine garments to the poor, donned a sack-cloth garment, and surrendered his sword and dagger. 
Manresa
From Montserrat, St. Ignatius continued roughly twenty-two kilometers (13 mi) to Manresa, located on the banks of the Cardoner River. He stayed in Manresa for about one year.
During his stay, St. Ignatius spent much time praying in a cave. He learned to discern good and bad spirits that led to the formulation of the Spiritual Exercises, the cornerstone of Ignatian Spirituality.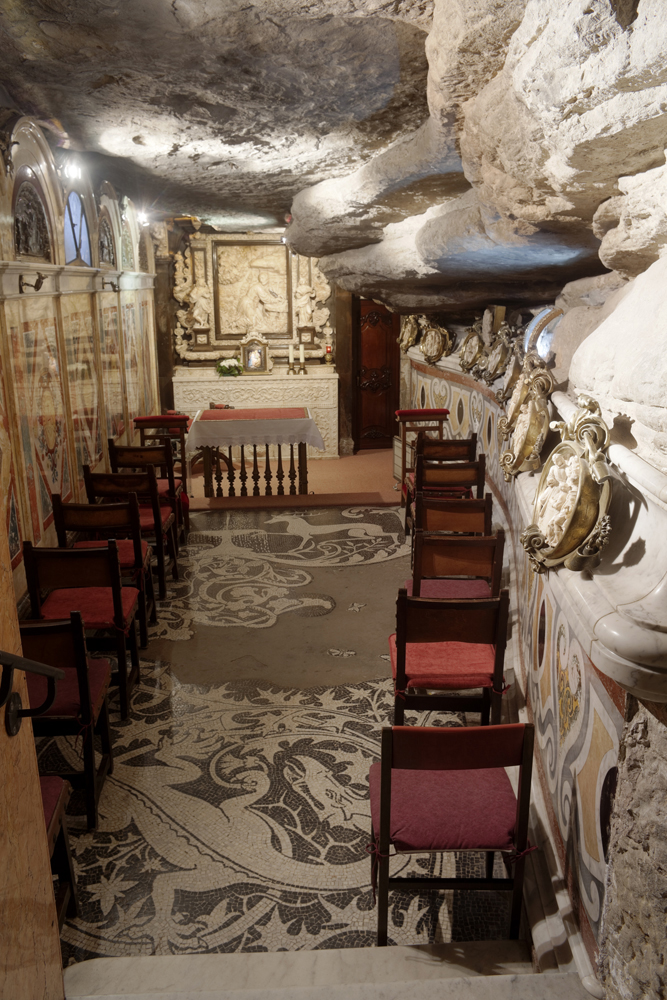 A short distance away is a large basilica, Basilica Santa Maria De La Seu, Manresa's most emblematic church.
From Barcelona, Montserrat and Manresa are easily accessible via public or private transportation. The excursion through the delightful Spanish countryside makes for a lovely day trip.