For over 30 years, Grégoire Ahongbonon has traveled throughout West Africa to help people suffering from mental illnesses.
Need an idea for Lenten almsgiving?
Help us spread faith on the internet. Would you consider donating just $10, so we can continue creating free, uplifting content?
Make a Lenten donation here
With a generous smile, a serene face and a peaceful gait, Grégoire Ahongbonon looks at his surroundings with a gentle and curious gaze. He has learned to slow down and to strive to see beyond simple appearances. Over the past 30 years, Ahongbonon has traveled throughout West Africa to help people suffering from mental disorders and illnesses.
The 70-year-old man from Benin could go unnoticed with his utility vest and his rectangular glasses — however he is one of those people who work, day after day, to build a better, more just and more fraternal world — "to build the Kingdom of God here and now," he explains with all the humility that characterizes him.
When you look into his eyes, you can almost see the faces of the 2,000 people — the "forgotten of the forgotten" — whom he has helped, along with his Saint-Camille-de-Lellis Association, founded in 1991 to welcome people with mental disorders. The association has centers in Benin, Ivory Coast, Burkina and Togo.
We might see the face of Janvier, a young man who spent seven years in chains, bound up by his parents before being freed by Ahongbonon and members of the association.
We might also see the face of another young man he discovered the day before Palm Sunday, in 1994. A woman had gone to look for Ahongbonon, having heard that he was taking care of the mentally ill, so that he could help her brother. But when he entered the house, he discovered a man chained at the arms and legs on wet ground in a dimly lit room. When he recalls this memory, Ahongbonon's eyes become cloudy—without hatred but with deep sadness. "His flesh was crawling with maggots," he recalls. Released and then treated, he died a few days later. "But he died with dignity, standing up and not in chains," he says.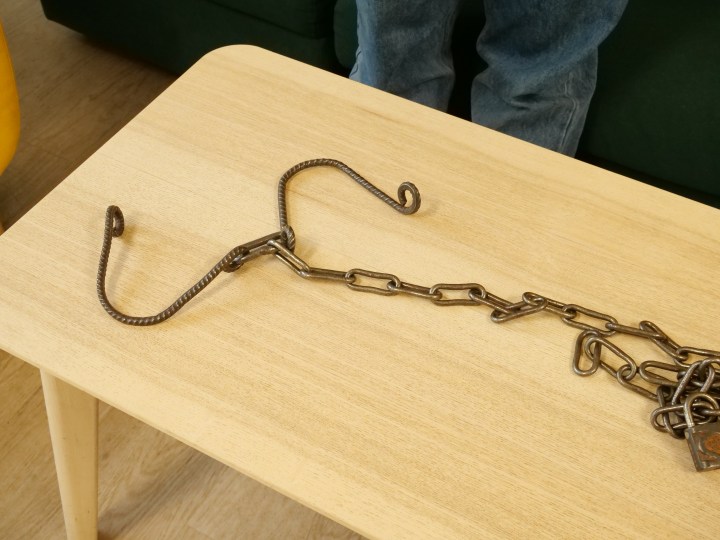 EL I Aleteia
Ahongbonon has no shortage of stories like these: the Saint-Camille-de-Lellis Association now has 21 welcoming and rehabilitation centers and provides free medication to more than 20,000 mentally ill people every month. Many lives have been saved by Ahongbonon's action, self-sacrifice, and inexhaustible energy.
"They have helped a lot," he says, not wanting to take credit for anything. "At St. Camille's, we want to put them back on their feet to help bring about the construction of a better world," he says. "We heal them and reintegrate them. I've seen nurses who have suffered from bipolar disorder come to the aid of patients in turn … It's amazing."
With St. Camillus' Association, Ahongbonon's fight goes far beyond providing medical help to people with mental illnesses and disorders. He also fights against voodoo, animism, and witchcraft, which wreak havoc in many African societies. Considered bewitched or enchanted, the mentally ill are generally isolated and tied up so that they don't "contaminate" others and so they will "purify" themselves. "Ignorance is taking its toll in West Africa," Ahongbonon denounces.
Energetic and active, Ahongbonon has also experienced deep psychological distress, even to the point of having suicidal thoughts. After dropping out of school at an early age, he left to try his luck in Ivory Coast, where he began working as a tire repairman while starting a small cab company. But at a point when his business was thriving, Gregoire, then 26 years old, had to face its sudden collapse, as all his cabs were temporarily seized. Riddled with debt, he lost his friends and found himself more isolated than ever.
But as he was considering suicide, he suddenly had an awakening driven by his faith. From then on, he would work with the most destitute.
"Each time the Lord appears in a way that enlightens us, he dazzles us in a new way and makes us see new paths," he says. "It wasn't easy at first to go to prison, to meet all those people who had committed offenses, crimes. But if you want to live the Gospel, you don't choose what you want. There's someone deep inside you who reveals what he wants. Prison has become my Galilee."
Ahongbonon says the mentally ill are the last of all the last. "They exist as people who no longer exist. They are beaten, have stones thrown at them, they are insulted," he says. "They are given no place in society."
Reconciling families
"These illnesses create a lot of divisions in families," says Ahongbonon. "The patient is often delirious and may therefore insult and curse his relatives. But he never forgets what his family does to him in return: the chains, the isolation …"
The Saint-Camille-de-Lellis association has three missions: medical care, but also reintegration into society and the reconciliation of families. "We must change people's mentality through actions, not through grand speeches." And he testifies to his own experience: "I often say that if witchcraft really existed, I would be the first to be struck. I can't believe in God and be afraid of a witch doctor. I am a walking tabernacle; I have God in me at all times. Whatever happens to me is what should happen to me."
His personal commitment and work have been rewarded with several international awards, including the 2021 Geneva Prize for Human Rights in Psychiatry. But Ahongbonon takes no personal pride in this. "My daily prayer is: 'How can I do God's will?' I ask God to help me do not what I want but what He wants," he emphasizes before continuing: "You can only give what God gives you. And when God gives you, you don't hold back. The more you give, the more He will give you, but if you reserve for yourself, He will not give anything. So you have to give everything."