These holy men had similar experiences and challenges that many young people face today.
What can God do in your life with one Bible verse a day?
Subscribe to Aleteia's new service and bring Scripture into your morning:
Just one verse each day.
Click to bring God's word to your inbox
Being confirmed is a milestone for any youngster, and how wonderful it is to be accompanied by the perfect patron saint. The only issue is trying to select one from the huge number of saints in the Church.
So, we've tried to help you and your son find a saint who is not only virtuous, but might also seem more relatable to the modern teen. These saints in particular seem to fit the bill:
Pier Giorgio — for the mischievous but caring child
While Blessed Giorgio Frassati may still be just a blessed, there is something so relatable about this mischievous Italian who loved sports, pranks, and his family. He also had difficulties at school, so would be an ideal choice for a child who is academically challenged or just needs a little extra spiritual encouragement. Yet it was his deep devotion to the poor and to God that really makes him the ideal confirmation saint.
Carlo — for those a little too attached to their screens
Carlo Acutis is a natural choice for any child prone to over-using their screens. While Carlo used his impressive IT knowledge to document Eucharistic miracles when he was suffering from leukemia, he can no doubt lend a supporting hand to those who want to use technology for good, and for those who feel overwhelmed by today's technology.
Augustine — for those who struggle with staying on the right path
If ever there was a saint who reminds us that God is ever-forgiving, it's St. Augustine of Hippo. The famous Church Father experienced an incredible redemption story, so he is not only a powerful intercessor, but an understanding one, too. He is a perfect choice for boys who have a tendency to be a little wayward — he would no doubt help get them back on track!
Patrick — for those needing a little courage
A popular saint for any child, Patrick particularly suited to a child who might suffer from anxiety. The patron saint of Ireland was taken to another country as a teen to work in the fields and managed to hang on for a number of years before escaping back to his family. This was just the start of an extraordinary life that saw Patrick so resolute in his faith that he didn't seem to fear anything. His example can be a great comfort to any child as he faces his own fears.
Isidore — for those with a tendency to bear grudges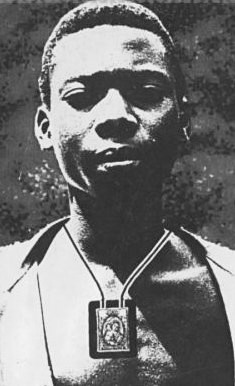 Domaine public
There is no doubting the incredible bravery and faith of Blessed Isidore Bakanja. After his employer dealt him 100 lashes for refusing to take off his scapular, the young man was left in agony from the deep scourges on his body and it took him six months to die from his injuries. Still, even in so much pain, he was able to forgive his attacker. His unwavering faith and ability to show such mercy is a wonderful example to any child.
Dominic — for those who experience bullying, or have difficulties with friends
The young Dominic Savio had so many virtues at such a young age that he makes a perfect patron saint. He was an excellent student, had an incredibly deep devotion to God, and refrained from any morally bad behavior. He was a natural peacemaker among his peers, and helped to bring his friends closer to the Lord. What's more, his name is from the Latin, Dominicus, meaning "of the Lord." And Savio means "wise."
Stuart — for those who might find it hard to control their language
While St. Augustine showed considerable strength in resisting his vices, there are others, who were also able to turn their backs on bad behavior. Just look at the now-famous Fr. Stuart Long.* His swearing was horrific before his conversion, but the minute he found faith, he abandoned decades of swearing and encouraged others to do so, too.
* If you're wondering if it's okay to choose a name that does not belong to a canonized saint, there are technically no "rules" for confirmation names — it's all set by your local diocese. In Canon Law there are stipulations for baptismal names, which could also be applied to confirmation names: "Can. 855 Parents, sponsors, and the pastor are to take care that a name foreign to Christian sensibility is not given." This allows for some leeway.