They still celebrate Mass every Sunday.
We all familiar with the Colosseum. The imposing 2,000-year-old amphitheater is the symbol of Ancient Rome for people all over the world.
It was here that each week, Romans would gather to see gladiators fight each other or have their luck against wild tigers and bulls. But it's likely that not many of us know that inside the 2,000 years old structure lies a hidden Catholic chapel.
Built in the 16th century to honor the martyrs that were killed inside the Colosseum between AD 80 and the 4th century, back when Christianity was an outlawed religion, the structure is one of Rome's best kept secrets. 
The chapel
It's unclear when this place of worship was actually first built, but what's sure is that there is evidence of its existence as far back as the 16th century, during the time of Pope Paul IV (1555-1559). Sometimes referred to as an "aedicule," a word used to describe small shrines in Roman times, the structure, hidden inside the 24th "arch" of the Colosseum, was used as a place to keep the costumes needed by the company that used to perform the great drama of the Passion of Christ, a performance that was held once a year during the time of Paul IV.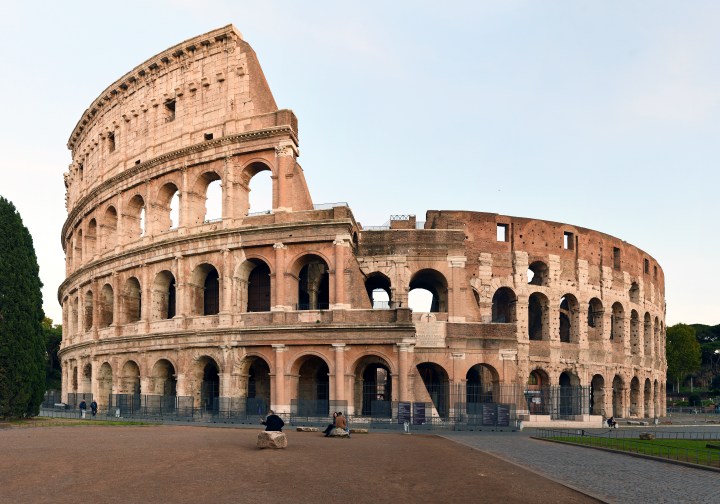 In 1622, the structure, known as Madonna of Piety, was acquired by the Confraternity of the Gonfalone, a  group of laymen whose obligations included caring for the elderly and the sick, providing medical care for those who could not afford to pay for it and paying dowries to women who did not come from wealthy families. A hermit monk was appointed by the Confraternity as the church's caretaker, making him the sole resident of the most famous ancient building in Rome. 
In the 17th century talks of the construction of a far bigger, Baroque-style church designed by Pope-appointed architect Gianlorenzo Bernini were eventually set aside and the Madonna of Piety remained the only Catholic building within the Colosseum. 
In the 1870s, the entire Colosseum, including the chapel, was taken over by the Italian State and archeological investigations began. The chapel thus stopped serving its purpose as a place of worship. 
Public Domain
But in 1936, the chapel, which is home to a marble bas-relief of the Virgin Mary, was taken over by a Rome-based congregation that takes care of it to this day. Saint Peter's Circle, a Vatican-affiliated organization of laymen dedicated to helping the poor and the suffering, still manages the shrine today. A rettore (priest in charge) is periodically appointed by the local diocese and Mass is celebrated here every Saturday and Sunday. 
Visiting the chapel
For visitors, the best time to experience a journey to this little-known chapel is probably on Holy Friday, when Saint Peter's Circle organizes a Via Crucis inside the Colosseum, with Mass celebrated at the Madonna of Piety. 
More info: The confraternity of Saint Peter's Circle celebrates Holy Mass in the church every Saturday at 4.00 pm and Sundays at 10.30 am. For more information: info@circolosanpietro.org