Are you Catholic and a film buff? Add these inspiring Catholic movies to your "Must Watch" list!
When we were newly married, my husband and I hosted a monthly film club. 
Friends would squeeze into our tiny Chicago apartment and enjoy a great movie followed by snacks, drinks, and conversation. It was a lot of fun for a bunch of amateur film buffs.
These days, our evenings are consumed with lullabies and bedtime routines instead of classic films. But someday I hope we can start up a film club again. For now, I'll have to content myself with telling you the movies I would pick if I were starting a film club again. 
Just a note that some of these movies show actions that are not in line with Catholic teachings. Film club is an opportunity for thinking about and discussing great films, not primarily for faith education, although there is a lot to learn about faith from each of these picks.
Happy watching!
The Mission
This movie about the experiences of a Jesuit missionary in 18th-century South America offers so much to discuss and will stay with you for a long time after you've watched it.
A Man for All Seasons
This dramatization of the final years of St. Thomas More is an enduring classic by any measure.
Of Gods and Men
A group of Trappist monks living near an impoverished Algerian village must decide whether to leave or stay when terrorists threaten their community. This unforgettable movie is "that almost unheard-of film that you do not judge — it judges you." 
Sophie Scholl – The Final Days
This film tells the story of Sophie Scholl, a university student who heroically resisted the Nazi regime. Focusing on her arrest and trial, this movie helps us get to know a young woman of extraordinary courage and goodness. 
A Hidden Life 
Really, all of Terrence Malick's recent films should be on this list, but let's put down this one as a representative of them all. It's the true story of an Austrian farmer, Franz Jägerstätter, who faced the threat of execution for refusing to fight for the Nazis during World War II. Malick's films have a breathtaking contemplative quality that can teach Christian meditation. 
Father Stu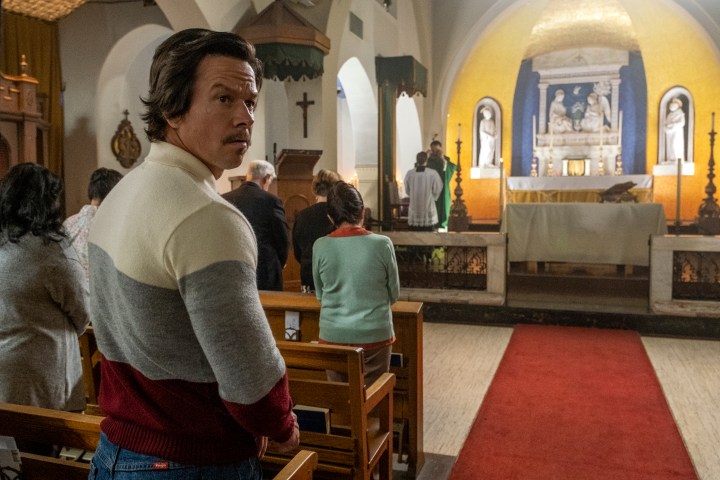 Karen Ballard | Sony Pictures
This recent release tells the true story of a boxer turned Catholic priest. (And here's our exclusive interview with the film's lead actor and director Mark Wahlberg!) 
Monsieur Vincent
The true story of St. Vincent de Paul "is a towering achievement among the world's great spiritual cinema."
The Keys of the Kingdom
This 1944 film shows the unsung but quietly noble work of a Scottish missionary to China 
The Scarlet and the Black
Based on a true story, this gripping film follows Vatican Monsignor Hugh O'Flaherty, who defied a Nazi colonel to hide thousands of escaped prisoners-of-war in occupied Rome.
The Shoes of the Fisherman
This movie, which eerily foreshadows the election of St. John Paul II to the papacy, raises fascinating questions about the role of the pope and bishops in the Church and of the Church in the world.
I Confess
What would happen if the seal of the confessional was put to the ultimate test? That's the premise of this gripping film about a Catholic priest who is accused falsely of murder after the true murderer confesses to him. 
Letters to Father Jacob
This film tells the story of an ex-convict who works for a blind pastor who answers letters from the needy. It's "quietly redemptive," "a story of faith expressed with simple grace and the small deeds of a pardoned sinner still searching for forgiveness."