Kim Phuc was a girl burned by napalm screaming in pain when Nick Út captured the moment.
At the end of the audience on May 11, 2022, Pope Francis met with American-Vietnamese photojournalist Nick Út and Canadian-Vietnamese Kim Phuc, respectively the author of a famous photograph of a girl burned by napalm during the Vietnam War, and the girl herself, howling in pain.
The two people, who are participating in an exhibition organized on the occasion of the 50th anniversary of the photograph taken on June 8, 1972, took advantage of their visit to Rome to offer a copy of the famous photo to the Pontiff.
Interviewed after the audience, Kim Phuc explained that she wished the Pope "good health" and thanked him for "all that he had done for peace." She said she was moved by the meeting.
Kim Phuc, who converted to Christianity during her hospitalization, explained that she had already met Pope Francis when he was Archbishop of Buenos Aires in 2009. The then Cardinal Jorge Mario Bergoglio said that the terrible experience of the young girl might have been the path "that made her discover that Jesus is alive."
Until May 31, the exhibition "From Hell to Hollywood" at the Palazzo Lombardia in Milan, revisits the journey of photographer Nick Út.
His photograph, titled "The Terror of War" was awarded the World Press Photo Prize and the Pulitzer Prize for Press Photography in 1973.
Because of its worldwide distribution, it played an important role in raising awareness of the Vietnam War conflict.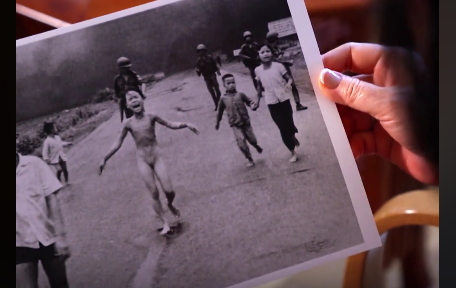 ZAJEM ZASLONA | FACEBOOK