A grieving husband is raising two sets of twins alone—beginning when the youngest were a day old, and the others just 18 months.
How can a man keep going when his wife and best friend has died? How can he raise two pairs of twins alone—when the youngest are a day old, and the others just 18 months?
For Carlos David Salazar Jaramillo, God was, and is, the answer. "Humanly it's impossible, but God has allowed me to see things from the perspective of faith, and spiritually I can say that it has all been a blessing."
On March 10, 2016, six years ago, María Camila and María Elisa were born. On September 20, 2017, Laura and Alejandra arrived. A day later, their mother Carolina ("Caro" for short) passed away.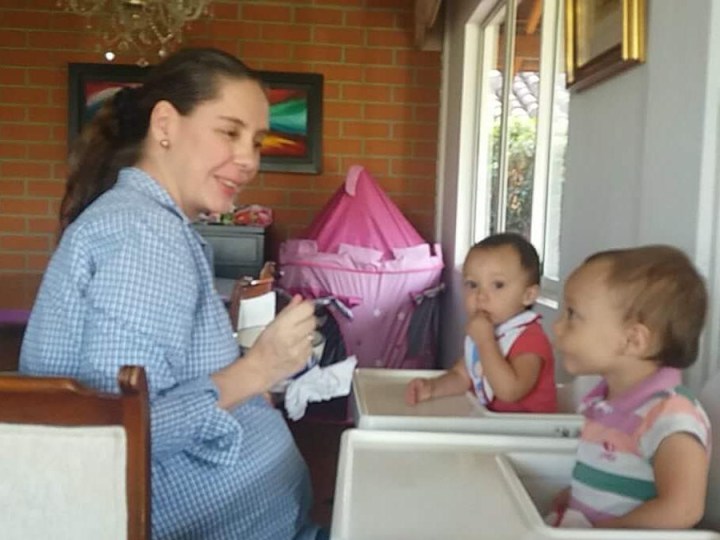 @las.gemelas.fantasticas
When Carlos' father died more than 15 years ago, it made him reflect on life. He felt strongly called to the ways of the Lord, and since then he has been part of the Catholic movement Civitas Orationis, through which he has grown in faith.
It hasn't been easy for Carlos to raise his daughters, but he has managed thanks, among other things, to many "angels of flesh and blood" who have helped him deal with his grief and take care of the four little girls with whom he lives in Rionegro, near the Colombian city of Medellin.
When asked how he manages it, he says it's easier to raise four kids at a time than one, because they keep each other entertained. "Besides, I have a very good team: I'm the head; my mother, Fabiola, is the vice-president, and we have Liliana (a nanny), who has been working with us for several years," he told Aleteia.
A whirlwind wedding and a different kind of honeymoon
Carlos married Carolina Morales in September of 2014, after seven years of dating on and off. "It's a beautiful story. In mid-2014 I was graduating from the naval reserve and I asked my best friend to accompany me. He told me that if Carolina didn't go he wouldn't go; that she was a very valuable woman and I was wasting my time. I was surprised because I felt it was God speaking through my friend."
A month later, they were married. It was a whirlwind wedding followed by an atypical honeymoon: they traveled to Pamplona (Spain) where they took a couple of courses at the University of Navarra on raising a family. They were living a good moment in their lives: she was working as a chemical engineer, and he, for a company representing Korean businesses in the defense sector.
In March 2015 they lost their first baby, at eight weeks of pregnancy. It was a difficult ordeal; they longed for children and were willing to raise however many children God gave them. Three months later, Carolina became pregnant again.
The second ultrasound scan made it clear to them that the babies were girls, whom they decided to name Maria Camila and Maria Elisa. They wanted the girls to be named after the Virgin Mary.
The first few weeks of parenting were difficult, but they soon figured out how to make caring for twins easier. Although they were open to life, another baby wasn't in their plans anytime soon. However, God had another pregnancy in store for them when the girls were only nine months old.
"I felt that God was hurrying us along at full speed, and when my wife passed away I connected the dots … The Lord wanted us to hurry this up because He knew that Caro would not last long," recalls Carlos, who later would start an apostolate to help others.
Soon, the doctor gave them some unexpected news: two babies were on the way, again. The explanation for this second pair of twins was the strong genetic inheritance of twins in both families and, of course, God's will.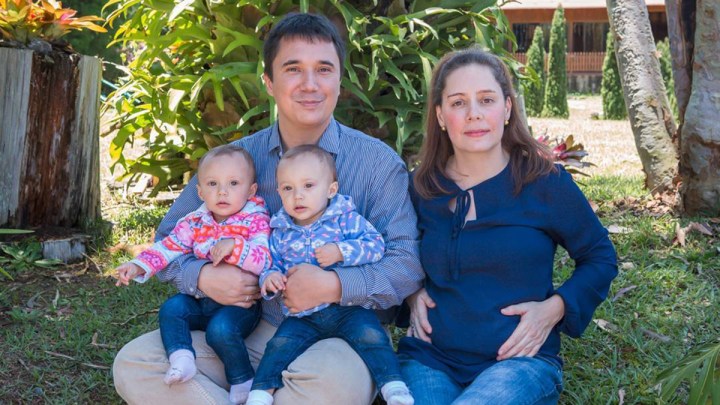 @las.gemelas.fantasticas
When he learned that the children would be born in September, Carlos asked God for it to be on the 20th, the day of the Holy Martyrs of Korea, to whom he has a special devotion, in addition to his admiration for that country. God granted it to him, and today the little ones have 103 patron saints, a great army of intercessors!
"My God, I abandon myself into your hands."
During the delivery, Carolina was able to take only one of the twins—Alejandra—in her arms, because the other, Laura, needed oxygen and couldn't be handed immediately to her mom. A few minutes later, Carlos realized that his wife had stopped talking and the doctors told him that she had just gone into cardiac arrest.
"I thought it might be a reaction to the anesthesia and I kept praying. A few minutes later, uncontrollable bleeding started and I had to leave. Thus began 12 hours in which about 20 specialists did everything humanly possible to save my wife. The diagnosis was amniotic fluid embolism, something that almost never happens."
Immediately, prayer chains began in several countries: members of Civitas, Evangelical Protestant friends, a Muslim friend … During the night, a friend called him and told him that the Lord had shown him in prayer that they should stop asking for healing and start asking for God's will to be done.
"In my heart I felt that Carolina was going to die, but it gave me peace of mind to know that she had been to confession and was at peace with God and that she would die giving life."
During those long hours of anguish, they did everything possible with human and spiritual means, while he tirelessly repeated, "My God, I abandon myself into your hands." When the doctors told him there was nothing more to be done, Carlos knew he had to say goodbye.
"I took her by the hand, sang in her ear, asked her forgiveness, and forgave her for any differences we might have had. We said a prayer as they turned off the machine Caro was hooked up to and, just like in the movies, her vital signs began to drop. In those last minutes of life something wonderful happened: when I told her, 'My love, the girls and I are going to be fine,' and squeezed her hand, the line that marked her heartbeat went up a little."
He hadn't been aware of the strength he had to face such intense sorrow. He was even able to comfort the crying surgeon and to hug the medical staff, thanking them for what they had done for his wife. He also had to ask the pediatrician who cared for his daughters to leave Alejandra with her little sister in neonatal intensive care, even though she didn't need the extra medical attention, because he couldn't take care of her in a separate room.
Twelve days later, the babies arrived home, where their older sisters already knew that their mother "had gone to Heaven." The situation wasn't easy and he didn't have enough resources, but thanks to a donation fund opened by a cousin of his wife, he was able to count on the service of specialized nannies for 18 months.
Since then, God has given abundant provisions to the family: donated diapers, milk, toiletries, clothes, strollers, cribs, and toys. They received so many donations that they were able to share them with other children. "I'm convinced that I shouldn't hoard greedily, and so I share with others. It took me longer to empty the garage than God did to fill it up again."
"God has her working for us."
Carlos had to quit his job and boost the independent business he had, in order to have more time for his four daughters. Undeniably, he goes through some really sad moments, but he knows he must be humble and trust in God.
In spite of the difficult moments, the girls have been growing up surrounded by love. They take care of each other, and although they fight like all siblings, after a few minutes they're the best of friends again. They're already defining their personalities and expressing their tastes. "I'm not raising them like an assembly line, and that's why I dedicate quality time for each one, such as father-daughter nights: one day a week I go out with only one of them to share our own moments together."
They've even told their grandma that they need their dad to get a girlfriend so they can have another mom. They talk about having a little brother and a little sister. To this, Carlos responds that if a true woman of God comes along, a real mother for his daughters, he would understand that this is God's plan for his family. 
In these four and a half years, the pain of the loss has continued. But he has already accepted it, with the help of faith, and it is attenuated with the best therapy: talking about her example of life and helping others. He has lost count of how many talks he has given, but he remembers many. Especially the one in which he saw that God has Carolina working for them.
"I was invited to a meeting of 40 Days for Life leaders, where I went with my four daughters. When it was over, one of the organizers invited us to lunch and asked me where the woman who had come with us was. 'Which woman?' I said. 'The one who stood at the door, the one who smiled and nodded during your talk,' she answered me. Surprised, I showed her a picture of Carolina, and she assured me that she was the woman and she was there. I have no doubt that she is protecting us from Heaven." 
You can follow Carlos' life on the Instagram profile Las gemelas fantásticas.