Pius XII would eventually die in the same room that had seen the birth of as many as 40 new babies.
The bed where Pope Pius XII (Eugenio Pacelli) would eventually die also served as a birthing bed where 40 children first saw the light of day. Many of them were baptized with the name Eugenio in honor of the pope.
Pius XII died in 1958 in the main bedroom of the pontifical apartment at the Apostolic Palace of Castel Gandolfo, located about 16 miles from Vatican City.
Recently, the doors of the popes' summer apartments at Castel Gandolfo were opened to the public at the behest of Pope Francis.
During the presentation to the press on October 21, the director of the Vatican Museums, Antonio Paolucci, explained that many women fugitives protected by the Pontiff during the Second World War were attended as they birth in the room then designated for the use of Pope Pius XII.
On January 22, 1944, Nazi military forces were terrorizing the civilian population, while the coastal town of Anzio was ground zero for the U.S. Army's landing in Italy. Thus, a part of the Italian region of Lazio became a battlefield.
As a result, refugees from the area sought and found a safe haven in the Pontifical Villa.
It's estimated that up to 13,000 people found refuge there in that period and remained there until the liberation of Rome on June 4, 1944.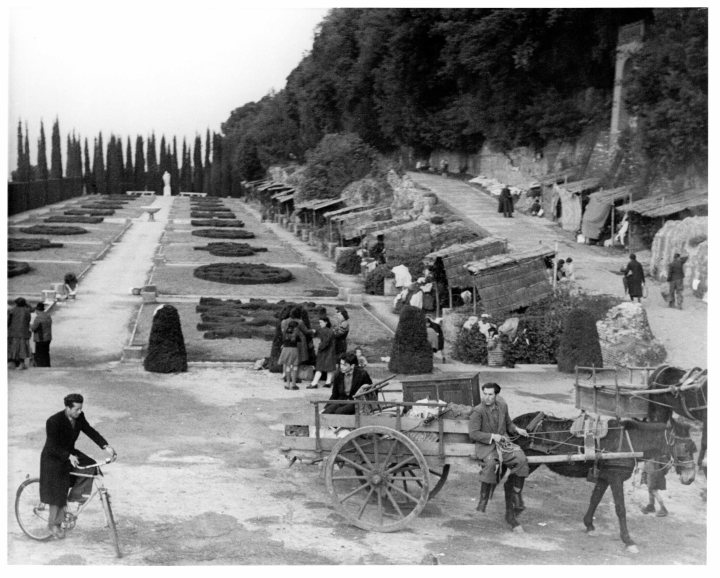 ©Musei Vaticani / Villas Pontificias 1944
The papal apartment was set aside for mothers who were about to give birth. Consequently, in those days of war, dozens of babies were born in the room with windows overlooking Albano Lake in the foreground embraced by a green forest.
To tourists who will be able to visit the Pontifical Villa and the room of the popes, where Paul VI also died in 1978, director Paolucci suggested: "Look out from the terrace and you will see pure beauty, the miracle of nature."
In the same room there is a Madonna and Child, a closet, a wooden desk, and a portrait of Pope Gregory.
The president of the Vatican City Governorate, Cardinal Giuseppe Bertello, said, "Nothing has been touched or modified in the room, so that visitors can see and savor the generally quiet daily life of the pontiffs in the place where they lived during the summer."
The apartment is related to the history of 33 popes, but only 15 of them stayed there. The first was Urban VIII: his first official vacation at Castel Gandolfo began on May 10, 1626.
The last one to spend his summer days there was Pope Emeritus Benedict XVI. On February 28, 2013, Joseph Ratzinger left the Vatican by helicopter after having resigned from the pontificate. When the gates of the Palace closed, the period of sede vacante began.