The International Military Pilgrimage to Lourdes is back after years of postponements due to the world pandemic.
The annual Warriors to Lourdes Pilgrimage is back in 2022, after postponements in recent years due to the world pandemic. This year's event brought some 175 veterans and active-duty U.S. personnel to the Shrine of Our Lady of Lourdes, in Western France. The event was co-sponsored by the Knights of Columbus and the Archdiocese for the Military Services, USA.
Warriors to Lourdes
The Warriors to Lourdes (WTL) program offers non-wounded, wounded, ill and injured U.S. warriors an opportunity to find peace through pilgrimage. Accompanied by the Knights of Columbus, these warriors and their families are given spiritual guidance  and support.
The trip coincides with the International Military Pilgrimage at Lourdes. According to Catholic News Agency, this year's festivities drew some 10,300 pilgrims from 42 different nations. The International Military Pilgrimage was established after WWII and has since grown to become a city-wide celebration of faith and military personnel.
On the Knights' website, a warrior pilgrim who attended the WTL pilgrimage in 2017 said of the program: 
"It is very easy to lose faith or suffer both physically and spiritually, but the healing we have enjoyed, both during our trip to Lourdes and since returning, is something that I wish we could share with all of our fellow service members, particularly those suffering." Jonathan A., Marine Corps.
Prayer kits
This year, warrior pilgrims visited the Shrine of Our Lady of Lourdes, attended daily Mass, and were given various opportunities for prayer and fellowship. In the spirit of service, at the heart of both the Catholic message and military careers, they also found a way to participate in a charitable endeavor. The group put together prayer kits for Ukrainian soldiers. 
The U.S. warrior pilgrims constructed an estimated 3,000 prayer kits in 2022. Each kit includes a rosary, an Our Lady of Lourdes prayer card, a Blessed Michael McGivney prayer card and a vial of Lourdes holy water. The kits were blessed by the Most Reverend Timothy P. Broglio, J.C.D., archbishop for the Military Services, USA, before being shipped to Ukraine. There, they will be distributed to both active and injured Ukrainian soldiers.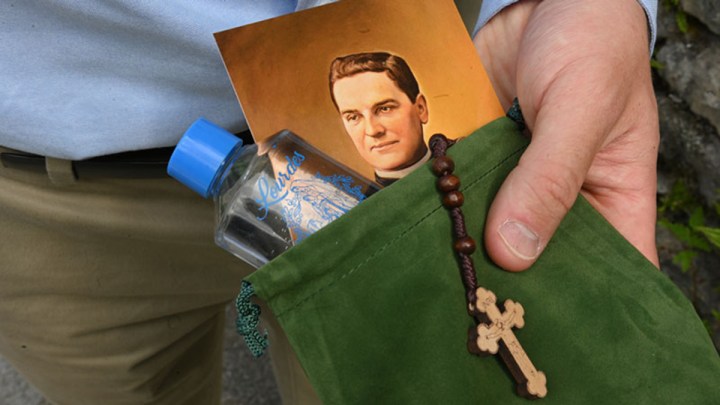 Tamino Petelinšek | Knights of Columbus
Ukrainian delegation
Along with the U.S. soldiers, the Knights of Columbus also sponsored a delegation representing Ukraine's service men and women. It included six active-duty military, four mothers of fallen soldiers, two military officials, two military chaplains and one military bishop.
Tamino Petelinšek | Knights of Columbus
Of the Ukrainian delegation, Supreme Knight Patrick Kelly commented in a press release: 
"The theme of this year's Warriors to Lourdes Pilgrimage is 'Pacem Meam do Vobis' (Peace I Give You). During this time of devastating war in Ukraine, the Knights of Columbus have been working to bring peace and comfort to Ukrainian families and military personnel, and we're honored to have Ukrainian soldiers join us again in Lourdes. Together, especially through devotional prayers to Our Lady of Lourdes, we want to bring greater healing, unity and hope to all those affected by this tragedy."
Learn more about the Warriors to Lourdes Pilgrimage at the Knights of Columbus.