Native Americans and early Spanish missionaries might be among the next American Saints.
The Martyrs of La Florida were a group of Native American and Spanish Catholics killed in Florida during the Spanish colonial expansion into what is now the territory of the United States, then still part of the Spanish Empire. During the 16th and 17th centuries, 86 Catholics – including priests and laity – were martyred by Native Americans and subjects of the British Empire.
Their cause for canonization was opened in 2015 by Bishop Gregory Parkes of the Diocese of Pensacola–Tallahassee, with support from bishop representatives in the dioceses of St. Augustine, St. Petersburg, Orlando, Palm Beach and Venice. The United States Conference of Catholic Bishops has also endorsed the canonization cause of the martyrs.
The lead martyr of the cause is theNative American layman Antonio Cuipa, the inija (second in command) of the Apalachee at the mission village of San Luis de Talimali. Educated by Spanish Franciscan priests serving the mission, Antonio spoke Spanish, Apalachee, and some Latin. He could also read and write. He had been brought up a Catholic and had a thorough understanding of theological doctrine. Married to another Apalachee Christian named Josefa, he had a daughter and a son, named Clara and Francisco. He deeply loved his Catholic faith, which he proved when he died a martyr.
The destruction of the Mission of San Luis de Talimali
Colonel James Moore was the colonial administrator who served as the governor of Carolina from 1700 to 1703. Moore is best known for leading the invasion of Spanish Florida during Queen Anne's War, wiping out most of the Spanish missions. He captured and enslaved thousands of Floridian Apalachee, taking them with him to Carolina.
The first mission town Moore invaded was La Concepción de Ayubale, a mission near to Antonio Cuipa's San Luis, on January 1704. As they heard Moore was attacking La Concepción, the men of San Luis quickly and heroically set out to go to their aid, knowing they had no chance to succeed at all.Thirty Spanish cavalry and four hundred Apalachee soldiers under the command of Captain Juan Ruíz de Mexía, Antonio Cuipa included, managed to drive Moore's forces from Ayubale twice. Fray Juan de Parga, the Franciscan born in La Habana, a zealous priest and teacher who was fluent in Apalachee, administered the sacraments and preached a sermon to the men of San Luis, anticipating their martyrdom. He insisted on going with them. He wished, according to the Spanish governor's report, "to go and die with his children." By nightfall, the Spanish and the Apalachee had run out of ammunition and surrendered. Moore butchered them.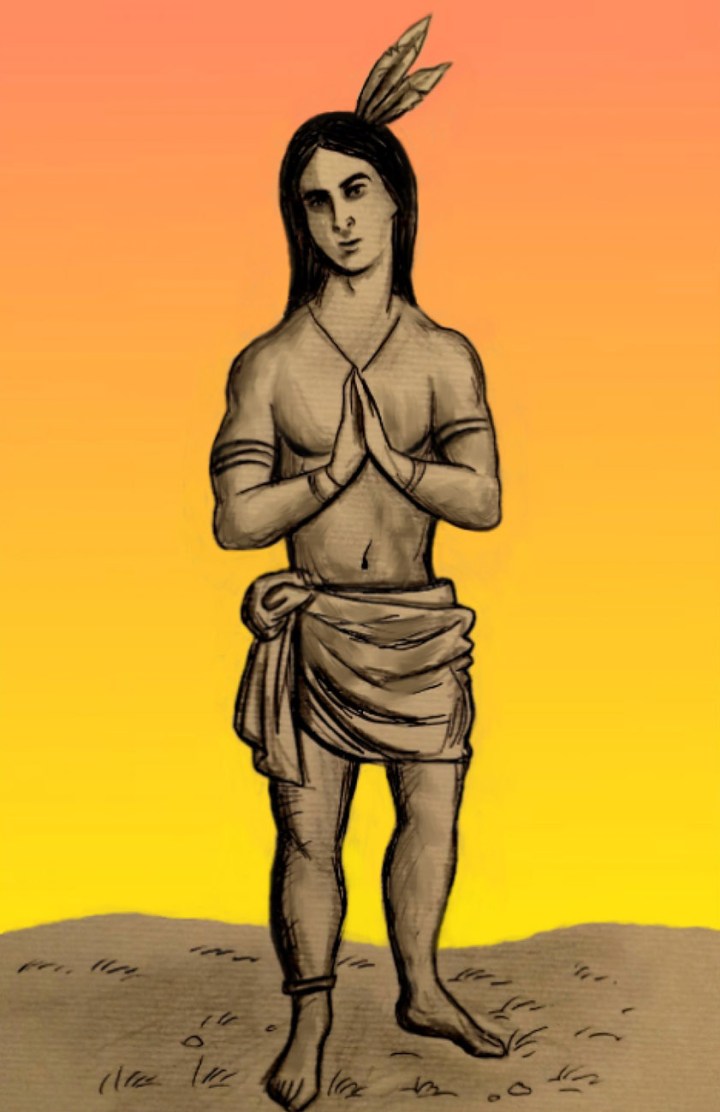 Father Parga was killed on the road near Ayubale, and his severed head was brought to the council house. His body was later found and buried at the nearby mission of Ivitachuco. Those who were not killed in the spot were taken hostages by Moore's forces, who tied them to posts and set them on fire. As they did this, Fray Angel Miranda, one of Antonio's closest friends from San Luis, demanded to know how could Moore permit such atrocities. He simply said he had no control over his troops.
According to the report of the Spanish governor, José de Zúñiga y La Cerda, many of the Christian Apalachee, Cuipa leading them, died as martyrs:
"During this cruel and barbarous martyrdom which the poor Apalachee Indians experienced, there were some of them who encouraged the others, declaring that through martyrdom they would appear before God; and to the pagans they said, 'Make more fire so that our hearts may be allowed to suffer for our souls. We go to enjoy God as Christians'."