After Julianna Lee wrote an Op Ed in her university's publication, she shared her views about being a young pro-life woman today with Aleteia.
New Jersey native Julianna Lee is just finishing her freshman year at Princeton University and will be majoring in politics in the fall. In a recent article published by ' ("I am a pro-life woman and a student at Princeton. Here's where the pro-life movement needs to go next") she wrote: "Being a pro-life woman isn't always easy. Many are baffled as to why I would be willing to sacrifice my education, my career, my success, and "my life' for a baby if I had not wanted it."
Photo Courtesy of Julianna Lee
We wanted to talk more with Lee about what it's like to be a pro-life student on an Ivy League campus today and what she thinks needs to happen to build a more life-affirming culture on college campuses.
Aleteia: Have you always considered yourself pro-life? Is it difficult to hold that view among your peers and on campus?
Julianna Lee: Yes, I've always been pro-life. My family's Catholic, but I didn't grow up learning the religious or secular pro-life arguments. My mom always talked about how she spoke to me while I was still in her womb and how I used to move around and respond to her in there, so it just never occurred to me that I wasn't a human being when I was still in her womb.
It's definitely been harder to be pro-life on campus. Being pro-life and pro-family is an unpopular minority to be a part of, and I have received backlash for expressing my views in the past. But I'm really grateful for and encouraged by the smaller but incredibly strong network of pro-life and pro-family students and faculty on campus as well as those who have reached out to me saying that they are "closet pro-lifers," after I published a pro-life Op Ed in the student newspaper. There are more of us than I'd thought!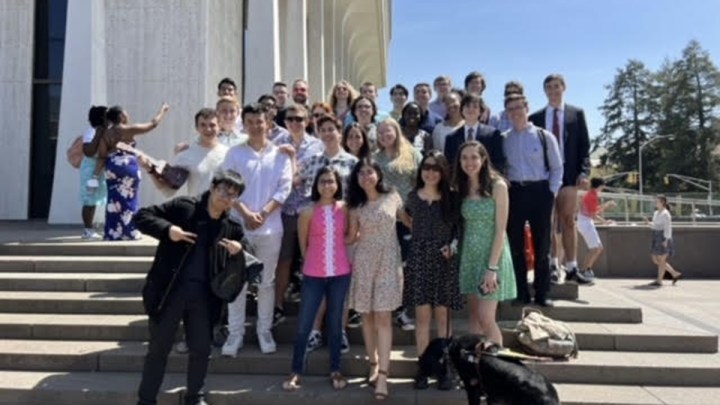 Photo Courtesy of Julianna Lee
About the opposition, though, it makes me sad that something that seems so clear to me — that life begins at conception and that this life must be protected and respected as a human being — is under so much dispute. But many of my peers see abortion as a fundamental right because they believe that we have control over our bodies and that women shoulder a disproportionate amount of the burden when it comes to raising a child.
It makes me upset to hear my peers speak of a child as a bunch of cells, but I've come to understand that most of the time, this justification does not come from an evil place. Rather, it comes from a compassionate or desperate, although misguided, one. It's true that if you don't believe in God who created you, you may think that you have the ultimate say over your body. It's true that society makes it incredibly difficult to raise a child as a low-income, single mother. I think it's so important, as pro-lifers, to listen to the concerns that others have and to find ways to make their lives easier rather than to simply force them to swallow the pro-life arguments. 
If Roe is overturned, what do you think the pro-life movement needs to do?
Of course, we need to continue fighting for life. Once Roe is overturned, the decision will be turned over to state legislatures, so we need to work to pass legislation that would ban abortion everywhere. A woman has many choices she is free to make, but none of these choices should infringe upon another's right to life. Every human being — the mother, the unborn child, the victim of a car accident reduced to a vegetative state, and a baby born with a severe genetic disorder — all of us have an equal and inherent dignity that must be protected.
However, the pro-life movement must recognize that many women who choose abortion are making an extremely difficult and tragic choice. They don't have anything against the baby; they simply feel that they don't have the resources to successfully raise a child.
Something is wrong with our society if a woman is forced to choose between her child and her livelihood, and it's our societal duty to support women so that they are not physically, emotionally, and financially overwhelmed as a result of bringing in new life into the world.
Companies need to make available options such as more flexible work schedules and better pay for part time work, so that abortion doesn't have to be a woman's first choice if she wants to remain employed. Laws need to be passed that make men legally and financially responsible for every child they father, so that they shoulder an appropriate level of familial responsibility.  
In short, banning abortion and supporting women need to happen at the same time. Otherwise, it is impossible to have a healthy society that values and protects both women and the unborn.
College-aged women make up a fairly large number of women who have abortions. What needs to change to better support this segment of women?
I went into my university's health services website, and I saw options for counseling, abortion services, and adoption — which assume that a baby is a burden and needs to be taken off a pregnant student's hands. It would be helpful to have links to pregnancy resource centers, which operate free of charge, and offer alternatives to abortion as well as services including OB ultrasounds, parenting classes, information about food resources, medical assistance, baby equipment, counseling, and more.
Princeton has a robust support network for pregnant graduate students, postdocs, and faculty, but these resources are harder to find for a desperate undergrad. It would be beneficial to increase awareness of pregnancy and post-pregnancy resources for undergraduate students, so that their primary option isn't to get rid of the child if they want a chance to finish their degree. 
What do you think is the best way to talk about abortion with college students?
When I speak to my secular, pro-choice friends, they tell me that it would be helpful to see more non-religious arguments from the pro-life side. The arguments for life are all proven by science. You can't deny that research shows that a baby's heart begins to beat inside the womb just 16 days after conception, that its brain begins to function ten weeks after conception, that its DNA is completely its own, distinct from both the mother's and the father's. I think it's powerful for many college students to be faced with the science, or even with the horrors of abortion procedures.
Additionally, I think that showing college students that the pro-life movement is compassionate and reasonable, that it is working towards policies that support both women and the unborn, would go a long way in getting young people to think a little bit more about what being pro-life really means. We are not against women. We want to make things easier for women so that they will never be put in a position where they are forced to make a decision that they will regret or that harms themselves or others. We want to support better families where men can't get away with fathering kids and putting all the burdens of child-rearing on women.
Being pro-life is not a political ideology; it is the truth and a way to promote a more healthy society that those of all different backgrounds and ideologies can and should get behind.