As the tree is known by its fruit, a saint is known by his or her attributes.
You might know St. Catherine. But which one?
Upon entering a church, oftenwe can hardly recognize half of the saints featured in the stained-glass windows, sculptures, altarpieces, and other decorative or liturgical elements in the building.
It is only natural: there are more than 10,000 saints recognized by the Roman Catholic Church, and the names and histories of plenty of other holy men and women have surely been lost to history. Christianity is a long, vibrant, diverse, and often complex tradition that is also responsible for some of the greatest works of art in history. Cathedrals, churches, abbeys, basilicas are all filled with symbols and images that condense a unique iconographic tradition, and convey theological, historical, hagiographical, doctrinal messages to the spectator.
Therefore, understanding the basics of Christian religious symbolism and iconography requires attentiveness to detail, to say the least. It's even worse when some of these holy men and women share the same name: Isidore of Sevilla is oftentimes confused with Isidore the Farmer, and Teresa de Ávila with Thérese de Lisieux. The same goes for the many St. Catherines. How can one tell one Catherine from the other? Here, we include an easy guide to distinguish them, by their attributes.
Catherine of Alexandria (c. 287-305)
According to tradition, Catherine was the daughter the governor of Alexandria during the reign of the emperor Maximian, in the late 3rd century. But when the persecutions against Christians began under the rule of Maxentius, she rebuked him for his cruelty. The emperor summoned the best orators to refute her pro-Christian arguments, but Catherine won the debate and was thus imprisoned and tortured. As she would not renounce the faith, Maxentius tried to win her over by proposing marriage. She refused and was then condemned to death on a spiked breaking wheel, but, at her touch, it shattered. Maxentius ordered her to be beheaded instead. Hence, she is oftentimes represented standing next to the wheel, and referred to as St. Catherine of the Wheel, or the Great Martyr St. Catherine. (The fireworks known as Catherine wheels are named for her.)
Domaine Public
Catherine of Vadstena (c. 1332–1381)
A close friend of Catherine of Siena and the daughter of St. Bridget of Sweden, Catherine of Vadstena (also known as Catherine of Sweden) was a Swedish noblewoman who lived a chaste marriage. She eventually became head of the Brigittine convent at Vadstena Abbey, founded by her mother. She is generally represented with a hind, or female deer, at her side, representing chastity.
Catherine of Siena (1347–1380)
The Italian philosopher, theologian, mystic, and doctor of the church and patron saint of Italy was a lay member of the Dominican Order, and one of the most outstanding figures of medieval Catholicism, both by the role she played in the history of the papacy, and because of her extensive authorship. Her famous Dialogue, letters, and prayers, give her a prominent place in the history of Italian literature. According to hagiographical sources, at the age of 21 she experienced what she described in her letters as a "Mystical Marriage" with Jesus. Hence, she is represented as wearing a wedding ring. A stigmatist, she is also portrayed with a crown of thorns and pierced hands, or receiving the stigmata, wearing the Dominican habit.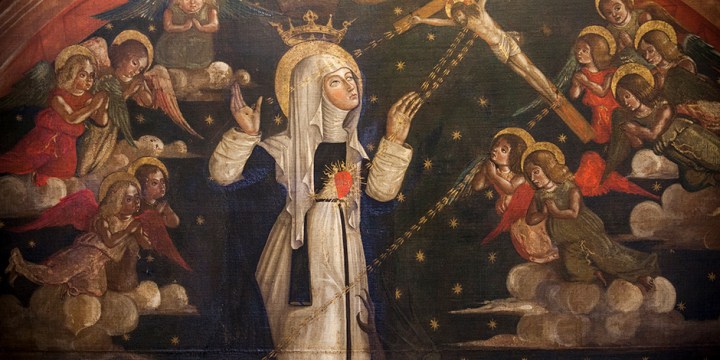 © Fr Lawrence Lew CC
Catherine of Bologna (1413–1463)
Born Caterina de' Vigri, she was an Italian Poor Clare nun, writer, teacher, mystic, artist, and saint. The patron saint of artists and against temptations, she is simply represented sitting, wearing the Franciscan habit, holding a crucifix in her hands, since her incorrupt body is preserved exactly in that position.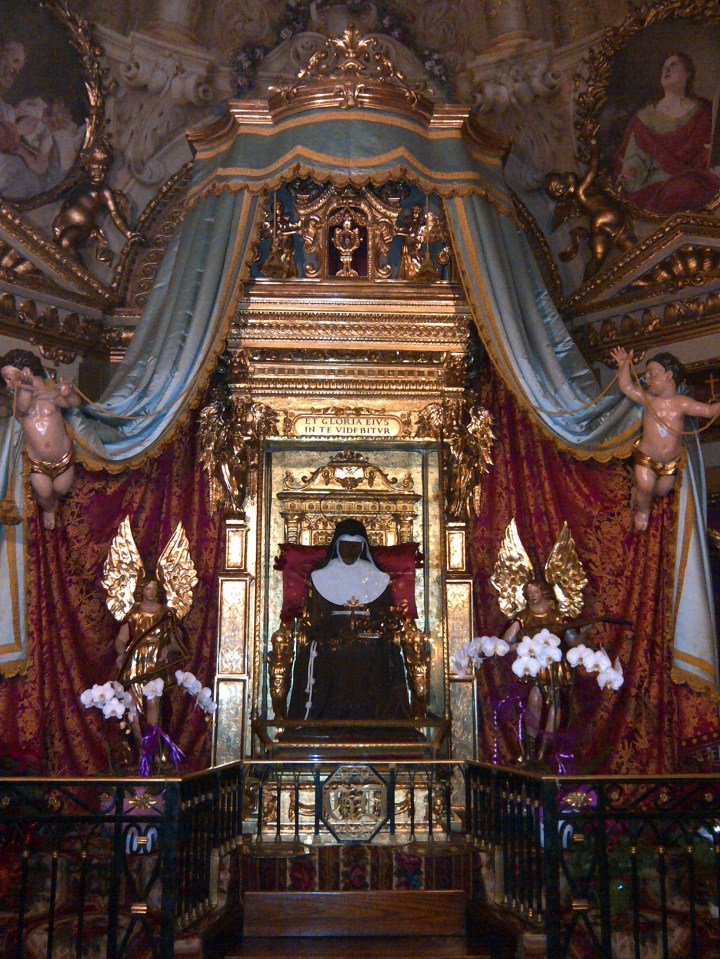 Catherine of Ricci (1522–1590)
An Italian Dominican Tertiary sister like St. Catherine of Siena, St. Catherine of Ricci is believed to have had miraculous visions and encounters with Jesus, and to have spontaneously bled while meditating on the Passion. Also a stigmatist, she is represented with the Dominican habit, pierced hands, and a coral ring in her right ring finger, a symbol of her mystical union with Christ.  
Catherine Tekakwitha (1656–1680)
The fourth Native American to be venerated in the Catholic Church, Catherine Tekakwitha was born in the Mohawk village of Ossernenon, on the south side of the Mohawk River in present-day New York State. She converted to Catholicism at age nineteen, when she was baptized and given the Christian name Kateri in honor of St. Catherine of Siena. Refusing to marry, she lived for the remaining five years of her life to the Jesuit mission village of Kahnawake, south of Montreal. As she belonged by adoption to the Turtle Clan, she is often represented with a turtle at her feet and holding a rosaryor a wooden cross,dressed in traditional Mohawk attire. Also known as The Lily of the Mohawks because of her vow of chastity, a lily is also one of her attributes.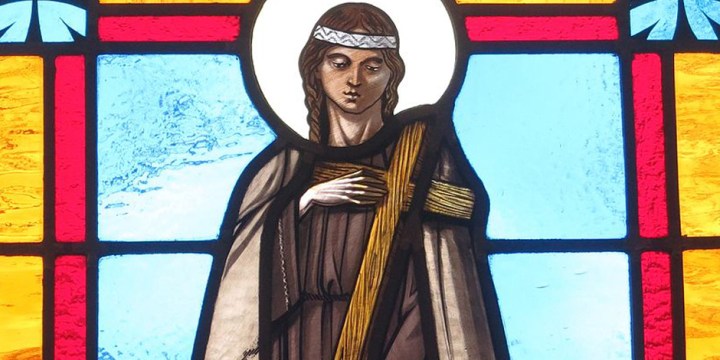 Katharine Drexel (1858–1955)
The second person born in what is now the United States to be canonized as a saint, and the first one born a U.S. citizen, Katharine Drexel was a nun, philanthropist, and educator. The daughter of banker Francis Anthony Drexel and his wife Hannah Langstroth, she was expected to enter high society as an adult. Pope Leo XIII suggested she become a nun. She did so, soon after founding the Sisters of the Blessed Sacrament, serving as its first mother superior. She is represented wearing the habit of the congregation she founded.
Fair Use