Dr. Yohanna Olivo sees her work as a vocation and is equally devoted to her family and friends.
What can God do in your life with one Bible verse a day?
Subscribe to Aleteia's new service and bring Scripture into your morning:
Just one verse each day.
Click to bring God's word to your inbox
She is an open, smiling woman. "I've been working for more than 10 years in the Bronx at my office at the Bronx Community Medicine," Dr. Olivo explains. "I'm currently a primary care physician and I'm also part of the organization of immigration physicians, which is called USCIS Civil Surgeons. And I'm also part of the State Trooper Surgeons."
Yohanna Olivo is both Hispanic and lively: "I was born in Santiago de los Caballeros, Dominican Republic, the city of merengue," she says. "I love merengue, I love bachata, I love salsa … I really am Latina. I dance to anything they play for me, even if I don't know it!"
Olivo tells us what her experience as an immigrant has been like. "I had a very happy childhood," she recalls. "My parents instilled many values in me. I graduated from the Madre y Maestra Pontifical Catholic University, one of the universities in Santiago. Then I decided to come to the United States."
What gave her the strength to stay in New York
"When I came to the United States," she continues, "seeing the situation of the people who needed medical help and seeing my community needing the support of us Latino doctors was something that gave me the strength and motivation to be able to say, 'I have to be here and I have to help my community.' When you do things with love, you feel it in your soul, in your heart."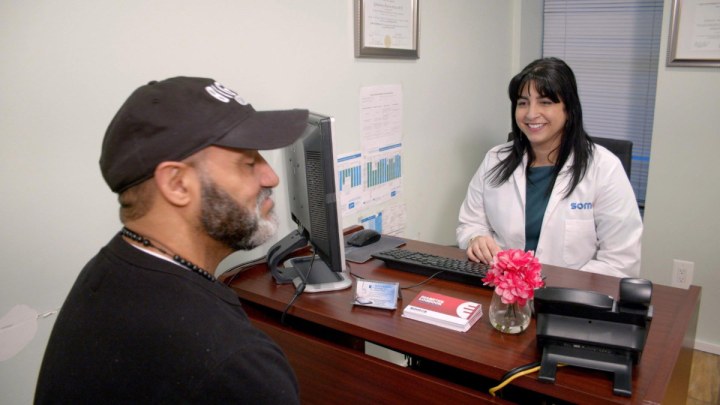 Aleteia
Olivo tells us that her profession goes beyond a schedule or obligations marked by a contract. Being a doctor is tremendously vocational and that is how she lives it.
"Helping others gives you a satisfaction that words cannot describe."
"I'm always here to help," she explains, "not only my patients, but also my friends and colleagues. When you have this career that you love and that you carry out with love and affection, helping others gives you a satisfaction that words cannot describe."
She's focused on caring for the Hispanic community, but the coronavirus pandemic has certainly made doctors like her, who belong to the SOMOS network of doctors founded by Dr. Ramon Tallaj, see themselves as committed to caring for all underprivileged people, whatever their origin. She explains:
We always say we're community doctors, but after the pandemic, we're doctors of the world focused on our community. It gives me immense pleasure to be helping different communities right now, wherever they need us.
The reason for her attitude focused on others is very simple: "Because what's happening is worldwide, and wherever I'm needed, that's where I will always be: helping those who need me, unconditionally." Above all, she thinks of "those people who need not so much medical support, but also emotional support."
Dr. Olivo's personal and family life has not been easy. She's the mother of a large family, and has had to fight hard to support them. "I'm very happy," she says, "to have a beautiful family." She goes on to explain: "I have six children, three biological children [of mine] and three of my husband's children. I love them, I care for them. I'm here for them. I am their strength, I am their role model. But I feel so, so lucky with life, because instead of having three, I have six and I'm so happy and content because of that. It's a blessing."
Olivo, although very young, is now a widow. "I was married to my husband Angel. We had an excellent marriage. He was a spectacular person. A tremendous father. But unfortunately, in July 2018 he suffered a motorcycle accident where he probably died on the spot."
"For me," she recalls, "it was very painful to receive that news, to go to the hospital, to see him intubated. It really hurt me a lot because he didn't deserve to have that happen to him. I felt impotent at that moment. My children … I didn't really know what to do. But now he rests in peace and I'm still here, strong, in his name, for me and for my kids."
Losing her husband and the father of her children was a great sorrow for Olivo and at the same time a life lesson in which she sees the loving hand of God, who has never failed her. "It was an irreparable loss for me," she says, referring to her husband's accident. "It's a subject that's painful for me."
Here you can see some images of the doctor:
Launch the slideshow
This courageous woman's tears made it possible for her to grow spiritually a great deal. "Ángel is at peace because he sees that I'm a strong woman, a woman who achieves, a woman who has been there for all our children and who will continue to move forward. I'll go forward with a lot of faith, with a lot of love. I express my happiness because it's the only example I can leave to my children. In the future I see myself celebrating my children's achievements."
Olivo has two daughters who work in health care. "They're following in my footsteps. Despite adversities, we must always have faith and always look forward, towards that infinite light that is the light of God, that light that guides us and that light that gives us strength. The light of God."