"Why don't you draw a picture for the pope and I'll send it to him?"
Pope Francis has written a letter to a 7-year-old Spanish boy. This gift his family received in the mailbox was the answer to little Diego, who days before had sent the pope a drawing he had made of the Risen Jesus.
Diego's letter to Pope Francis, besides being a surprise in itself, contains a precious message: it talks about soccer, grandparents, family … Why did the pope answer?
Diego's father, journalist José Calderero, was the one who came up with the idea of writing to the Holy Father.
"I work at the digital weekly Alfa y Omega in Madrid," explains José. "The director and deputy director were invited to the presentation of a book by the Claret publishing house in Rome, and they were going to see the pope. I thought it would be a golden opportunity to send him a message from my family."
"So I said to Diego, the oldest of my three sons, 'Why don't you draw a picture for the pope and I'll send it to him?' The boy copied a drawing of the Risen Jesus from one of his coloring books and gave it to me. 'Explain something to the pope, write him a few lines,'" the boy told his dad, but before he could answer, "Diego was already playing with his ball." So José decided to add a letter and a photo: he chose one of Diego with his grandfather.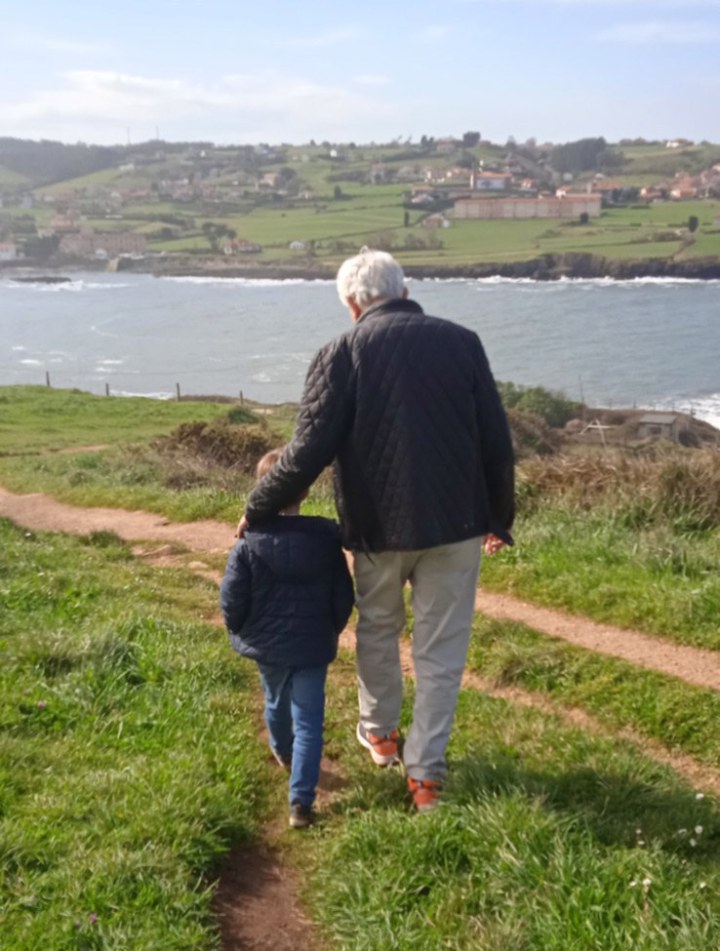 Gentileza José Calderero
Sharing a love of soccer
"I wanted to thank Pope Francis for the words he has been dedicating lately in the Wednesday audiences to the relationship between grandparents and grandchildren. I explained to him that one of Diego's grandparents lives in Asturias, more than 400 kilometers [about 250 miles] away. He's very much a soccer fan, like the pope."
"I explained to the pope the wonderful connection I see between Diego and his grandfather. My father-in-law is able to educate him in a way that is wonderful and different from us, his parents. As they play, they chat, laugh, and talk about life. My father-in-law doesn't tell him what to do, but he talks to him about life in a natural way. It's admirable how he does it, and that's what I told the pope."
This is the first part of Pope Francis' response to Diego:
Thank you for the drawing you sent me and the greetings you transmitted to me through your dad. It made me very happy to know that every time you meet your grandfather you enjoy playing soccer with him. I imagine that the two of you must have very good times together.
Regarding soccer, José explained in a humorous tone to the pope that his father-in-law is very much an FC Barcelona fan and that he instilled that fondness in his grandson. "But we live in Valdebebas, where Real Madrid's headquarters is! So we had to keep that intention of the grandfather under control," he jokes.
"Thank you for praying for me," the pope continues in his letter. "I will pray for you and for all your family."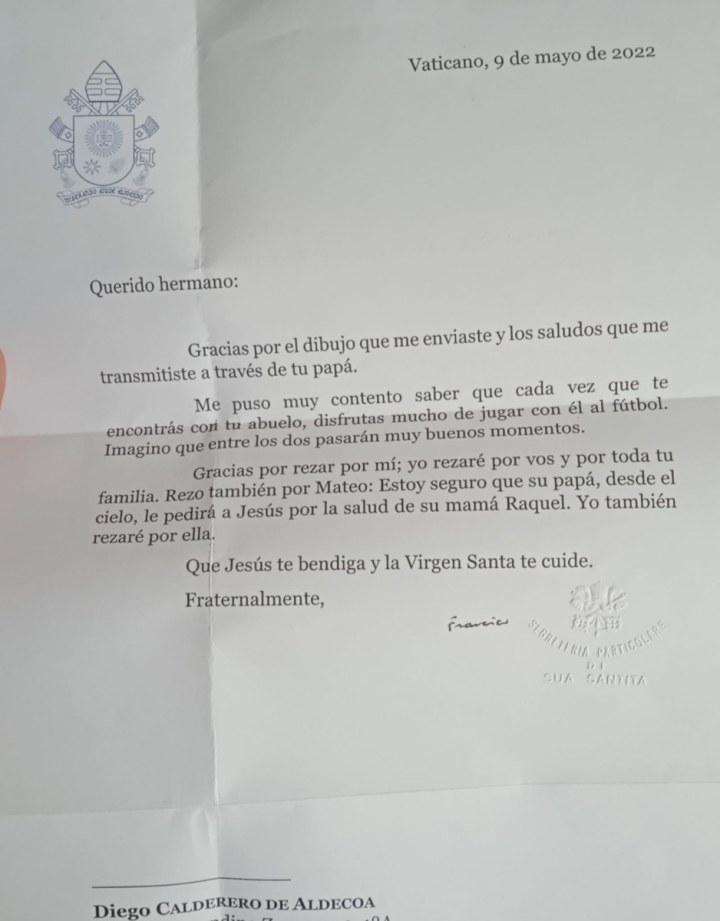 Gentileza José Calderero
A message for a little friend of Diego's
The pope's message doesn't end there: Jose had explained to him that Diego has a friend named Mateo who is 10 years old. Mateo's dad died two years ago and his mom has breast cancer. "Diego and Mateo are very close friends, because we're also neighbors in Valdebebas," José explains.
They recently operated on Mateo's mother, and José asked the pope to pray for her.
The pope said in the letter: "I pray also for Mateo: I'm sure that his dad, from heaven, will pray to Jesus for the health of his mom, Raquel. I too will pray for her."
Lastly, he bid the boy a fond farewell: "May Jesus bless you and the Holy Virgin watch over you. Fraternally, Francis."
José says, "We've been praying for Raquel (Mateo's mom) for some time." The operation, thank God, went well.
There are many things for which José wants to thank Pope Francis in his work to support the family and especially grandparents. "He reminds us that the elderly are not disposable material. He encourages dialogue between generations. I really liked it when he said, 'When grandparents communicate their dreams, young people stop looking at their smartphone,' because this business of young people glued to the screen is a reality and I see how grandparents help." What are you going to do with the letter, we asked José? "I've told my wife that we have to frame it," he says with a smile.