Evelyn left her job with a major airline in Singapore to consecrate herself to God in a life of prayer and work.
After three decades without vocations, last July the Monastery of Dominican Nuns of Santo Domingo el Real in Segovia (Spain) welcomed a new perpetually professed nun: Sister Evelyn of the Child Jesus, from Singapore.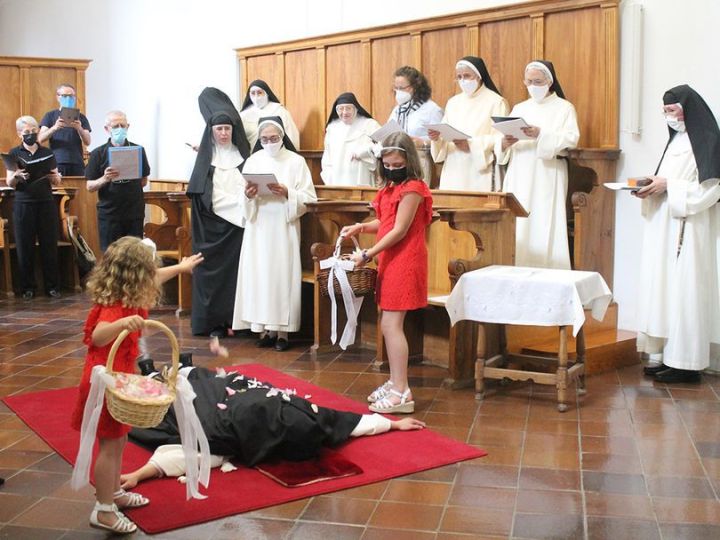 declausura.org
Yes, you read that right: she's from Singapore, that small Asian country with a per capita income twice that of Spain. Evelyn left her job as a flight attendant with one of the most important airlines in her country to consecrate herself to God in a life of prayer and work.
"I had all the luxurious life I wanted, but I realized that nothing could really fulfill me," recalls the religious, who made her temporary vows of poverty, chastity and obedience at the Monastery of Segovia in January 2018.
From Protestantism
Evelyn had received baptism in a Protestant church and, as she revealed in an interview granted to the DeClausura Foundation, "I was always looking for God. I was looking for the Truth, even though I wasn't very religious." 
"I was in a Protestant school and college for 12 years," she recalls. "Later God gave me the grace to understand the teaching about the keys of Peter through a Catholic friend and I was accepted into the Catholic Church." 
As a flight attendant, Evelyn often traveled to Rome on vacation and used to go to one of the most beautiful churches in the Eternal City, Santa Maria Sopra Minerva, where the great Dominican saint, St. Catherine of Siena, is buried.
"I have a spiritual friendship with her," Sister Evelyn confesses. "In fact, I call her 'mother', like the people of her time, and I share her charism of 'veritas,' the search for and fidelity to truth."
"Later, in Singapore, the Sisters of Charity of Mother Teresa of Calcutta introduced me to a Dominican priest who celebrated Mass for them. That's how I got to know the Spanish Dominicans. One of them is from Segovia and he was the one who introduced me to those who are now my sisters," continues Sister Evelyn, explaining how she decided to consecrate her life to God in that city.
Not everything has been easy for Evelyn. It was quite difficult for her family to accept her decision to leave everything to enter the monastery. 
"I had a very comfortable life," she says, "but in Asia people are quite religious, and this religious sense helped them to accept my vocation, little by little. Now they agree because they know I'm happy here."
"The important thing is that God keeps seeking us out, until we recognize it," Sister Evelyn says. "When we begin to feel that we are missing 'something' because what we have doesn't fulfill us, we have to be very honest with ourselves and realize what we really want."
Their mission in the cloister
The motto of the Dominican Order is: "To praise, to bless, to preach." It could seem paradoxical that, in order to live this mission, Sister Evelyn has decided to consecrate herself to God in a contemplative monastery.
But she explains that this mission is carried out "in silence and prayer. We don't have to talk much, because the existence of a cloistered nun can do more than if she were in the world, by her life of prayer, by her life of charity with her sisters …"
"And although many people neither understand our way of life nor know of our existence," Sister Evelyn acknowledges, "the vocation of the cloistered nun in the monastery is like the heart for a human being. We don't see it, but it's vital. Such is the life of a cloistered nun in the Church."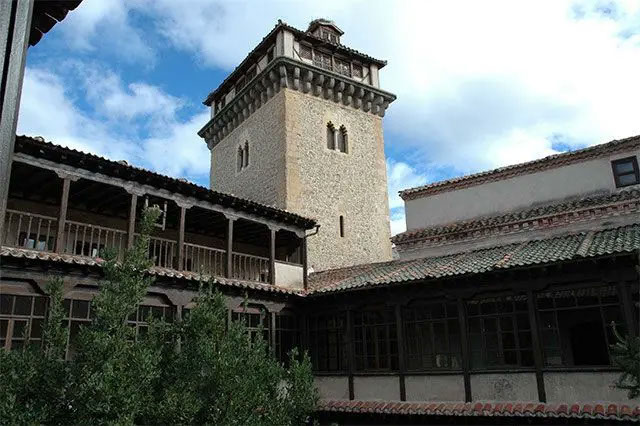 declausura.org
A day in the life of a contemplative Dominican nun
Sister Evelyn of the Child Jesus reveals with simplicity what a day in the life of her monastery is like. 
It begins, as is well known, with prayer. "Starting at dawn we pray to maintain our union with God and humanity," she says. "The Constitution Sacrosanctum Concilium teaches us that 'the liturgy is the summit toward which the activity of the Church is directed; at the same time it is the font from which all her power flows.'"
"In the morning we work to unite ourselves to the people, who earn their bread by toil and sweat. After lunch, we have recreation time and in the afternoon, study, which is very important in our Order." 
"For nuns, study not only nourishes contemplation, but also removes the impediments that come from ignorance," emphasizes the Dominican nun. "Moreover, study informs practical judgment and is also a way for the Holy Spirit to enlighten the mind."
"And at 7 p.m. we receive the strength that flows especially from the Eucharist," she acknowledges.
Every Christian is a contemplative
Sister Evelyn contradicts stereotypes by saying that "the contemplative life is not only for nuns or religious. In fact, contemplation, or the loving gaze of the soul on divine Truth, is for all Christians."
"It is true that religious life gives us a life that favors the search for God, for it is a call from God. When I give the answer to God and I agree with his Will, I feel happy. For me, a nun can give her life not only totally to God; also, through the Lord, [she can give it] totally to humanity."
"I am a sinner," Evelyn confesses, "but God wants me to be like a sentinel before the world to say 'God exists. There is a God. Eternity is real.'" 
The secret of her smile
What attracts Evelyn to the life of a cloistered nun "is accepting the Love of God, which is union with God to do His Will."
"I just want to thank God for this call and for the gift of religious life," she says.
If there's one thing about Sister Evelyn that is captivating, it's her indelible smile. To those who ask her to what she attributes this, what her secret is, she answers without hesitation: "Happiness in God."
Now that she is a "spouse of God" after her perpetual profession, she explains that this simply means "a greater intimacy with Him."