Their love and their families' support have helped the newlyweds overcome any moments of fear and insecurity.
Just before Easter this year, Juan and Monica got married at a church in the capital of Spain. Both are originally from Madrid and come from large families. They both work in the textile sector; Monica is more dedicated to fashion, and Juan, more focused on interior decoration.
Cortesía
Before they met, Juan went through a period of depression. He refers to it as "a glass that filled up and overflowed." With little will to live, he was admitted to a psychiatric clinic for several days. Thanks to medication and sports he regained his desire to live, and he's been doing much better ever since.
Six months after that, on October 22, 2013, Juan woke up to a rainy morning. He was 24 years old at the time. He took his motorcycle to go to a job interview, but before reaching his destination, he skidded because of the water on the road and fell to the ground, crossing over into the oncoming lane. At that moment a car was passing by and hit him with great force, leaving him seriously injured.
New life in a wheelchair
Juan spent ten days in a coma, two months hospitalized at the La Paz university hospital in Madrid, and four months in Toledo at the National Paraplegic Hospital, which is known for its quality and effective care. Juan learned there to gain autonomy in a wheelchair. He compares his experience there to military training.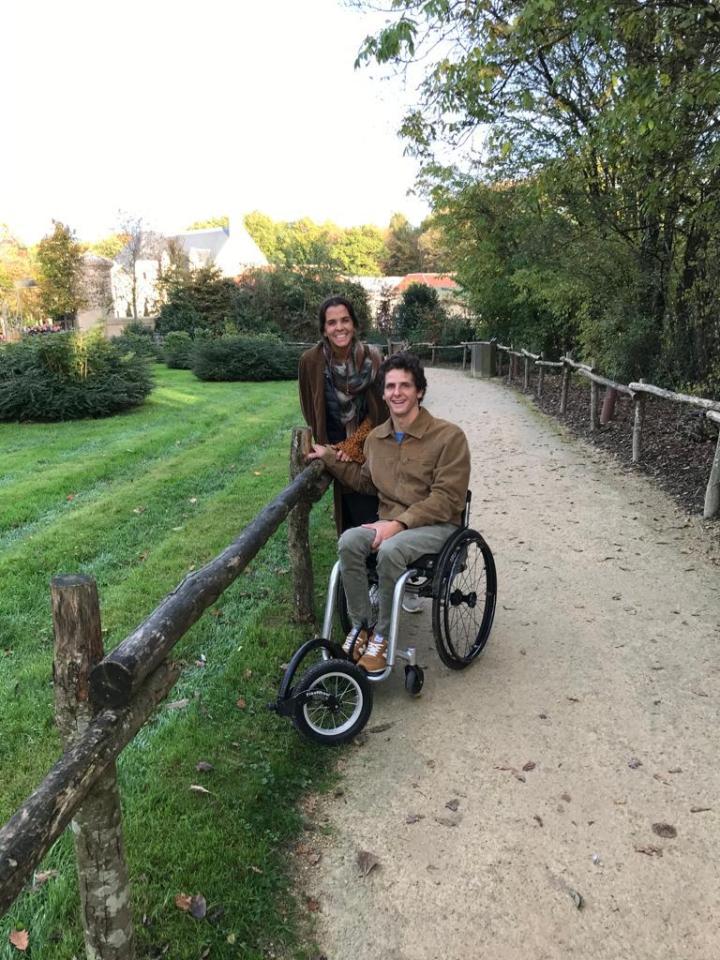 Cortesía
Understandably, Juan's family and friends suffered with him and were concerned because of his mental health background. However, he took the situation as a challenge and didn't fall back into depression.
Courtship following a pilgrimage to the Holy Land
After the accident, Juan had no thoughts of romance; he assumed that this was his new life and his only responsibility was to take care of himself.
But in 2018, on a long weekend in May, he decided he wanted to go to the Holy Land. He really wanted to get to know the area, but none of his friends could accompany him. However, at the airport at the boarding gate he met a group of young people who were also going to Tel-Aviv, including Monica. He joined the group.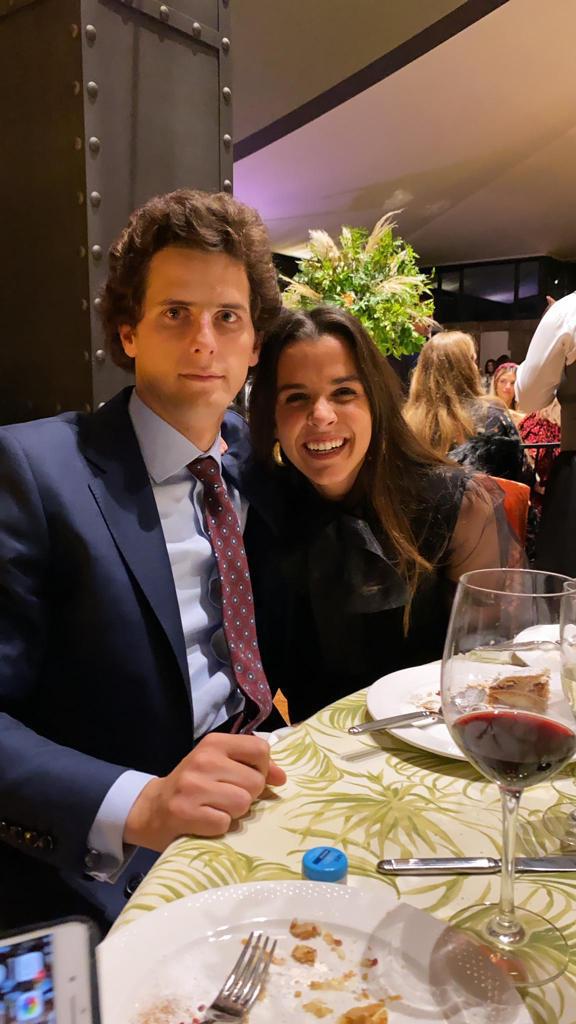 Cortesía
For Monica this trip was a familiar one, as she used to get away from time to time to visit the city of Bethlehem and volunteer at Hogar Niño Dios, a home for children with disabilities. "It's my favorite place in the world," she exclaims happily.
Monica and Juan joined the volunteers at the home as part of a special pilgrimage full of incredible and unique moments. And that's where their love story began.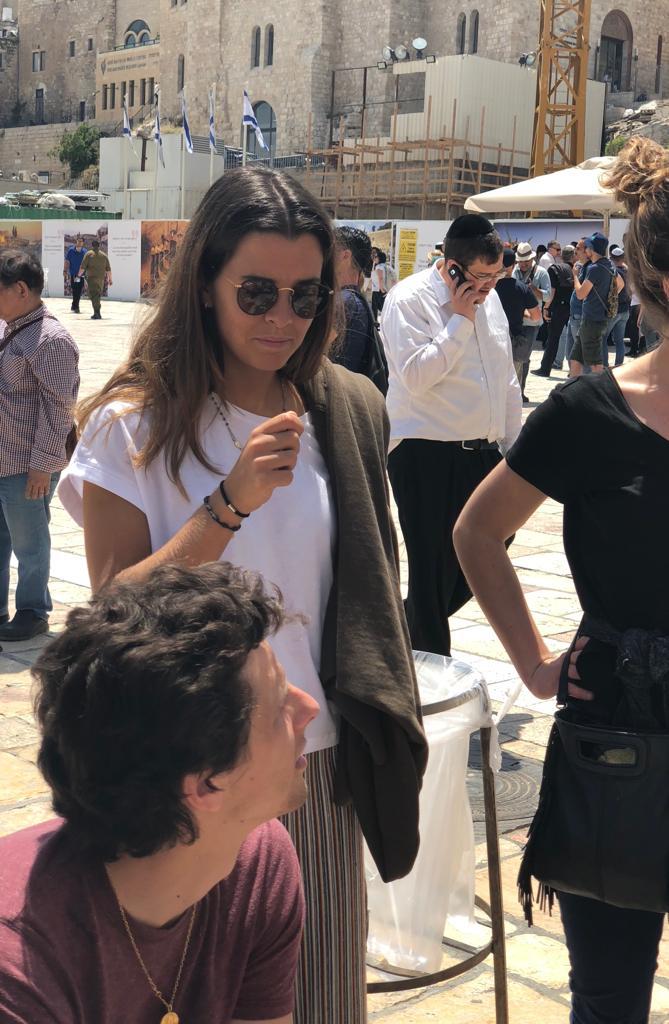 Cortesía
Preparing her heart
It was strange for Monica at first, because she had never helped someone in a wheelchair, but perhaps God had been preparing her through those trips to the Holy Land and working with people with disabilities. He was preparing her heart for the moment she met Juan.
She has had her moments of fear and insecurity, because although she dreamed of starting a family, she never considered these particular circumstances. Her family has been a great help. For example, her father adapted their house with ramps so that Juan could move around without any problems.
In the summer of 2021, Juan proposed to Monica. They tell me with gratitude that the pandemic has not affected them in the least.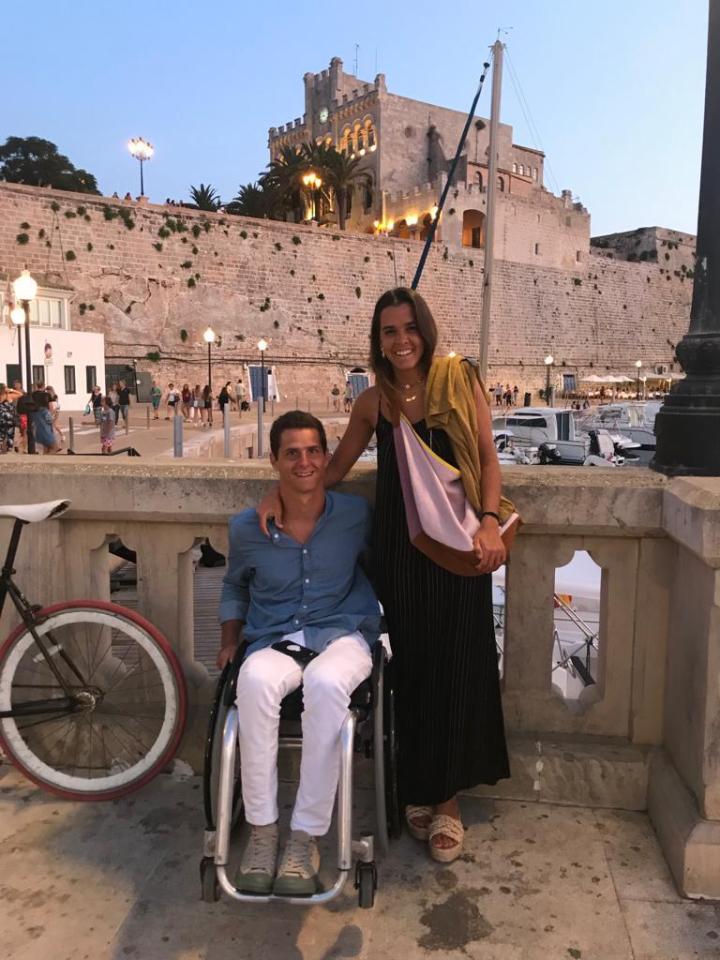 Cortesía
A dance that shows true love
"Our first dance as a married couple was a surprise," Monica tells me. No one knew about it, not even her relatives.
Only a few weeks before the wedding Juan decided to give it a shot, although it seemed a bit crazy to Monica. She admits she's a bit embarrassed that she initially panicked at the thought. However, as it would be a once in a lifetime event, they took the plunge. They told their idea to the people who would be assisting them during the wedding in the hope it would help them gain confidence, but above all so they'd have help at the right time.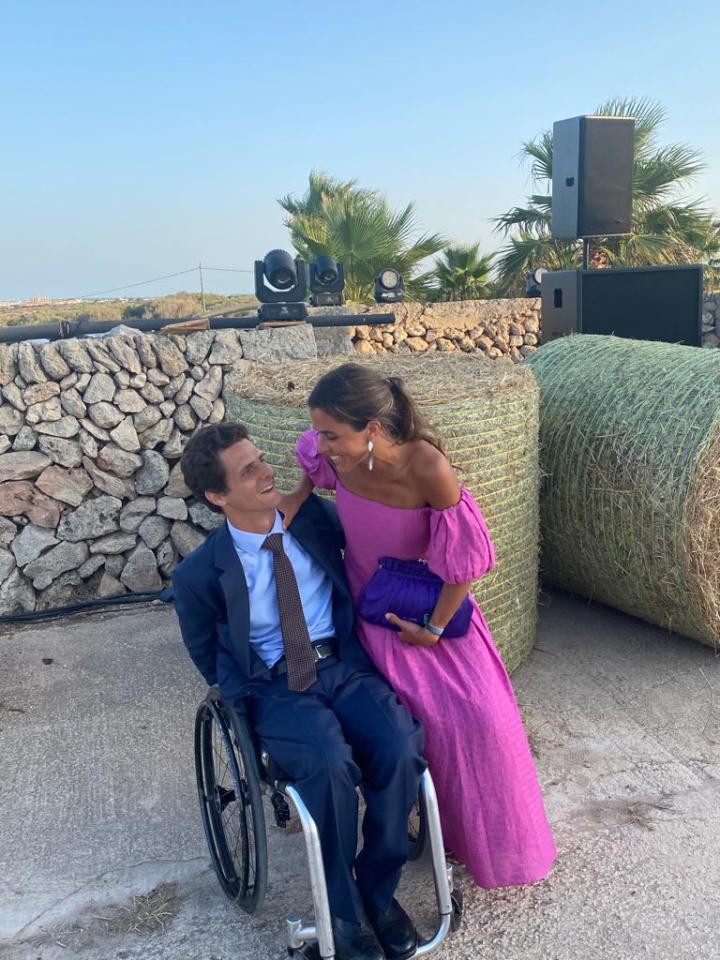 Cortesía
Monica and her father opened the dance floor waltzing to Edelweiss (the famous song from the movie The Sound of Music) with tears of emotion. Juan was sitting in his chair waiting for the moment when he would interrupt the dance to lead it. Next to him, like two crutches, were Monica's brothers: at Juan's signal, they helped him to stand up and held him upright so he could then support his weight on his new wife's shoulders and dance with her.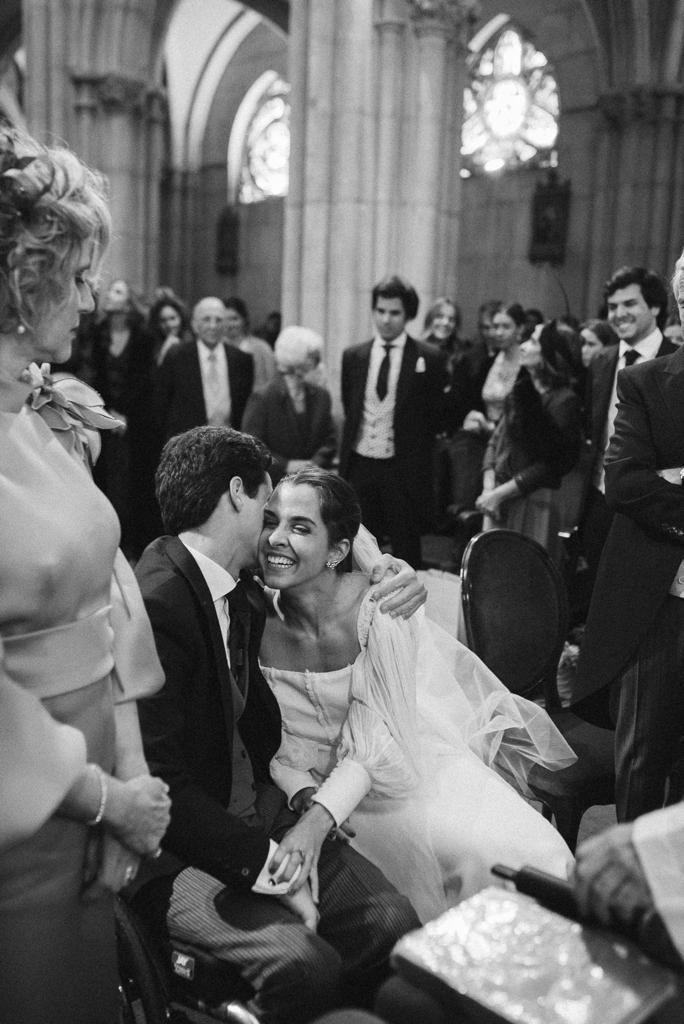 Cortesía
"The best dance of our lives."
It turned out to be "the best dance of our lives," according to the bride and groom. It was full of emotions and sensations that they'll never forget in their entire lives, making the moment the only photo they have together in which both are on their feet.
It's beautiful not just because it's the first dance of newlyweds, but it speaks of true love, of love that transcends illness and disability. It speaks of trust and hope, a message that strikes a chord in a society where individualism and lack of commitment abound.
I asked Juan and Monica about their new life in La Coruña, a city on the northwestern coast of Spain. Juan had lived in a house that had been more adapted to his needs when he was single, but right now the situation in their new home together is more complicated. They tell me that they only really need an accessible bathroom for starters, and the rest can come little by little. Every day they discover new needs or different ways of doing things.
Cortesía
As for the future, they tell me that some aspects are uncertain. They've just started their new life in Galicia, far from their families and comforts, so these first few months are full of little surprises. Their wish right now is for their family and friends to come to visit them.
They're looking forward to having children. For Monica, it has always been her dream, and she reflects this with her love for her nieces and nephews.
"Before I'm 40 I'll be walking again."
And as for Juan, he lives from day to day, without much improvement for the moment. He describes an out-of-body experience he had while he was in a coma and St. Peter told him he would experience purgatory on earth in a wheelchair. The saint even assured him that at the age of 34 he would be a millionaire and before 40 he would walk again. Juan hasn't lost hope that this may yet come true.
We wish this couple all the best in this new chapter of life!