This must-see video of Catholics in solemn prayer needs to be viewed with the sound turned up.
Need an idea for Lenten almsgiving?
Help us spread faith on the internet. Would you consider donating just $10, so we can continue creating free, uplifting content?
Make a Lenten donation here
A recent Facebook post from the Catholic Archdiocese of Sydney shows the lengths some Catholics will go in order to live their faith.
In the video, the archdiocese explains that there were over 100 men gathered outside St. Mary's Cathedral in Sydney to pray the Rosary for nearly an hour. While this is a wonderful witness to their faith, it was even more impressive considering the exceptionally bad weather conditions.
The majority of the men were on their knees, decked out in rain gear and holding umbrellas. They didn't seem at all perturbed by the loud downpour of rain, and despite all the noise, their deep devotion will surely have been heard by the Blessed Virgin.
Courtesy of Catholic Weekly, Sydney
The Men's Rosary Crusade takes place on the first Saturday of every month, and it was interesting to see how many men gathered this July, even though they knew they'd get drenched.
And their efforts were appreciated by all those who saw the video, with one Facebook user, Jennifer Pierno, commenting:
"I saw them. It was pouring rain and they stuck to their mission. Great men. Thank you. You are an inspiration in an uninspiring society."
The archdiocese also shared the benefits of the video that has been seen over a million times worldwide. In an article by Debbie Cramsie for Catholic Weekly, the Director of the Archdiocese of Sydney's Centre for Evangelisation, Daniel Ang, shared:
"God really is present in our lives and in our city. Some might balk at such a scene, but the response it has elicited speaks to the power of Christian witness." He added, "to see men directing their lives not by mere strength of feeling or comfort but by what they treasure is such a witness and prompts the question of what we give ourselves to, what we believe is the source and end of our life."
Cramsie further explains that the monthly Rosary Crusade came about thanks to an international movement, which sees men gather each moth to ask for Mary's protection of their families.
Interestingly, Ivica Kovac, the Life, Marriage and Family Officer for the Sydney Archdiocese, pointed out that men are often reluctant to show such public displays of their faith, according to Cramsie. However, the fact that the video has since gone viral seems a little bit of a blessing, as it means that their efforts will be seen worldwide and can inspire other men to take up their rosary beads.
"Men of faith would love to share the 'good news' with others and let them know they pray but are often reluctant, so the Men's Rosary Crusade is providing them an avenue to profess their faith in a most public and loving way by praying for our loved ones, community, country and church no matter what the conditions," explains Kovac.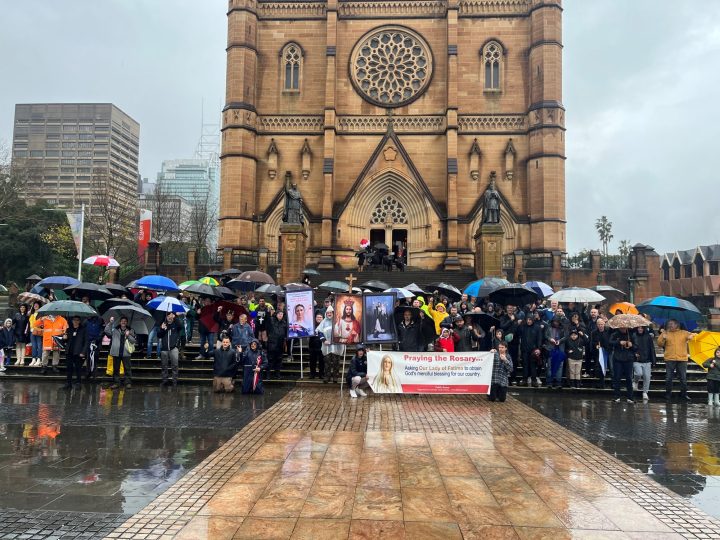 Courtesy of Catholic Weekly, Sydney
And it is exactly these sorts of demonstrations of faith that show the world the joy and power of praying in unison, as well as showing women that they are well and truly valued.