The tree is known by its fruit, and every Saint John is known by his specific attributes.
What can God do in your life with one Bible verse a day?
Subscribe to Aleteia's new service and bring Scripture into your morning:
Just one verse each day.
Click to bring God's word to your inbox
We all know St. John, sure. But how do we tell one St. John from another?
There are at least 126 saints and blesseds named John. This comes as no surprise. John is a popular name in every European language. Derived from the Hebrew Yohannan (either "favored by God" or "God is favorable"), the Greek Ioannes we find in the Gospels has been adapted and translated as Juan, John, Sean, Johann, Jean, Giovanni, Hans, Ian, and Joao, among others.
Considering that there are more than 10,000 saints recognized by the Roman Catholic Church, finding only 126 officially recognized Johns seems reasonable enough. But how can we tell one St. John from another if the image is not properly identified, as is often the case?
Christianity is a long, vibrant, diverse, and complex tradition that is responsible (among many other things) for some of the greatest works of art in history. Cathedrals, churches, abbeys, basilicas are all filled with symbols and images that condense a unique iconographic tradition, and convey theological, historical, hagiographical, doctrinal messages to the spectator.
Therefore, understanding the basics of Christian religious symbolism and iconography requires attentiveness to detail, and some solid knowledge of history and hagiography, to say the least. It's even worse when some of these holy men and women share the same name: Isidore of Sevilla is oftentimes confused with Isidore the Farmer, and Teresa de Ávila with Thérese de Lisieux. The same goes for the many St. Johns. In fact, sometimes one single St. John is known by two or three names: John the Apostle is also known as John of Patmos, or as John the Evangelist. Here, we include an easy guide to tell one St. John from another — although not all of them!
John the Baptist
John the Baptist was an itinerant preacher active around the Jordan River in the early 1st century AD. Also known as John the Forerunner (or as Prophet Yahya in Islam and other monotheistic traditions of the Middle East), he is relatively easy to recognize in Christian art. Related to Jesus (he was probably his cousin), John used baptism as the central symbol of his preaching. The Gospels explicitly claim that John baptized Jesus, and that some of Jesus' early followers had previously been followers of John.
Being an ascetic preaching in the desert, he is often represented wearing nothing but a camel-skin robe. But, as he was sentenced to death and subsequently beheaded by Herod Antipas, he is frequently shown holding a platter with his own head.
In some Orthodox icons, he is depicted having wings, as if he were an angel of sorts. The Baptist was certainly a divine messenger. In Greek, evangelos (from which we get the words "angel" and "evangelist") literally means "good messenger," "the bearer of good news." In the Gospels of Luke (7:28) and Matthew (11:11), Jesus explicitly says that "among those born of women there is no one greater than John." A liturgical hymn sung on the feast of the Baptist's nativity proclaims John is "the culmination and the crown of the prophets." He is understood as holding a special place among the saints: he is a heavenly man, described as the "Angel of the Desert" (that is, the messenger in the wilderness).
He is also represented as holding a cross, accompanied by a lamb, pointing with his finger, alluding at the passage of the Gospel of John (Jn 1:36) in which the Baptist, identifying Jesus, says "Behold the Lamb of God who takes away the sins of the world."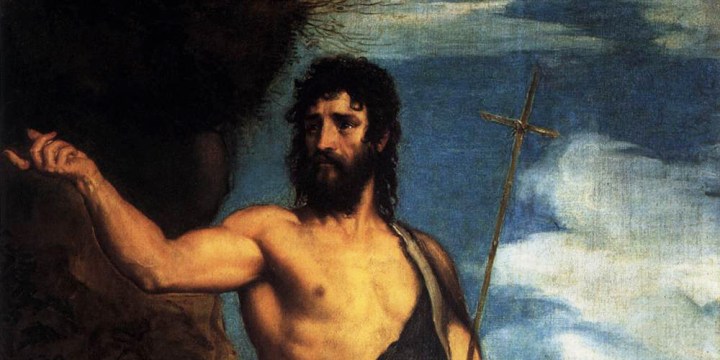 John the Apostle
Also known as John the Evangelist, John the Apostle is most of the time accompanied by an eagle. The eagle, it is well known, can see for miles. Thus the animal has been associated naturally with the vision the saint had on the Greek island of Patmos where, according to St. Irenaeus of Lyon, the evangelist wrote the Book of Revelation. Hence, this John is also called John of Patmos or even the Eagle of Patmos.
He is also commonly represented seated while writing or surrounded by his disciples (the so-called Iohannine School), dictating some of his letters or perhaps even the Gospel or the Book of Revelation.
There is also a less common iconographic model, in which the saint appears holding a chalice with his right hand, from which a green snake (or a small dragon) emerges, while bringing his left hand to his chest. Tradition claims that, while in Ephesus, John was offered a glass of poisoned wine. Before drinking it, he blessed the cup, and the poison came out of it in the form of a small green snake.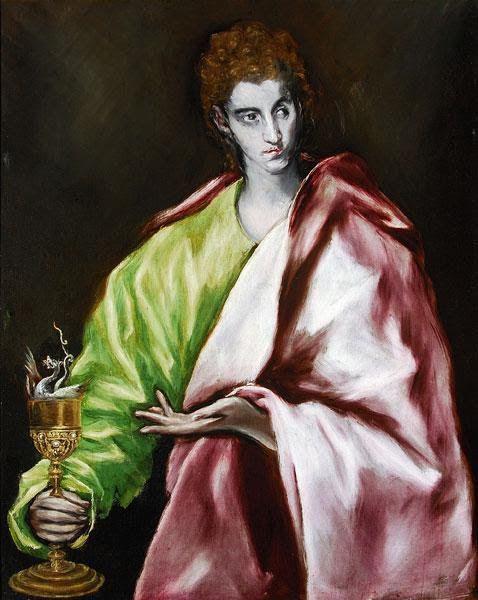 El Greco- Public domain
John Chrysostom
Born in Antioch in 347, St. John Chrysostom was one of the Early Church Fathers. Venerated all throughout Christianity, both Eastern and Western, he served as archbishop of Constantinople. He is known for his preaching and public speaking, for his denunciation of abuse of authority by political leaders (his conflict with the Roman empress Aelia Eudoxia in particular), for his Divine Liturgy, and for his asceticism. Hence, he is often depicted as emaciated from fasting, with balding black hair and a short beard.
The Greek epithet Chrysostomos means "golden-mouthed," clearly alluding to his eloquence. Being among the most prolific authors in the early Christian Church, he is also represented as holding a pen and an inkhorn while vested as a bishop.
John Damascene
Unlike Chrysostom, John Damascene was not a bishop, but a monk. But he also had a "golden" epithet attached to his name. Oftentimes called Chrysorrhoas (meaning "streaming with gold" or "the golden speaker," or even "the golden stream"), John of Damascus was an accomplished hymnographer and apologist.
Born and raised in Damascus in the late 7th century, he is known as "the Last of the Greek Fathers." A Doctor of the Church, John Damascene is best known for his strong defense of the veneration of icons. He is thus often depicted as holding an icon himself with one hand, the other one having been severed.
There is an interesting story behind the Damascene's severed hand. In the Monastery of Khilandar, in the Greek Mount Athos, we find an icon of the Virgin Mary called the Panagia Tricherousa, the "All-Holy Three-Handed." She has three hands, the third one being made of silver.
Tradition claims that in the 8th century, St. John of Damascus placed this votive offering (the silver hand, that is) before this image of Mary, after she miraculously healed his hand, which had been severed by request of the iconoclast Byzantine emperor, Leo III the Isaurian, to punish him for his relentless defense of icons.
Public Domain
St. John of the Cross
Like John Damascene, John of the Cross is a Doctor of the Church. He is commonly referred to as "the most mystical of all poets, and the most poetic of all mystics." In fact, both his poetry and his treatises on spirituality have captivated believers and non-believers alike, and are considered one of the all-time peaks of Spanish literature.
He was born Juan de Yepes y Álvarez at Fontiveros (in Castille, Spain) in a converso family in Fontiveros, near Ávila. A major figure of the Counter-Reformation in Spain, he is known mainly for his writings. Mentored by Teresa of Ávila, John composed poetry and studies on the development of the soul that are considered the summit of mystical literature in any tradition.
Not precisely what you would call a popular saint, his images are not that popular either. He is mostly represented as wearing the Carmelite habit, either holding a cross, with his hands held in prayer, or holding a book and a quill.