The key is in Section 40 of the Benedictine Rule, a truly monastic drinking guide.
Monastic brewhouses have existed across Europe at least since the 5th century. They are, mostly, a Benedictine tradition.
In his Regula (that is, the Rule of St. Benedict), Benedict clearly states that monks should earn their own keep and donate to the poor by the work of their own hands. Following the Rule, monasteries have always produced a diversity of different goods — beer and wine included. And, with this, a Benedictine drinking guide.
Beer was originally a rather cheap meal, considered a liquid bread of sorts, healthier than water and milk, which were often polluted. The brewing and fermenting processes eliminated all bacteria, making beer and wine safer alternatives. Monasteries in northern and central Europe, because of its climatic and agricultural conditions, produced beer. Those that were further south, and especially around the Mediterranean, produced wine.
Light beers were produced to feed children in monastic orphanages. With a pint a day, mostly made from oatmeal, children were properly fed while keeping their room and board costs affordable. Also, beer prevented and cured certain infantile illnesses because of its antibiotic properties. For these reasons, monasteries produced it regularly and abundantly. Wine was also produced for its medicinal (mostly digestive) properties, especially when fortified with herbs and tree bark, as in the case of red vermouth.
Benedictines and "the proper amount of drink"
Chapter 40 of the Benedictine Rule is titled The Proper Amount of Drink. It offers prudent, moderate, and commonsensical instructions for the monks. In short, it is the perfect Benedictine drinking guide: "Drink moderately, and not to the point of excess." The chapter, which is rather short (as it goes straight to the point), reads as follows:
Everyone has his own gift from God, one this and another that (1 Cor 7:7). It is, therefore, with some uneasiness that we specify the amount of food and drink for others. However, with due regard for the infirmities of the sick, we believe that a half bottle of wine a day is sufficient for each. But those to whom God gives the strength to abstain must know that they will earn their own reward.

The superior will determine when local conditions, work or the summer heat indicates the need for a greater amount. He must, in any case, take great care lest excess or drunkenness creep in. We read that monks should not drink wine at all, but since the monks of our day cannot be convinced of this, let us at least agree to drink moderately, and not to the point of excess, for wine makes even wise men go astray (Sir 19:2).

However, where local circumstances dictate an amount much less than what is stipulated above, or even none at all, those who live there should bless God and not grumble. Above all else we admonish them to refrain from grumbling.
As Matilde Latorre explains in her article for the Spanish edition of Aleteia, the original text says not "half a bottle" but "one hemina," a liquid measure equal to about a half pint: 0.27 liters exactly.
The Benedictine drinking guide is that specific but, as read in the text, it allows for some prudence-led exceptions, going from full abstinence to a bit more beer or wine, depending on the weather, the amount of labor, or poor health. For example, with the Synods of Aachen in 816, Latorre goes on, "the relationship between monasteries and beer went a step further." It was then established that the monks should receive a daily glass of wine. If wine was unavailable, they should receive twice as much "good beer."
The feminine Benedictine monastic rule
The feminine monastic rule, transcribed in the year 976 to be observed in the monastery of Saints Nunilo and Alodia in La Rioja (Spain), allowed nuns to drink just a third of a hemina.
Latorre finishes her article by reminding the reader the words of the book of Sirach (31:27-31), the original inspiration of chapter 40 of the Benedictine Regula:
Wine is like life to men, if you drink it in moderation.

What is life to a man who is without wine? It has been created to make men glad.

Wine drunk in season and temperately is rejoicing of heart and gladness of soul.

Wine drunk to excess is bitterness of soul, with provocation and stumbling.

Drunkenness increases the anger of a fool to his injury, reducing his strength and adding wounds.
Visit the slideshow below to know more about monastic Trappist beers you can enjoy this summer, always following St. Benedict's prudent advice: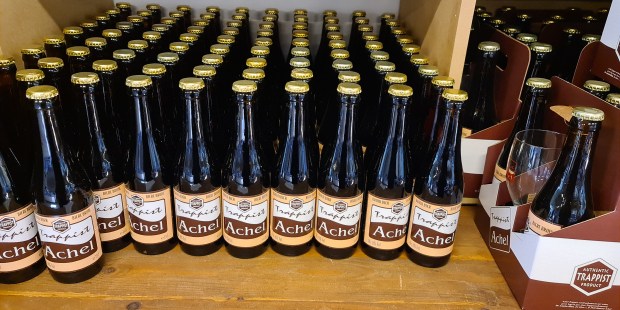 Launch the slideshow