The residence has been home to Belleville bishops since 1948 and has stood in downtown Belleville for 160 years.
The Catholic Diocese of Belleville, Illinois, has announced that it plans to sell the bishop's manor. The property, which has stood in downtown Belleville for 160 years, has been home to the diocese's bishops for seven decades. 
Bishop Michael McGovern shared the announcement on his Facebook page.
Post Roe
The bishop explained that the move was spurred by the recent Supreme Court decision to overturn Roe v. Wade. The prelate noted that the proceeds will go toward programs to help support expectant mothers, as well as several other worthy causes. The Belleville News-Democrat has comments from Bishop McGovern from a press release: 
"I have prayed and reflected on this decision for many months. I enjoy Belleville and think it is important for the Bishop of the Diocese to continue living near the Cathedral … I believe the proceeds from the sale of the home can be better used in helping pregnant mothers in need, assisting families seeking a Catholic education and providing programs for our youth."
According to a release from the diocese, Bishop McGovern, appointed by Pope Francis in 2020, will move to the rectory of the Cathedral of St. Peter. There, he will live in a suite of rooms alongside parish priests. The bishop noted that he hopes "to live more simply." 
Monsignor John Myler, the Rector of the Cathedral, was enthusiastic about the new housing arrangements. He commented:
"The priests, people and staff of the Cathedral will welcome our Bishop. He has great love for and interest in the Cathedral. It will be so good to have him living, working, and praying with us daily!"
The Bishop's Manor
The property the diocese will soon be selling was built in the 1860s by James Lowery Donaldson Morrison, a railroad organizer who served as a state senator and U.S. congressman in the 19th century. The 13-bedroom residence was acquired by the diocese in 1948 and has been in use by the bishops ever since.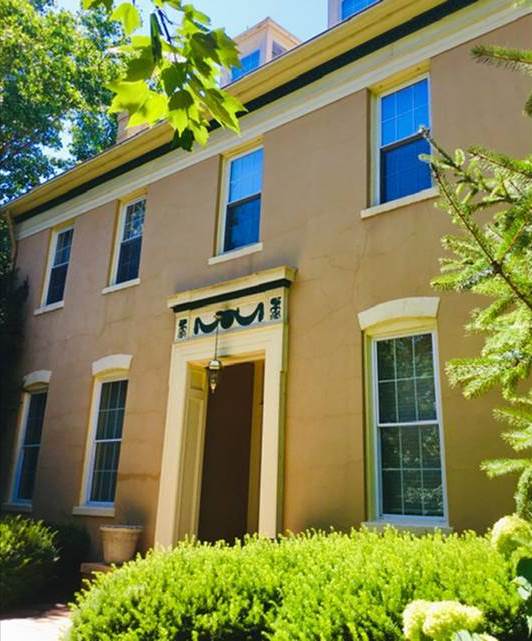 Over the years, the diocese has conducted many renovations to improve the property, but has not estimated the value of this work. It has yet to list a price for the bishop's home, but its history and location in the heart of Belleville suggest it could sell at a premium. 
Claire Leopold of Nester Realty, who is handling the sale, noted that the asking price will be determined after the diocese decides whether to include a one-third-acre piece of land it owns near the residence. Leopold described the property as "maintained quite well" and said, "It's got a lot of character."