Pope Francis says he "cherishes with affection" the memory of conversations with Eugenio Scalfari on the "ultimate questions of humankind."
Need an idea for Lenten almsgiving?
Help us spread faith on the internet. Would you consider donating just $10, so we can continue creating free, uplifting content?
Make a Lenten donation here
Italian journalist Eugenio Scalfari passed away in Rome on July 14 at the age of 98.
A statement from Matteo Bruni, director of the Vatican press office, said that Pope Francis learned "with sorrow of the passing of his friend."
Pope Francis, the statement continued, "cherishes with affection the memory of the meetings — and the deep conversations on the ultimate questions of humankind — that he had with him over the years, and he entrusts his soul to the Lord in prayer, so that He may receive him and console those who were close to him."
Born in Civitavecchia in 1924, Eugenio Scalfari founded the Italian newspaper La Repubblica, which he edited for 20 years. He also directed the weekly L'Espresso.
In 2018, he was at the center of a media storm when he quoted Pope Francis as denying hell, in answer to a question about where "bad souls" go.
This led to a statement from the Vatican clarifying that the Holy Father hadn't granted the journalist an interview and the "reference made by the author of today's article is the fruit of his [the author's] reconstruction, in which the precise words pronounced by the Pope are not quoted."
Aleteia's own article at the time (below) noted the journalist's style:
Each time he spoke with the Pope, the former editor of La Republicca neither recorded him nor even took notes. 
And mentioned the Pope's rather insistent teaching on the devil and hell.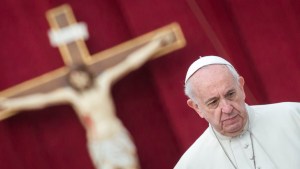 Man of culture
Scalfari was recognized not only for his journalistic career but also as a man of culture.
Leading figures in the Church offered their condolences at news of his death.
"I remember with esteem and friendship Eugenio Scalfari, the founder of La Repubblica," wrote Cardinal Gianfranco Ravasi in a tweet.
The Cardinal remembered him as "a protagonist of secular culture," saying, "I keep in my memories our passionate dialogue in 2013, in the true spirit of the 'Courtyard of the Gentiles,' on the challenges and future of information."
Cardinal Ravasi was then president of the Pontifical Council for Culture, and the Courtyard of the Gentiles is an initiative from the pontificate of Benedict XVI that brings together the Church and those seeking answers, in "encounter and dialogue, a space of expression for those who do not believe, and for those who are asking questions about their faith, a window open to the world, to contemporary culture and to the voices that resonate."